A wildland fire that broke out on Wednesday near Columbus, about 6 miles northwest of Joliet, has been knocked out, according to Carbon County officials. 
The fire spread to about 25 acres on steep terrain near the Yellowstone River and was extinguished on Thursday evening, according to Carbon County Disaster and Emergency Coordinator Tom Kohley. 
The fire briefly started up again in some areas after a wind storm with gusts up to 50 mph, but was extinguished after the storm, he said. 
The fire was discovered on Wednesday in steep, remote terrain along the tributaries to the Cow Creek drainage. It's believed that a lightning strike caused the fire, Kohley said.
"That is almost like a lightning alley," he said.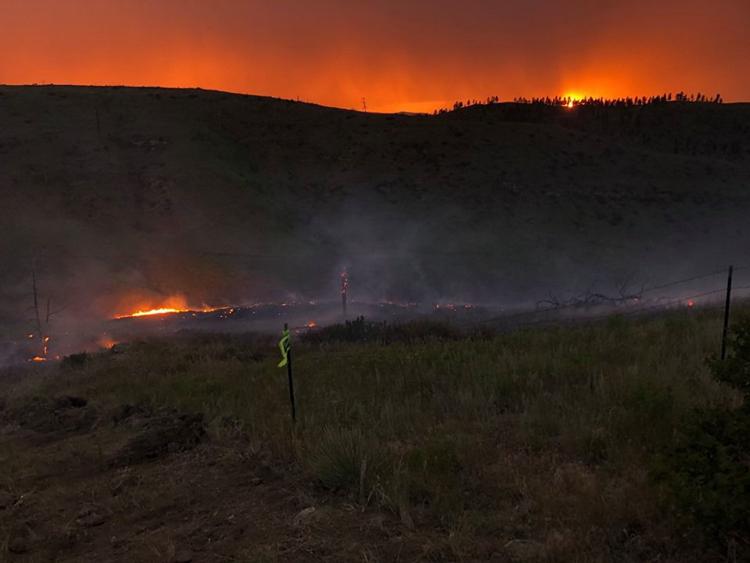 Its the second fire in the same area this year. A few months ago the first fire for the county started in the same area and was caused by lightning, Kohley said. It burned about 10 acres. 
Columbus Fire Chief Rich Cowger said the area was quickly drying out and there was the potential for a fire at any point, but it might not spread quickly until all the green dries out.  
The Cow Creek fire was burning on a bed of old, partially burnt timber from a fire years ago. The fire did remain mostly contained to the area with timber and wasn't spreading into the green grassy areas, he said.
Those grassy areas are still pretty wet from heavy spring rainfall but could quickly dry up with the hot weather and cause more fires.
"All those rains led to excessive light fuel growth," he said. "Grasses mostly."
Firefighters from Joliet, Edgar, Red Lodge, Fromberg, Columbus, Roberts, the National Forest Service, the Bureau of Land Management, and the Department of Natural Resources responded to the blaze with heavy equipment, maintainers, and a bulldozer. Air tankers also were dropping retardant on the flames.