It was surprise enough for Peyton Swiftney to discover she was pregnant. 
It was a "stab in the heart" to learn her daughter had a rare birth defect that causes certain organs to develop outside of the abdomen.
Untreated, the condition, omphalocele, can be a death sentence for an unborn child.
After Swiftney's first ultrasound at 12 weeks pregnant, she wrestled with blaming herself for her baby's birth defect. Did she not pay close enough attention during the first few weeks? What had she done wrong, she asked herself.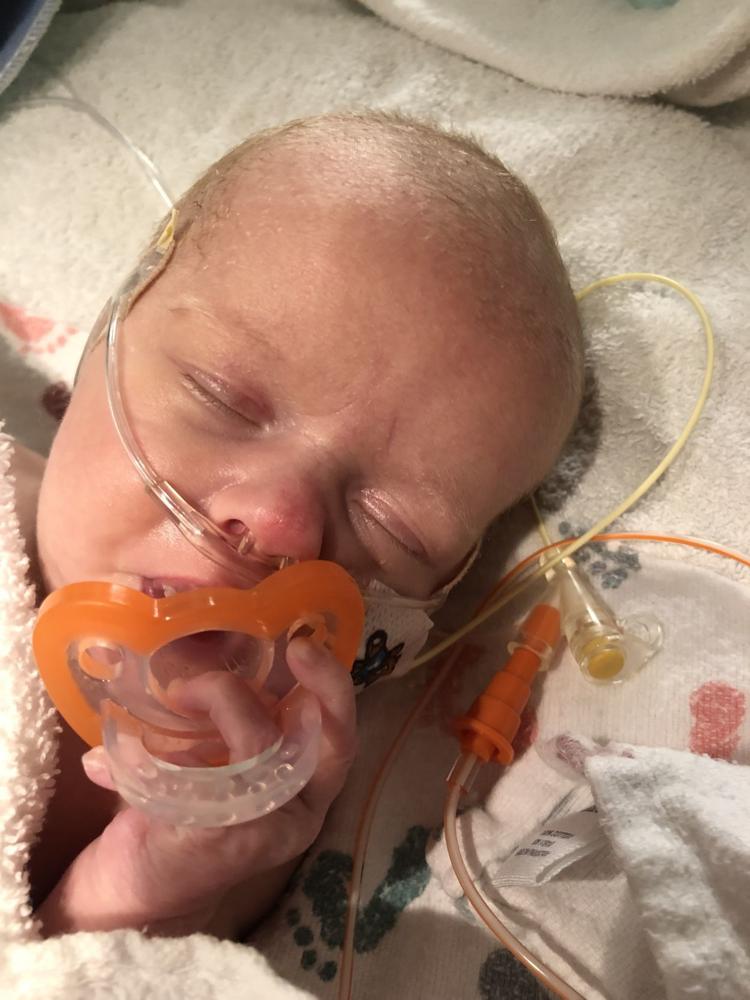 "Of course it's nobody's fault. It just happens," she said, adding that she wants other parents to know a diagnosis like this isn't the end of the world, and they're not to blame.
"When I first found out, it caused a tear," said new father and Swiftney's partner, Quintonn Haley. But, typically stoic, he jumped to support Swiftney and keep his fears to a minimum while they waited to learn more from doctors.
"For me it was hard to keep everybody calm, and stay the heck off the internet," said Haley, adding Swiftney quickly went down the Google rabbit hole. "The worst and absolute most horrible things are published online, and that's not always going to be the case."
Omphalocele is a rare birth defect affecting about 1 in 5,300 babies in the U.S., according to the Center for Disease Control and Prevention. The cause for the defect is largely unknown, but causes babies to develop with their intestine, liver or other organs in a sac outside the abdominal wall through the belly button. It came as even more of a surprise to the 17-year-old mother; the condition is much more common in older pregnant women.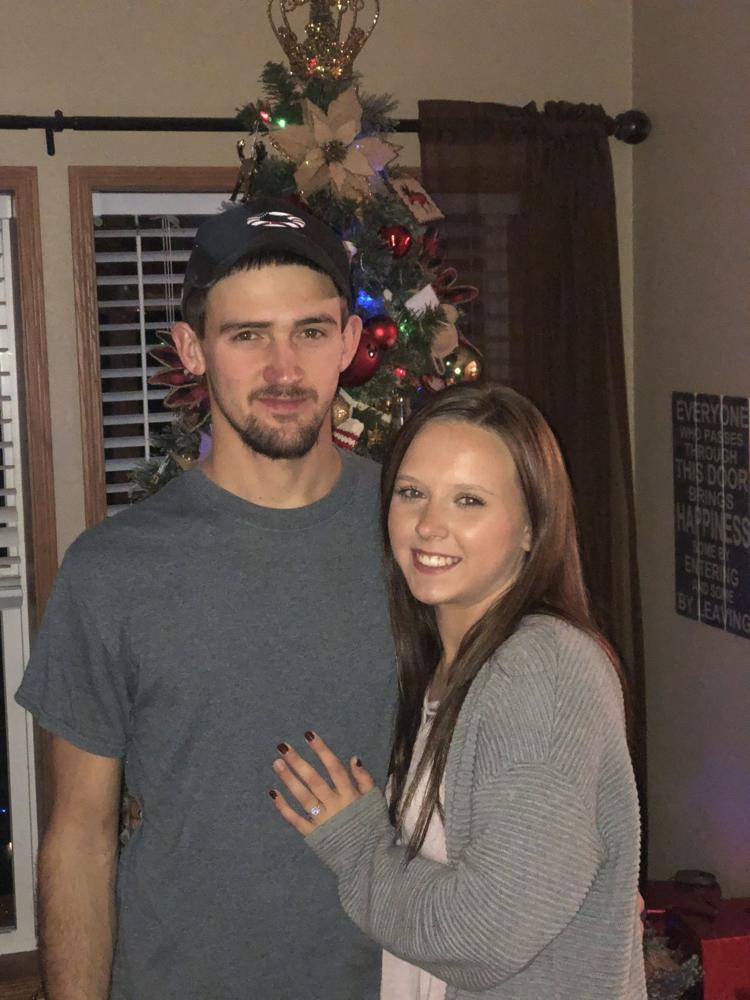 Other chromosomal abnormalities and defects often go hand-in-hand with omphalocele, including problems with the lungs, the heart, a limb that is smaller than the other, and abdominal tumors.
After the initial diagnosis, the Greybull, Wyoming, residents were told to go to Billings to meet with an OB-GYN. From Billings they were told to go to the Colorado Fetal Care Center at Children's Hospital Colorado in the Denver area to meet with specialists.
"It was definitely overwhelming for the first couple of weeks," Swiftney said.
In June, the pair of "nervous wrecks" drove to Denver for their first appointment. Once in Denver it became apparent their case was different from some of the nightmarish articles they had read online.
"We always felt like she would survive," Swiftney said. "But it felt like it would be a longer, harder process until we saw the doctors in Denver."
You have free articles remaining.
While the process was going to be much more complicated than a normal birth, their baby would be born relatively healthy without any additional abnormalities or complications.
In the middle of August, the couple moved temporarily to Denver, staying at the Denver Ronald McDonald House. On Aug. 30, Huntleigh Renee Haley was born 4 weeks early by cesarean section.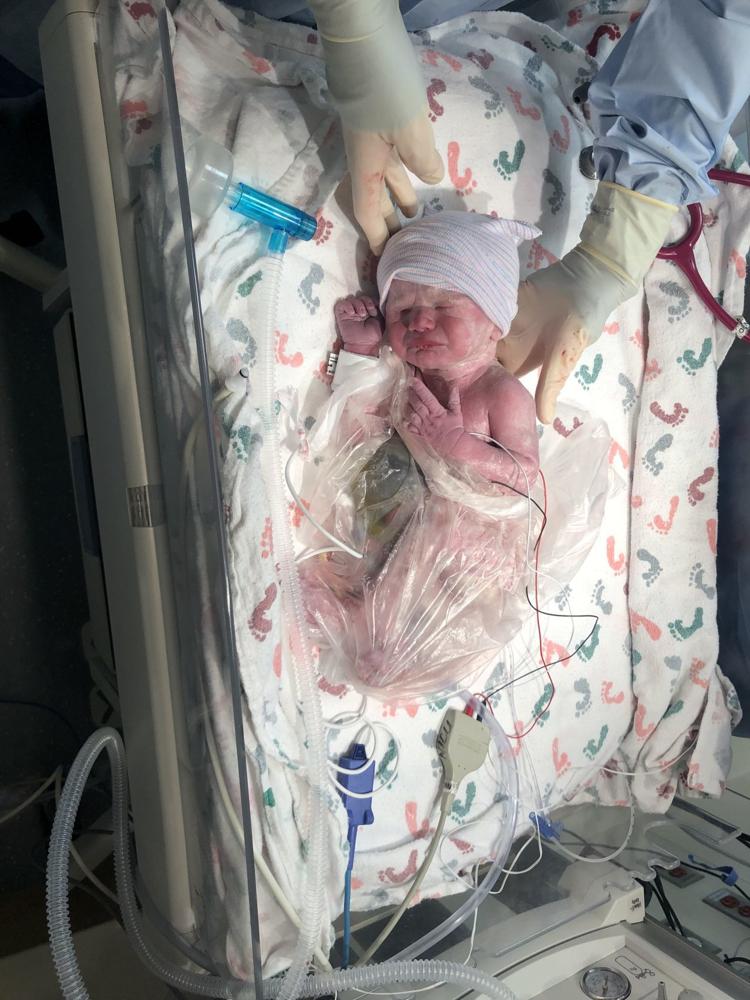 "As soon as I heard her first cry I felt so much better," Swiftney said. It was Swiftney's first surgery. Huntleigh was immediately taken to the Neonatal Intensive Care Unit, and Swiftney didn't see Huntleigh for hours. 
"That part was really hard," she said. 
Four days later, Huntleigh underwent her first surgery to put her intestines into her abdomen, said pediatric surgeon Dr. Ken Liechty.
"A lot of her liver was out of her abdomen and in the sac, and had to be moved back into her abdomen," Liechty said.
Huntleigh's organs were slowly tucked back into her abdomen, then cinched and closed over with her muscles. Swiftney visualized the process like rolling up a tube of toothpaste.
Two weeks later, Huntleigh underwent a second surgery where her abdomen was closed completely, and she was given a belly button. She was monitored until Oct. 29, when she was discharged, finally able to bottle feed and ready to return to Greybull.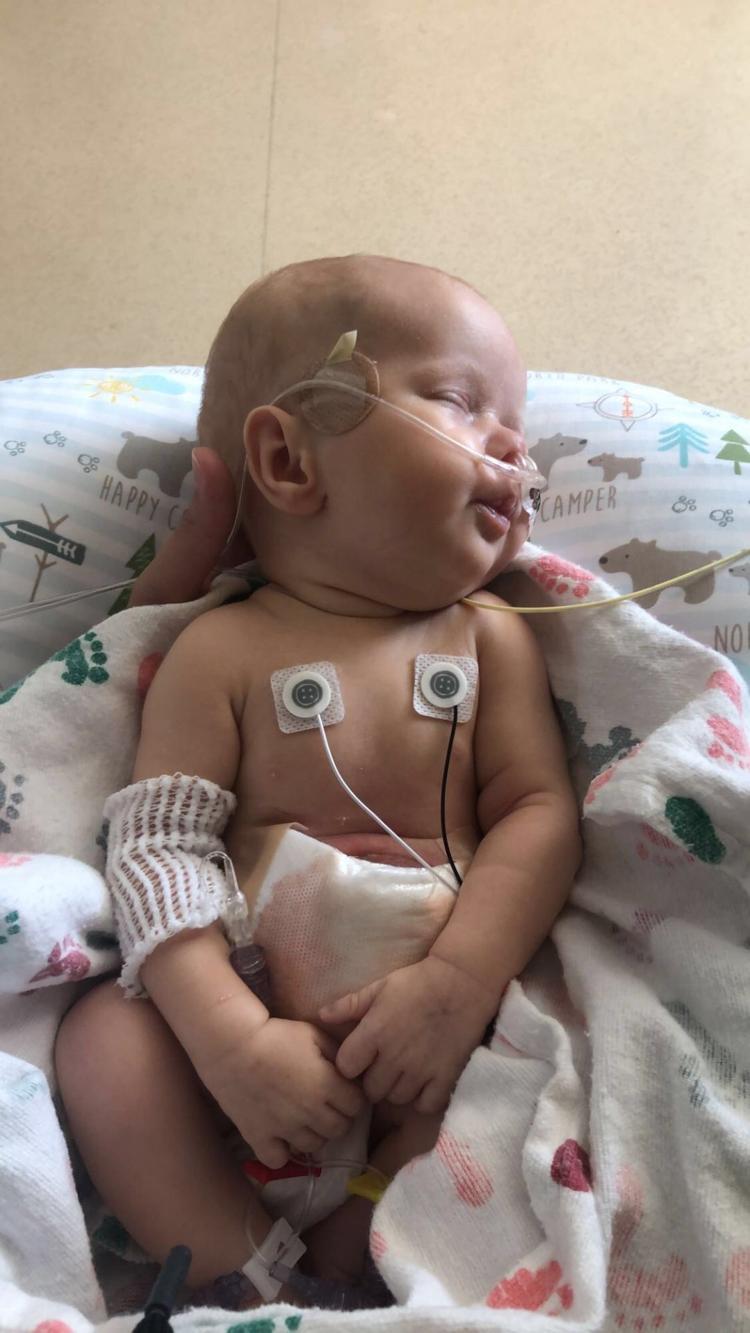 Huntleigh will be three months old Saturday, and is living a relatively normal life, aside from being on light oxygen. The family has returned to Denver every few weeks for checkups, and Huntleigh should have to undergo one more surgery in about a year or two for muscle closure of her abdomen.
The baby is at a higher risk for developing hernia, breathing troubles and acid reflux.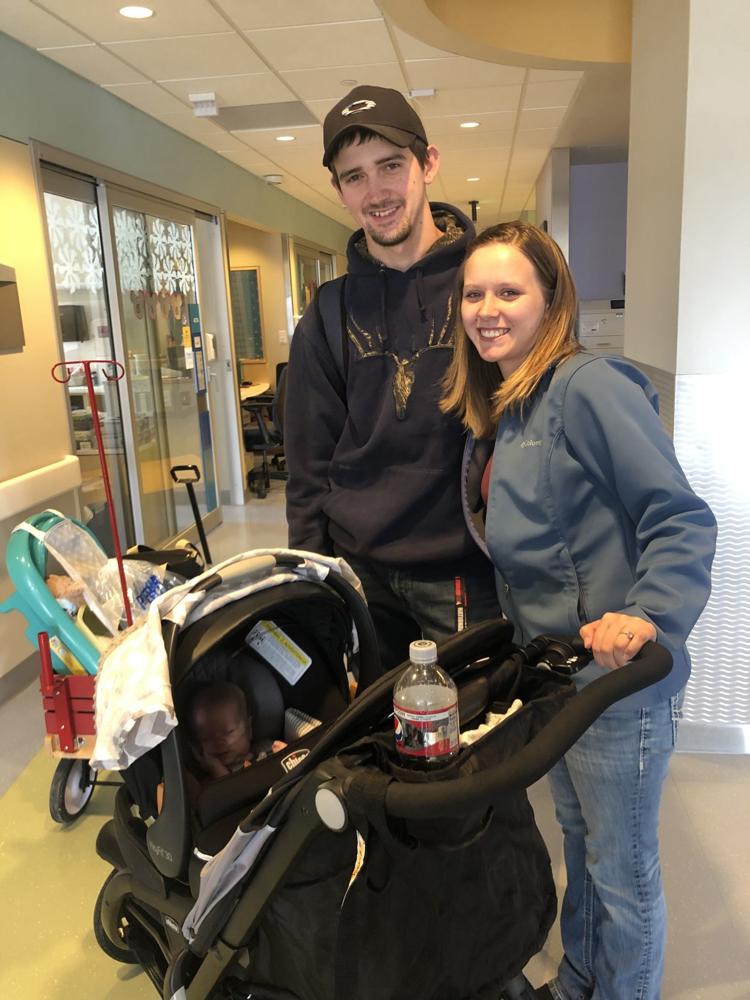 Looking back now it's easy for Swiftney and Haley to say it wasn't an ordeal. They got a lot of family and community support throughout the process and felt the quick diagnosis and proactive care helped mitigate the seriousness of the condition. Now, they're focused on returning to normal and focusing on giving Huntleigh a good life. 
"She'll live a perfectly normal life after a hard few months," said Swiftney.