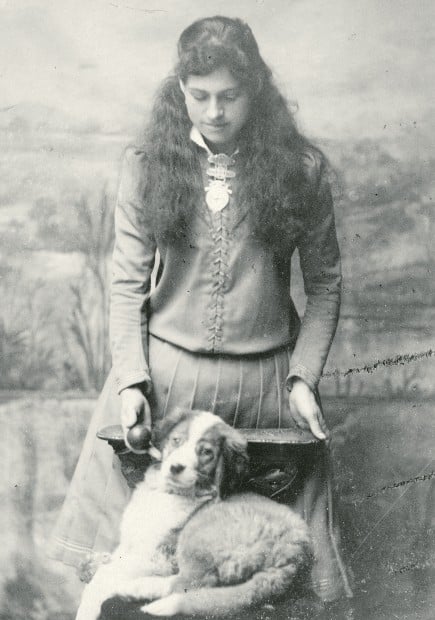 CODY — Annie Oakley has been portrayed in popular culture as everything from a rough tomboy to a preening princess, but 150 years after her birth, one historian says a more nuanced look at the famed sharpshooter shows her to be a complex woman who defies categorization.
Oakley was a clever and resourceful woman who wasn't afraid to get her hands dirty, but who also enjoyed embroidery and sewing her own dresses, said John Rumm, curator of the Buffalo Bill Museum at the Buffalo Bill Historical Center.
Few people realize that Oakley, whose real name was Phoebe Ann Moses, started her show business career as a trick-shot artist at 16. Within a decade, she had reached stardom as one of the most famous women in the world, he said.
"She was arguably the biggest draw for Buffalo Bill's Wild West next to Buffalo Bill himself," Rumm said Friday during a lecture commemorating her 150th birthday. Oakley was born Aug. 13.
"So many people were amazed at the sight of this little girl, no older than 16, when she was first performing," he said.
Oakley's father died when she was about 8, and she learned to shoot so she could sell squirrels, rabbits and other small game to help support the family, he said.
"What a kick that old gun had. I got the rabbit, but my nose was broken," she wrote in her autobiography, describing how she had borrowed the gun to go hunting, without telling her mother.
At 21, Oakley beat famous marksman Frank Butler in a shooting contest, and the two soon married. Butler helped promote Oakley's career, recognizing her obvious crowd appeal. By 25, she was performing with Buffalo Bill Cody.
Spectators and reporters who wrote about Cody's show were taken with the 5-foot Oakley's astonishing shooting skills, and she continued to tour with the Wild West for the next 16 years.
In what might be one of the first major celebrity endorsement deals, Oakley only used her sponsor's brand of gunpowder, Rumm said. When that brand was unavailable because of trade restrictions during her tour of France, Oakley relied on a quirk of womens fashion to sneak some in.
"Bustles were quite the rage in those days, and though I never wore one, we used them to bring the powder in without any trouble," she wrote.
Oakley and four other women in the Wild West show filled rubber hot water bladders with her preferred gunpowder and hid them in their bustles, smuggling more than 200 pounds of the stuff, Rumm said.
Even Oakley's hat made headlines, as a reporter in 1900 described how her wide-brimmed, but unfashionable, headgear helped keep the light out of her eyes while shooting.
"It was evidently selected more for its usefulness than its elegance of appearance," the newspaper account stated.
During their only head-to-head shooting competition, "Oakley beat Cody hands-down," Rumm said.
Cody, who was apparently having a bad day with the targets, threw his gun down halfway through the contest and claimed to have suddenly remembered a prior engagement, and then ran off.
Cody had great respect and personal regard for Oakley, but the two were never romantically linked, Rumm said.
After seeing a Wild West show in France, the king of Senegal was so impressed with Oakley that he sent a letter to Cody offering to pay the showman 1,000 francs for her, Rumm said.
"I want to take her back with me. My people are not safe in the little villages. Man-eating tigers carry them away," the king wrote. "I beg of you, release her to me."
Rumm said Oakley was an "exercise fanatic" who walked an average of four miles every morning before taking long rides on horseback and ending her day with a round of fencing and a workout with dumbbells.
Though married for 45 years until her death in 1926, many suitors assumed she was single, based on her stage name, Rumm said.
Among her colorful methods of declining the many marriage proposals she received, Oakley is known for shooting one hopeful's photograph through the head, and returning it with the inscription "respectfully declined."
Be the first to know
Get local news delivered to your inbox!