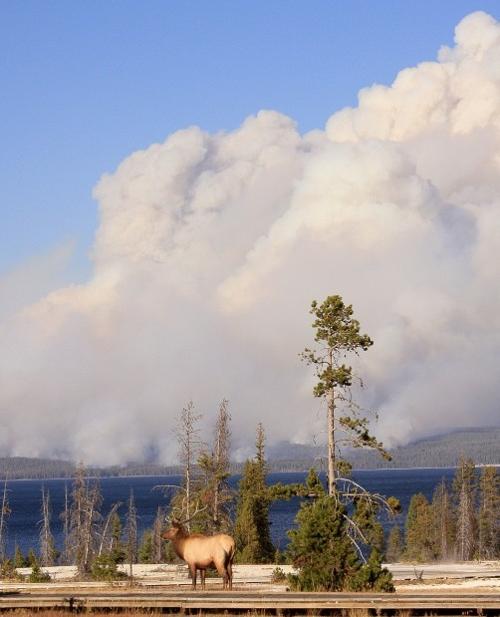 The Arnica fire, burning in Yellowstone National Park, has burned at least 1,600 acres.
Firefighters on Saturday continued to battle the blaze, suspected to have been started by a Sept. 13 lightning strike about five miles west of the Bridge Bay campground. On Friday, it exploded from 250 acres to 1,200.
On Saturday, the fire caused reduced visibility and ash was falling as far away as Cody.
Crews, totaling about 30 people and including smokejumpers, worked Saturday on the ground to fight the fire, while Type I and II helicopters attack its southern flank from above, according to the park's fire information office.
It is burning near the northwest shore of Yellowstone Lake in flat area of lodgepole pine forest. Fire officials are letting much of the fire burn its natural course, but have been using irrigation systems to protect buildings around the lake, are keeping an eye on road and power line corridors and continue to monitor it from the ground, air and lookout stations.
A 5 p.m. fire report said access to the fire area is difficult in areas because of pockets of unburned fuel and a lack of safe areas for firefighters.
As the fire spread, the road between Junction at Fishing Bridge and West Thumb was closed for about two hours Saturday, until 3:45 p.m.
The fire information office said the fire is expected to grow through Sunday, especially during parts of the day with higher temperatures and gustier winds.
The fire caused Friday a three-hour closure of the Grand Loop Road between West Thumb and Bridge Bay. It was reopened at 6:30 p.m. Friday.