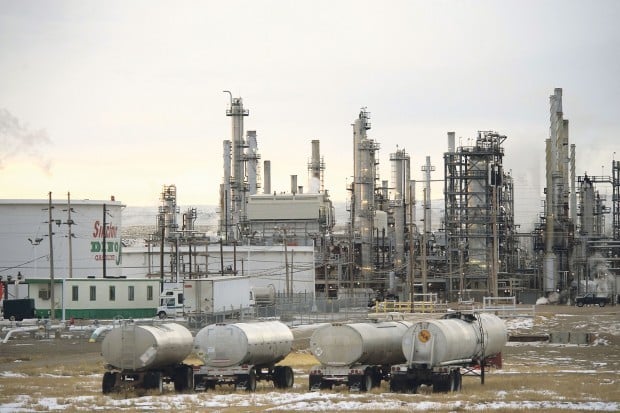 CASPER, Wyo. — The owner of an oil refinery near Rawlins with a raft of pollution problems in recent years has agreed to a multi-million dollar settlement with state regulators regarding a 2010 incident that killed dozens of birds.
Sinclair Wyoming Refinery Co. will pay $850,000 for releasing oil into a wastewater evaporation pond at its refinery, the Wyoming Department of Environmental Quality announced Monday.
Sinclair also agreed to spend $4.5 million on equipment upgrades and training.
On April 25, 2010, the company notified state environmental regulators that oil had been released into one of the refinery's wastewater evaporation ponds.
After the release, 80 migratory birds were found dead in the polluted pond, a company spokesman said shortly after the incident. The final number of birds affected was far higher, state regulators say.
In August the department issued a notice to the company for a wide range of violations related to the handling and management of hazardous waste — including the oil release and failing to follow benzene discharge limits — and the damage caused to wildlife.
In the harshly worded violation notice, state regulators identified what they said was a pattern of violations and concerns regarding the management of wastewater from the refinery.
The company had "derived economic impact" — made or saved money — from its failure to follow state rules meant to protect the environment, the department claimed.
On Monday, a representative of the department had much kinder words for the refinery and its owners.
"It's an operating refinery; you're going to have problems, you're going to have violations," said Charles Plymale, project manager for enforcement and compliance at the Wyoming DEQ's Solid and Hazardous Waste Division. "We've got a good working relationship with Sinclair, and when things happen, they do notify us.
"They want to make us aware, they want to fix problems and have a path forward," he added.
Through the deal, Sinclair will also pay $4.5 million for significant upgrades to its wastewater treatment equipment, provide training to workers in how to respond to wildlife affected by oil, remove a large oil-water separation tank, and test its wastewater and evaporation pond systems for salt levels.
The company has worked with regulators to clean up the oil in the pond, used noise cannons and vehicles to keep birds off the surface, and conducted daily patrols to check the situation, according to the settlement agreement.
"We have worked very closely with the Wyoming DEQ and other government officials," said Mike Achacoso, vice president of refining for Sinclair, in a media release. "This settlement shows our commitment to upgrade the refinery's wastewater treatment system in a good faith effort to try to prevent an accident like this from happening again."
The bird-killing oil release and the other violations dealt with in the settlement are just the latest problems for the refinery, which produces more than 2 million gallons of various kinds of fuel a day and was first built in 1923.
Since the start of 2009, Wyoming Sinclair Refinery Co. has paid $1.67 million in penalties to state environmental regulators. That total includes a $660,000 penalty for the release of 3 million gallons of gasoline-grade fluid in May 2009.
Other violations charged to the refinery have covered incidents including improper storage of hazardous waste in March 2010, causing excessive odors in September 2009 and the release of 1,089 pounds of hydrogen sulfide gas into the air in May 2009.
In a settlement of violations related to the hydrogen sulfide gas release, Sinclair agreed to pay a $10,000 penalty to state regulators.