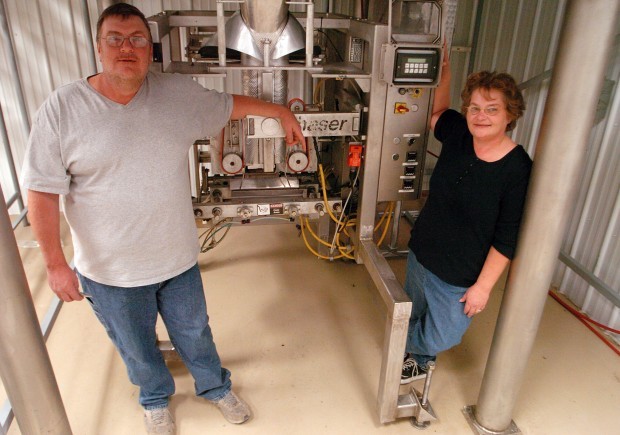 CODY, Wyo. — Even when the national economy went sour in 2008, members of Forward Cody remained optimistic, setting a goal that some said wasn't possible: To create 300 jobs in the local market and help new businesses open their doors.
As 2010 comes to an end, officials with the small-business incubator believe they'll reach their goal of creating those jobs by the end of next year, with several new startups set to open in the coming months.
James Klessens, president of Forward Cody, said the small business incubator has already helped create an estimated 200 local jobs since it launched in 2008.
He named several new companies that Forward Cody helped launch or bring to town since 2008, including Best of the West, Walgreens, Performance Oil Tools, Sleeping Giant Ski Area and the Golden Buffalo Jewelry Store, which now manufactures some of its products in Cody.
He plans to propose roughly $6 million in new projects to the state next year, creating new ventures and the potential for another 100 jobs.
"If the way the phone has been ringing the past month is any indication of people looking to be in a place where they can afford to do business, I think we'll be busy," Klessens said. "We're going to see a lot more activity from people wanting to relocate here."
Klessens said it was too soon to name the startups looking to open early next year. He hinted at a new gun manufacturer, a small ballistics company, a maker of silver jewelry and a new sewing manufacturer, among others.
The businesses are small and will likely employ just a handful of workers each. But that, Klessens said, adheres to his belief that sometimes small and reliable is better than big and unpredictable.
"We don't need to solve all our problems with jobs at one time," he said. "If you do that, you risk creating too much of a problem, so most of what we look at is 10 to 15 to 25 employees at most."
That's not to say larger employers aren't looking to Cody for their future. On the east end of town, Eleutian Technology broke ground last month on its new $3.7 million corporate headquarters, which could grow to employ as many as 40 people.
But it's the small startups like Tastie Foods International that gain the attention of Klessens and Forward Cody. The business incubator helped Tastie Foods put together an investment group and is now working to help it market its flavored raisins.
David Blair, the company's president, began developing his Rinky Dink raisin product in Sheridan three years ago. He and his family chose Cody to launch their company and begin manufacturing their product.
"We wanted to start where we wanted to live," Blair said while seated in his new manufacturing facility. "Forward Cody introduced us to our investors and helped us get set up to move over here. They've been great to deal with."
Blair said his company will soon expand beyond its Rinky Dink Raisins, which include such flavors as sour apple, cherry, licorice and root beer. He has a cranberry product ready to launch and is now developing a trail mix, which he expects to be out soon.
Tastie Foods employs just three people, but Blair has his sights set on future growth. It's the company's niche product — snack foods that are all-natural and gluten-free — that has members of Forward Cody excited about the company's potential.
"We really do spend a lot of time working with the local companies, the local entrepreneurs, who need help getting started." said Scott Wagner, the business development specialist with Forward Cody. "We're trying to organically grow a number of these small outfits."
New startups like Tastie Foods still operate under the radar, and that's something Forward Cody wants to change. But if the success of the past year is any indication, Klessens expects the growth to continue, especially as other states look at raising taxes to cope with their budget woes.
That, Klessens said, has sparked interest among businesses looking at rural markets like Wyoming and Montana when considering their future.
"For us, I think the turning point happened about a year ago," Klessens said. "That's when we started seeing some real positive changes."