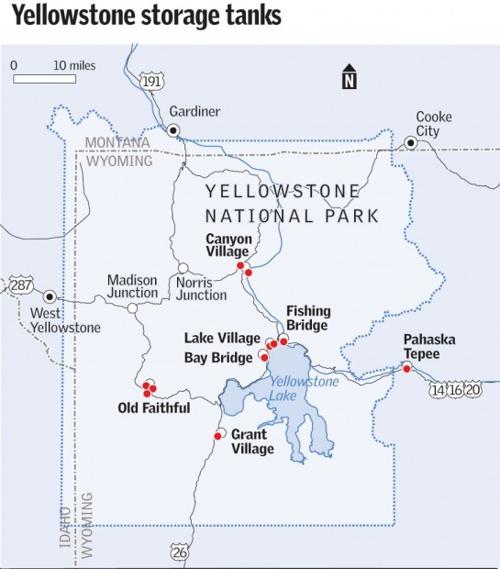 CODY - Contractors have almost finished initial cleanup work at several sites around Yellowstone National Park where leaky underground fuel tanks had contaminated soil and groundwater over the past few decades.
Some of the polluted sites are near pristine waters, and while they did not pose an immediate threat to drinking water, it is important that they be cleaned up, said Jim Evanoff, environmental protection specialist for the park.
"The old Lake gas station is about 100 feet away from the shores of Yellowstone Lake. Those things needed to be cleaned up," said Evanoff, who is working with the Wyoming Department of Environmental Quality on the $3.5 million project.
Most of the 11 contamination sites are at service stations operated by concessionaires, and most of the leaks occurred or were discovered more than a decade ago, according to a DEQ engineering report.
They include gas stations at Grant Village, Bridge Bay Marina, Old Faithful, Lake, Canyon and Fishing Bridge, as well as a National Park Service maintenance facility at Canyon and a gas station at Pahaska Tepee, just outside the park's east entrance.
The buried fuel tanks are a small part of a mostly invisible infrastructure that runs throughout the developed sections of the nation's oldest national park, including water and power for many of Yellowstone's 1,500 buildings, Evanoff said.
Federal stimulus funds will cover the replacement of an aging wastewater treatment plant at Madison Junction, Evanoff said, adding that the facility was "probably the last dinosaur left in the park" among major legacy infrastructure projects.
Burying fuel tanks or utility lines can be tricky around Old Faithful, where geothermal activity makes the ground too hot in some places, Evanoff said.
But storing fuel above ground is not an option at many sites for safety or aesthetic reasons, and diesel fuel tanks must be buried to prevent the fuel from thickening during Yellowstone's extremely cold winters, he said.
Evanoff said fuel tank cleanup efforts are part of efforts by park managers to turn the page on many old practices in the park that would not meet current environmental standards.
That includes making a final decision on what to do, if anything, at 22 historic open dump sites and seven firing ranges inside the park, as specialists study whether it would do more harm than good to dig up some sites unused for decades.
Some of the remote backcountry spots have been overgrown with new plants, while others are used for storing gravel or heavy equipment, Evanoff said.
Soldiers and law enforcement officers have used firing ranges in the park dating to the U.S. Army presence there more than a century ago, he said.
Evanoff said officers, who must meet continuing firearm certification requirements, are switching to lead-free ammunition, and that planners will likely consolidate firing ranges to one or two locations.
Leaky fuel storage tanks are a widespread problem across the country, said Sterling Roberts, DEQ engineering supervisor for the Yellowstone cleanup.
The project is financed through a state fund that covers eligible storage tanks used to dispense fuel to the public, he said.
Sites across the state are ranked according to their level of contamination, and cleaned up in order of priority, with a focus on mitigating threats to human health, Roberts said.
"We usually try to also work on as many sites adjacent to a high-priority site as possible, so we get some economy of scale for our efforts," he said.
The high-priority site that triggered current cleanup efforts in Yellowstone was a Park Service maintenance shop and fuel depot at Canyon, Roberts said.
Cleanup work at that site and at others will include a combination of removing contaminated soil and groundwater, as well as pumping oxygen underground to promote the growth of aerobic bacteria that metabolize hydrocarbons.
Future cleanup efforts will mainly involve the maintenance and monitoring of automated systems, he said.
Roberts said that harsh winter conditions and the remote locations of some sites may complicate that work, but added that crews plan to continue their efforts year-round, when practical.
Dozens of monitoring wells have been installed, and water testing could continue at some sites for up to a decade, he said.
New underground fuel tanks installed in Yellowstone are all double-walled and equipped with leak sensors between the tank walls, Evanoff said.
Roberts said that federal standards since 1998, and new Wyoming regulations adopted last year, require double-walled tanks and pipes, leak sensors and anchors to prevent tanks from moving in wet conditions.