Nearly three months after the school board voted to close four Casper-area schools, the frustration among parents has quieted to a simmer. There are more than 700 students and more than 100 staff members who will be displaced in five months. More urgent than the frustration is the need to decide what's next.
For James Chesnut and his two daughters, both students at Willard Elementary, what comes next is Arizona. A California native, Chesnut had wanted to leave Casper for a while. The closure of Willard, which will shutter at the end of this academic year, gave him and his wife the final push.
"We're done, we're going," Chesnut remembered his wife, Melanie, saying as soon as the family heard the small school off of First Street was closing.
Chesnut loved — loves — Willard. His kids love their teachers, and the teachers love them.
That relationship with teachers at a small school is why Nicole Reents moved her sons to Willard after the school board closed Grant Elementary last year. Her older boy's former teacher was in a preschool classroom at Willard, and she wanted her younger son to be taught by her.
For the second straight January, Reents is facing down the end of a school year and the end of her school. As she waited outside of Willard for her oldest, Reents said she was looking at bigger schools, like Cottonwood or Journey elementaries. She figures the district won't close a big school.
"I don't want to move again," she said. Her sons liked Willard.
But on June 8, Willard will close. So, too, will University Park and Mountain View elementaries and Frontier Middle. The elementaries' doors will be locked, and Casper Classical Academy will take the whole of the middle school's space. The students will scatter to the more than 20 schools in the Casper area, the teachers will be reassigned, and the principals will apply for new jobs across the district.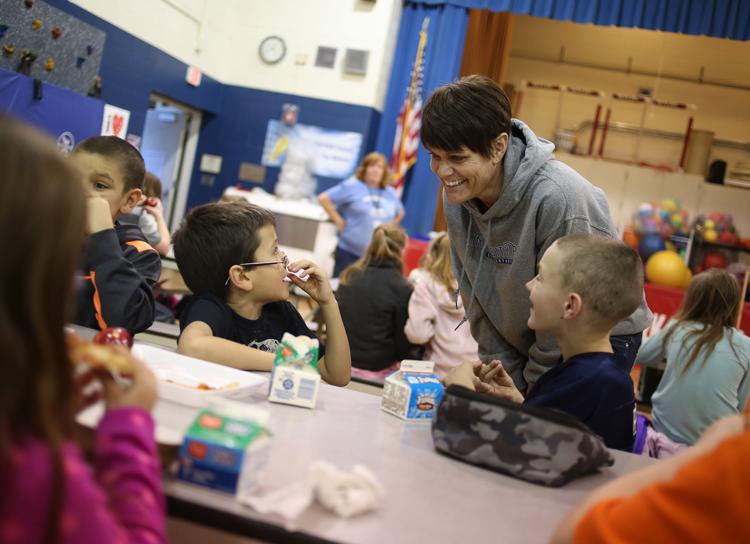 The dust has settled — somewhat — since the Natrona County School District board voted to close the schools on Oct. 23. Julie Hornby, the principal at University Park, said the anxiety and frustration may not be what it was on Oct. 24. But it is still high.
"Everyone's accepted it," she said of the closures, "but nobody likes it."
Adjusting
At University Park, 35 students left the school throughout the month of October, as it became clearer that the school would close.
"That was emotionally hard," Hornby said. Some of the families had panicked. But she understood: It made sense to establish a social circle at a new school before the first day in September.
Mountain View Principal Anna Lavin went on leave a few days after the district announced the school might close. She said it was hard being away from her staff and students in the fall, as the school community was dealing with the aftershocks.
"That's the biggest impact it's having on me, is seeing the kids and knowing that we won't have this again, if that makes sense," she said. " ... Being here, it's even harder because now I'm seeing the reality that they all lived through for a couple of months while I was out."
Principals at all four of the closing schools said their staffs were determined to make this school year like any other. They were still focusing on test scores, on making students better, on building relationships. They still held parent-teacher conferences. Lavin said Mountain View was focused on accountability. Hornby listed off the events University Park will still hold: Muffins for Mom, Donuts for Dad, the talent show.
But this is not a school year like any other. At those conferences, University Park talked to parents about enrolling elsewhere, and the staff there are updating and detailing every student's profile for their next school. Cloninger's staff at Frontier have said they want to hold transition meetings with every student's new school. Like the three closing elementaries, Frontier is a Title I school, meaning at least 40 percent of students come from low-income backgrounds. The schools receive additional funding for programs to help support those kids.
Broadly, the schools want to ensure the students are on track next year. But the schools and their staff can't plan for their own part in that future success.
"We're not invested in these kids long term now," Hornby said. The staffs at these small schools had known every student, some since they were 5 years old. "That's tough."
Hayes called it a grieving process. Lavin — whose school may have educated one family across three generations — and others echoed that idea. No one is on the same stage just yet. But the schools are pushing forward.
"We still hear, 'We wish Willard wasn't closing,'" Willard's Angie Hayes said Friday morning. "And we say, 'So do we. But it is.'"
Next year
It was a Friday, Sept. 29. Four principals met with four staffs. Hundreds of students went home and talked, and cried, with hundreds of parents.
Two weeks before, the district had released data that showed elementary enrollment in Natrona County was continuing to drop. Amid the economic decline, students were leaving. More seats were becoming vacant just as new schools were opening.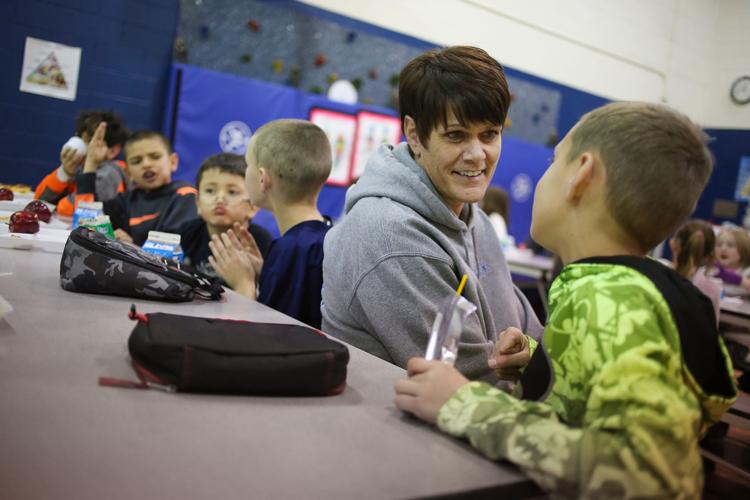 On that fall day, officials recommended closing the four schools to narrow the capacity gap and to cut costs. The same economic downturn that was sapping the district of its students was also leaving a gaping hole in the state's education budget. Natrona County would have to cut at least $8 million over the next two years.
On Oct. 23, the school board voted 8 to 1 to close the schools. The district began busying itself with next steps. Human resources staff would meet with the schools' employees. Enrollment personnel would talk with families to prepare them for picking a new school. The students from the four schools would have a special enrollment period, starting more than a month before the rest of the county. They'd be given high priority on placement.
After the task of placing all of the district's more than 7,200 elementary students is finished in the next couple of months, then officials will turn to moving employees into the schools that need them.
Staff at the four schools talked with parents about the district's offerings. Officials rearranged the open house schedule, so a family could theoretically go to every single one.
The process makes students following teachers nearly impossible, especially because students from the four schools all submitted their enrollment paperwork weeks before the rest of the district. Most teachers from those displaced schools likely won't know where they're going until the early spring.
"We don't know where anyone is going," Hayes said. That includes her and the other three principals.
Frontier's Principal Casey Cloninger said students' desires to follow teachers from school to school was "so neat."
"That's kind of a heartbreaker right there," he said.
Yes, Cloninger said, it was a disappointment that Frontier was closing next year. But he said the district's financial situation was no secret. He and others knew the reality; it would be "naïve" to pretend otherwise. The closure of the schools is part of the district's effort to cut its budget without layoffs, officials have said.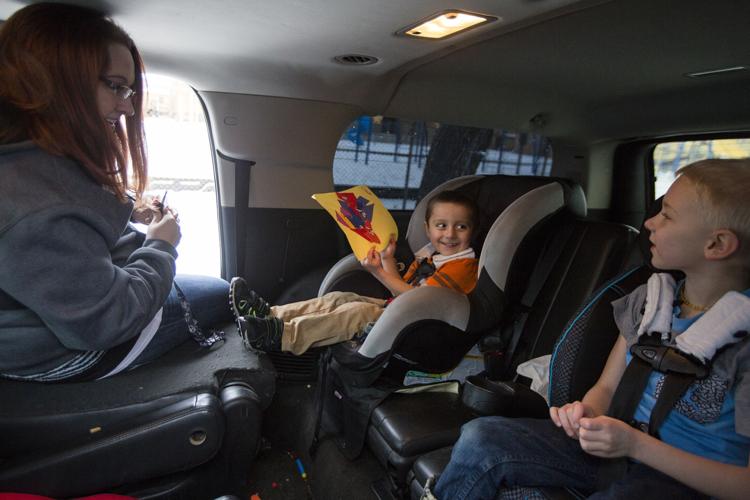 "If it meant closing Frontier to save some jobs," Cloninger said, "I'm OK with that."
For now, district officials maintain that no one will lose jobs. That could change as legislators trek to Cheyenne in February to vote on the state's budget.
In the meantime, students and staff and families prepare for a new year and a new school. In Mills on a recent gray morning, a pair of young girls in winter coats closed their front gate and walked across the street to Mountain View. Around the building, Jocelyne Lopez stood outside of her car after walking her daughter inside. The little girl "cried and cried" when the district announced that the school was closing, her mother said.
"It was a really big bummer," Lopez said. Next year, her daughter hopes to attend Woods Learning Center, just down the street from Kelly Walsh, next year. Woods is small, her mother said. It feels homey, personal.
Andrew Armstrong, who has a preschooler and second-grader at University Park, said it "sucks" the school is closing.
"I love this school," he said as he stood in front of it, moments before the bell rang and students came streaming out of the front doors, beneath a sign that reads, "Welcome to our school. Every child, every day ... Whatever it takes."
As kids scurried past him, Armstrong shook his head.
"I wish this wasn't closing," he said. "I hope the rest of the schools achieve what this school does."