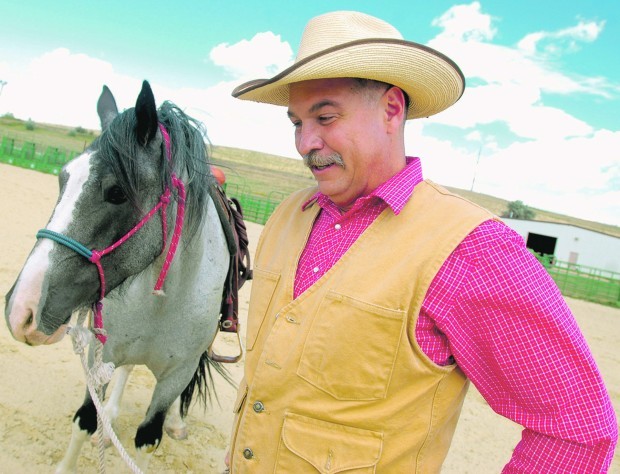 SHERIDAN - For much of this summer, Rick Landeis' office is located in the Bighorn Mountains, where he sleeps in a simple cabin and works alone on horseback, surrounded by cattle.
An animal science instructor at Sheridan College and veteran rancher, Landeis is in the second year of a research project examining bovine respiratory disease in calves moved up on the mountain to graze.
The goal is to learn why some cattle contract the disease, while others develop antibodies even though they haven't been vaccinated.
"If the cow herd is managed properly, then perhaps the necessity of vaccinating calves before weaning might be questionable," Landeis said.
No. 1 killer
Bovine respiratory disease occurs primarily in calves and is the No. 1 killer of beef cattle in the United States, Landeis said. A complex of five viruses, bovine respiratory disease infects calves' respiratory tracts, and they eventually develop pneumonia.
"It can be a big problem where some producers lose quite large amounts of calves," Landeis said. "I'd venture to guess that every substantial cattle producer has dealt with BRD."
While veterinarians recommend that producers vaccinate calves for bovine respiratory disease, Landeis said he has discovered that, even among vaccinated herds, cows continue to get sick.
In 2008, he began a two-year study with Bovi-Shield, a widely used vaccine donated by pharmaceutical giant Pfizer Inc. Using cattle owned by the Flitner Ranch in Shell, Landeis vaccinated one-third of the herd via injection, treated one-third by spraying the vaccine into the calves' nostrils and left one-third unvaccinated.
Records were kept on sick cattle during the summer they grazed on a tract of land donated by the Purdy Ranch Foundation in the Bighorns above Buffalo.
Landeis wound up treating 10 sick calves in 2008, five from each vaccination group. None of the unvaccinated cattle developed bovine respiratory disease.
Surprising results
When blood samples of that group were sent to the state veterinary laboratory for analysis, Landeis was surprised by the results.
"These calves had never been vaccinated, yet they had antibodies for all these diseases. That was quite perplexing," he said.
This year, Landeis is continuing the study in an attempt to learn exactly to which viruses the cattle are developing antibodies. None of the 280 cow/calf pairs he is managing on the mountain was vaccinated for bovine respiratory disease this summer, and blood samples were taken of all the cattle before they were placed on the mountain.
Though he's been watching carefully for signs of sickness, so far Landeis has not identified any cases of bovine respiratory disease in the herd.
"If they get sick, I'll have to rope the calf, take blood and a nasal swab and get that to the state vet's lab in order to isolate which of the five viruses these animals are getting," he said.
A second part of Landeis' study this summer involves measuring the effectiveness of QuietWean flaps, a plastic nose flap that allows the cow and calf to be near each other but doesn't allow the calf to nurse.
Typically, bovine respiratory disease is seen at weaning because weaning can be stressful to the calf, and stress is a contributing factor to the disease, Landeis said.
"These QuietWean flaps claim to reduce stress by 25 percent," he said. "We will have calves weaned the old-fashioned way and some with these straps. Then we'll measure which has a higher mortality for BRD."
The herd has been on the mountain since mid-July and will remain there until October under Landeis' watchful eye. He generally spends four nights at a time managing the herd, sleeping in a small cabin with no electricity or running water.
With the cool, wet weather the region has been experiencing this summer, Landeis said he's worked in the rain on each of his last four trips. There's also no shortage of work he has to do by horseback.
"There's cattle to be sorted, fences to be repaired, and I place range minerals and salt out," he said. "One major part of the land endowment is that the range be managed well.
"One important thing in range management is keeping cattle scattered. There's certain places they always want to be, creek bottoms and riparian areas."
A Wyoming native, Landeis grew up on ranches in Cody and coached the Sheridan College rodeo team until 2007, when he began to get busy with his animal science classes and research projects. Last summer, Landeis logged 600 hours on the mountain working on the project.