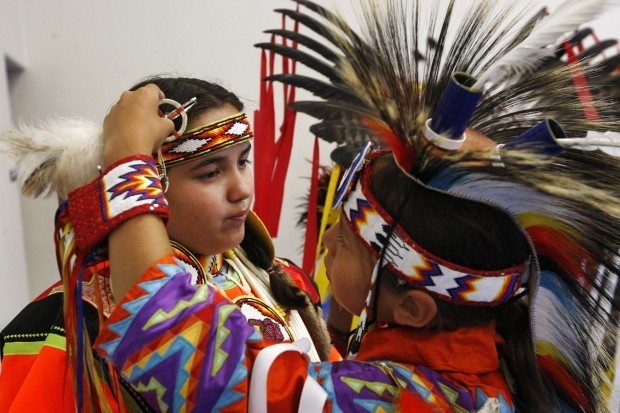 RIVERTON, Wyo. — Lynette St. Clair draped a buffalo hide over her digital chalkboard at Fort Washakie School in 2011.
When she did, she said, some middle school students started making her classroom the first visit of their day.
"First thing in the morning, they would go to rub the hide and lay against it," St. Clair, now semi-retired from teaching Shoshone linguistics to an almost exclusively Native American student body at Fort Washakie, said. "And I would just let them."
The hide was reassuring, especially to students labeled "behaviorally problematic," she said. Its presence created a safe space for them.
"The sensory is part of who we are," St. Clair said of her native community. "For me, the perspective is that we are interweaved with everything."
Reconnecting with their senses of sight, smell and touch created a sense of well-being and confidence in her students that she often saw lacking, she said. And if senses are such a vital part of native cultures, doesn't it make sense that native children should learn through them?
Such was the question at hand at the fourth annual Wyoming Native American Education Conference in Riverton on Friday morning, as Denver, Colo.-based researchers with the Indigenous Students Leap Ahead Project led workshops for educators and parents working with students who learn largely by seeing and doing, not by listening or being told.
Audio and sequential learners follow directions, said Haas, a former physics teacher turned data analyst. A sequential learner will, for instance, reach for a set of instructions before putting together a model airplane. They typically perform well on timed tests, are organized and think in words rather than images.
Visual and spatial learners, on the other hand, grasp the end result before understanding steps to get there. A spatial learner would visualize the finished model plane, Haas said, and then create ways to put the toy together. These learners often have poor handwriting, dislike public speaking, do not budget their time well and perform poorly on timed tests.
Most mainstream students — between 64 and 68 percent, Haas said — are visual and spatial learners. Among Native Americans, though, that percentage jumps to nearly 80 percent.
And among third through eighth graders at Arapahoe School on the Wind River Indian Reservation, that rate is even higher.
Haas and his research partner, Lassos, studied nearly 200 students in grades 3 through 8 at Arapahoe School in May. Students, teachers and parents completed surveys about each student's learning habits. Questions ranged from the student's like or dislike of public speaking, whether he or she has trouble with timed tests or is a poor speller, and how good their handwriting is.
These are indicators, Haas said, of whether a student learns better by seeing and visualizing or by or hearing and being told.
"They're the most visual-spatial group that we have data on," Haas said of the Arapahoe School students.
Boys at Arapahoe School are vastly more visual-spatial than girls, according to Haas's research. While 85 percent of the boys tested showed tendencies toward a visual-spatial learning style, only about 57 percent of girls did. It's a gender gap like Haas has never seen before, and as of yet he has little explanation as to why it's like that.
"We almost always find more boys than girls," Haas said. "But this is the biggest split we have ever had."
Too many native students have been placed in remedial classes and discipline programs because their spatial learning styles are misinterpreted as "slow," Lassos said. As an American Indian Resource Specialist in the Denver public school system, he worked with students whose teachers described track records of behavior problems, learning disabilities and truancy. Once he started teaching writing or math lessons by starting with a hands-on activity, Lassos said, those students blossomed.
After building and testing a paper airplane, for instance, students wrote as many "-ing" words as they could think of to describe the plane's short flight. Put those words in sentences and string the sentences together and you've got an essay, Haas said.
"And some of those students had never written more than a 100-word paragraph in their life, let alone a five-paragraph essay," Haas said.
Use color to engage visual learners, Lassos said. Present images whenever possible, including movies or short video clips. Perform demonstrations to engage more senses.
There are no measurements yet of whether this type of spatial and sensory teaching, when applied, results in higher graduation rates, better test schools or greater career preparation. But Hass said this learning style is nothing new or revolutionary — it is native to indigenous cultures.
"These are old ideas," Haas said. "But (now) the technology is all there to make it happen."
Lassos, a member of the Tongva tribe indigenous to Los Angeles, said visual and spatial learning started at an early age in native cultures. Infants were propped up against a tree to watch the world. Children and young adults were expected to listen to and interpret stories from elders.
"The tradition of oral storytelling is so vivid," Lassos said. "Kids were encouraged and naturally formed pictures as they were told stories."
Lassos and Haas will meet with educators, education officials and parents from Arapahoe School to talk about their data and rehearse visual-spatial lesson plans next week. Haas said he hopes his questions — about why students on Wyoming's lone reservation learn more visually and spatially than most Native Americans, and why boys there are so much more visual than girls — are answered as parents and families talk about their own educational experiences.