ARAPAHOE, Wyo. — At St. Stephens Indian School, the past is never far away for students. A graveyard from its Catholic mission roots, marked with crosses and adorned with colorful decorations, can be seen from the school's front doors.
Secretary of Education Betsy DeVos drove past the graves on her way to the school Friday, her second stop on the Wyoming leg of a tour dubbed "Rethink Schools."
Students still carry historical trauma from the boarding school era and other abuses, St. Stephens Superintendent Frank No Runner told DeVos, but that's not an excuse for low student achievement.
"It's time to move forward," he said.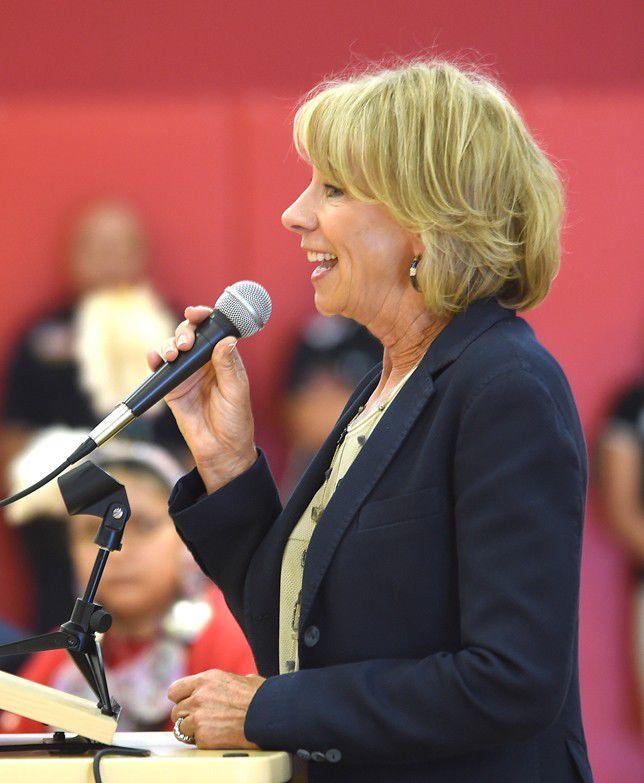 St. Stephens is one of several schools on the Wind River Reservation. Its students are largely members of the Northern Arapaho tribe, with some Eastern Shoshone members.
The school is funded by the Bureau of Indian Education, but it's operated by the tribe. Its boundaries extend across the reservation, unlike public schools serving reservation students.
The school has higher graduation rates than its neighbors for American Indian students, but its scores on Wyoming standardized tests are comparable.
DeVos, who briefly addressed students and didn't take questions from press, made no sweeping statements about the schools or its policies. But she consistently praised mentions of parent and student involvement in school planning.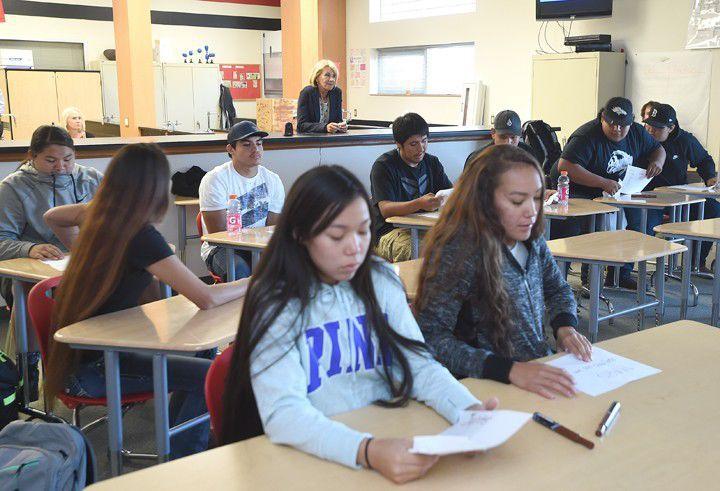 "I'm thrilled to hear about your focus on really engaging all of the stakeholders," she said.
No Runner said the school has shifted to try to focus more on positives than negatives.
"We don't focus on why teachers are leaving, we focus on why they're staying," he said.
DeVos briefly met with school staff for an overview and introduction before observing second-graders practice subtraction using blocks of ones, tens and hundreds and a high school science activity building a solar system scale model with toilet paper squares. It was perhaps the first time a cabinet member has held down toilet paper in a school hallway.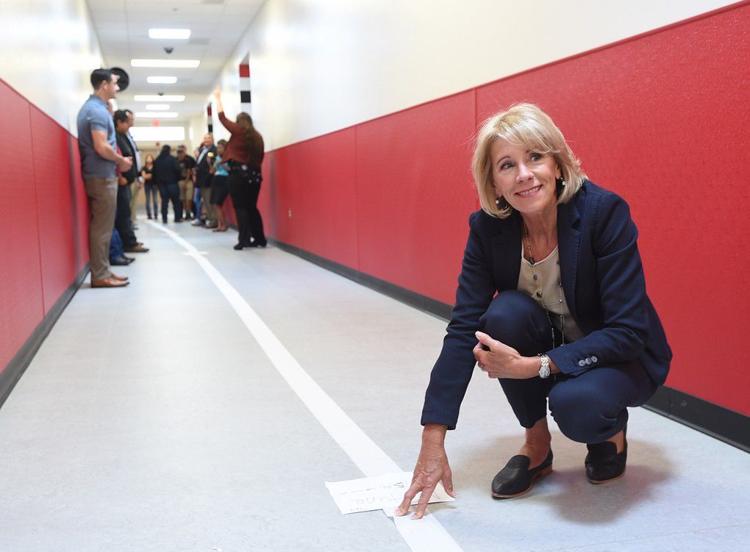 Politics were discussed only briefly, when Eastern Shoshone Business Council member Leslie Shakespeare noted that some tribal members disagreed with some of the policy positions of DeVos.
You have free articles remaining.
He noted public schools on and near the reservation, along with St. Stephens.
"All of these schools are very important," he said. "We respect that you're here to listen. That's what education is all about, is listening."
No Runner described St. Stephens as "a school of choice," but larger school choice policies — of which DeVos has championed — never came up.
The topic reached the Montana Legislature this spring when Democratic Rep. Jonathan Windy Boy of Box Elder proposed a school choice program, arguing that students in low-achieving reservation schools need other options. The bill died.
St. Stephens receives some funding from Wyoming, but not as much as public schools. Most funding comes from the federal government.
No Runner previously worked at Lame Deer High School, a public school on the Northern Cheyenne Reservation, and Northern Cheyenne Tribal School, a BIE school in Busby.
"The difference between a public school and a bureau school is teachers unions," he said, adding that he's a former member of teachers unions. "It creates a division, I believe."
DeVos and teachers unions have had an antagonistic relationship, with DeVos linking national unions to what she calls a stagnant school system — a similar theme to her tour.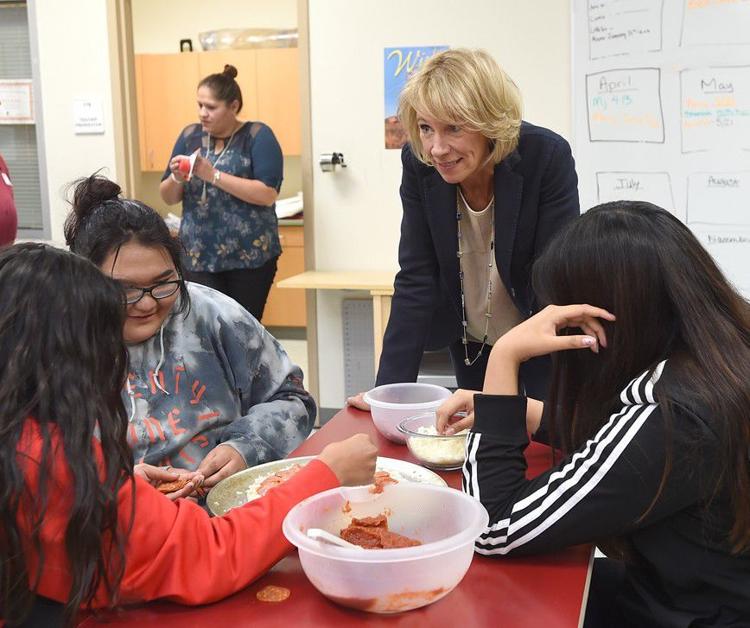 "They've made it clear that they care more about a system, one created in the 1800s, than they do about individual students," she said in July.
Education Department officials have been planning the St. Stephens visit since about the week after Labor Day, No Runner said, but teachers whose class DeVos visited weren't informed until a day or two in advance.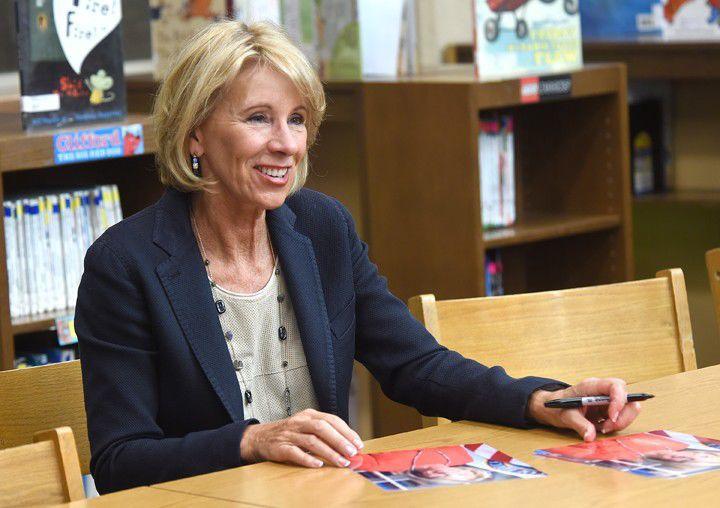 "We didn't want a dog and pony show," he said.
DeVos visited a school in Casper earlier Tuesday. She's slated to visit Colorado, Nebraska, Kansas, Missouri and Indiana later this week.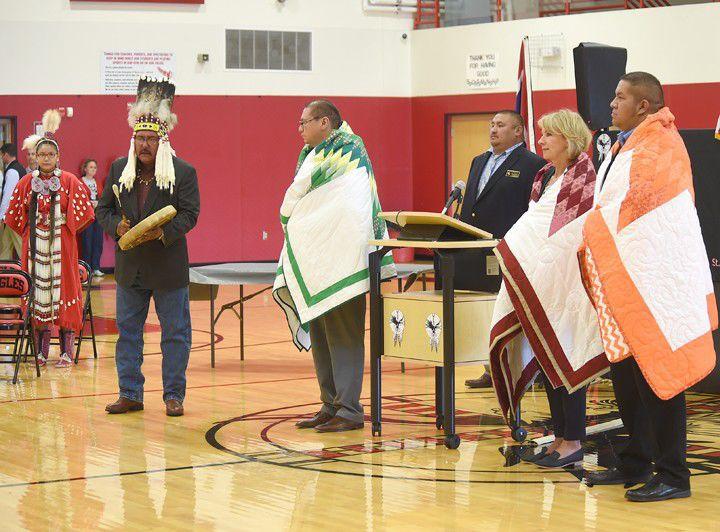 No Runner encapsulated the visit at the end of an assembly where DeVos was gifted a star blanket and heard the Northern Arapaho Flag Song from a student drum circle.
"She got to see a little snapshot of our school."