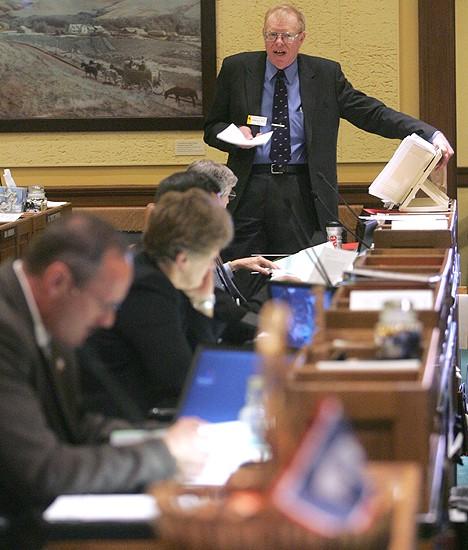 CHEYENNE - A bill that would require companies condemning private property for projects such as pipelines and power lines to negotiate in good faith with private landowners received final approval in the state Senate on Thursday.
In addition to requiring companies to deal with landowners in good faith, the bill, which passed 24-5, also spells out some of the elements of determining fair market value of property.
The Senate adopted an amendment proposed by Sen. Phil Nicholas, R-Laramie, that specified that fair market value determinations may include consideration of the price paid for similar properties.
Sen. Charles Scott, R-Casper, expressed concern about the amendment.
"I think we better take a very close look at this one," Scott said, saying people would question what the word "similar" meant.
"Is the property in the next county similar?" Scott asked. "I think this one has far-reaching consequences that we don't pretend to understand."
Senate President John Schiffer, R-Kaycee, urged senators not to get bogged down.
"We know what similar land is," Schiffer said. "We know what grazing land is, we know what parking lots are."
Schiffer said approving the amendment would require companies to "give us a fair shake in terms of what was paid, if it's similar. At least pay us for what comparable land is worth."
Speaking after the Senate vote approving the bill, Nicholas, a lawyer, said it would give landowners more information about the condemnation process.
"Historically, landowners have really been at a disadvantage in having information about the eminent domain process, and were very handicapped when it came to the appraisal process, and trying to find out what values are," Nicholas said. "This should open up the information flow and make sure the appraisals are done on a fair basis and give folks a better opportunity to address those issues."
Requiring companies to negotiate in good faith also would give landowners new protections, Nicholas said.
If companies try to lowball landowners whom they believe can't afford to hire lawyers to fight for fair market value, Nicholas said the good-faith requirement in the bill could leave any such companies facing a legal challenge that could result in their getting stuck paying the landowner's legal fees.
Nicholas said he doesn't believe it would prove difficult to work out differences between the House and Senate versions of the bill.
Scott said after the final Senate vote that he believes the bill would address a few abuses that have been in the eminent domain area.
"I don't think it gives either side an undue advantage," he said.
Copyright © 2007 Associated Press. All rights reserved. This material may not be published, broadcast, rewritten, or redistributed.
Be the first to know
Get local news delivered to your inbox!