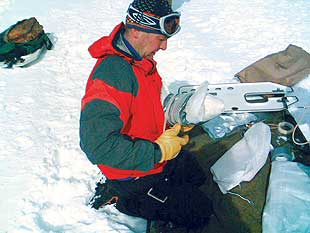 The ground shook and the snow shuddered Tuesday as 200 pounds of explosives - doled out in 10-pound airborne packages - detonated on the slopes of Yellowstone National Park's Sylvan Pass.
The bombing campaign was the first successful attempt in a new program to control Yellowstone's avalanches from the air. It took a helicopter crew about two hours to drop 20 explosive charges while hovering above the snow.
"It went very well," said Steve Swanke, the park's east district ranger, who helped organize the pilot program. "It was successful because everyone got home and ate dinner with their families."
Park officials have been increasingly concerned about the danger of controlling avalanches on Sylvan Pass between the park's East Entrance and Fishing Bridge.
The road is kept open each year for snowmobiles and snowcoaches using the east gate, which serves about 3 percent of the park's winter business.
For years, Yellowstone crews have been sent through uncontrolled avalanche-prone areas to reach a 105 mm howitzer gun to shoot 55-pound shells into the hillside and trigger avalanches.
Not only does the method put workers at risk of getting caught in avalanches, but it has left about 300 unexploded shells in the hills and raises concerns about storing ammunition within the park, according to Yellowstone officials.
Park officials have signed a one-year contract with Carisch Helicopters Inc. of Bozeman to provide avalanche control from the air.
The helicopter crew flew two "dry" missions before Tuesday's flight over Sylvan.
Swanke said the area was checked thoroughly for people and wildlife, and nearby roads were closed before the operation began.
Each device - a 10-pound package of ANFO, a mix of diesel fuel and fertilizer - has a 2½-minute fuse. The fuse is lighted and the package is dropped by hand from the helicopter hovering 25 to 50 feet above the ground. Then the helicopter moves a safe distance away. On Tuesday, all of the charges exploded. Swanke, who was standing about a mile away, said he could feel the ground shake with each explosion.
"It's a fairly big bang," Swanke said.
The helicopter program is expected to continue through this winter and begin again next fall. The howitzer will probably be used for at least one more season, Swanke said, but could be replaced if the helicopter system works.
The helicopter explosives could also be used on Dunraven Pass and elsewhere in Yellowstone, Swanke said.
"We think there are significant safety enhancements (with the helicopter program) and much fewer environmental consequences," Swanke said.
It's also more expensive.
The howitzer avalanche program - which has left three duds on Sylvan Pass so far this year - costs about $107,000 a year. The helicopter program would cost about $285,000 a year.