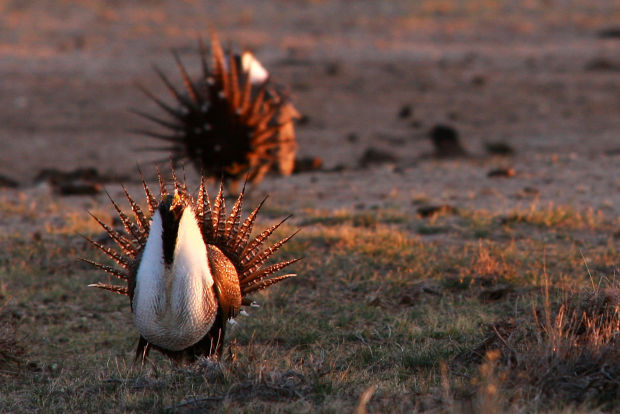 CASPER, Wyo. — Wyoming landowners received nearly $77 million in federal funding during the last three years in exchange for conserving more than 1 million acres to protect sage grouse, recently released government figures show.
Those figures were hailed by policymakers in western states, who said the numbers demonstrated sage grouse could be protected through a combination of state and private efforts. Wildlife advocates countered, saying the conservation measures, while helpful, were an inadequate response to the bird's decline.
The two arguments played out before an expected announcement from the U.S. Fish and Wildlife Service next year over whether to list the sage grouse as an endangered species.
Lawmakers in states such as Wyoming, Colorado and Nevada are desperate to avoid federal designation of the sage grouse as endangered under the Endangered Species Act. They argue the designation would dramatically curtail the recent boom in domestic energy production by making large swaths of land unavailable to oil and gas drilling, along with other forms of mineral extraction.
Wildlife advocates say more habitat
protections are needed if the sage grouse's decline is to be reversed.
Against that backdrop came the release Monday of figures showing landowner participation in the Natural Resource Conservation Service's Sage Grouse Initiative. The service is a branch of the U.S. Department of Agriculture.
Under the initiative, the NRCS distributes funding to landowners through a variety of conservation programs. Landowners, in return, agree to place conservation easements or implement environmentally responsible land management practices on their properties.
The release of the NRCS figures came at the request of the Western Governors' Association, a nonpartisan organization that advocates on behalf of governors in 19 western states.
In Wyoming, the numbers showed 158 landowners received $76.6 million between fiscal years 2010 and 2013 to protect 1.12 million acres.
Overall, the conservation programs spent $236 million to protect some 3.8 million acres throughout the west. The NRCS said another $107 million was invested by partners and landowners in the initiative.
That money was used to develop grazing practices aimed at maintaining nesting cover, removing trees encroaching on historic sagebrush-steppe and securing conservation easements that prevented rangeland from being fragmented by development, NRCS Chief Jason Weller wrote the governors in an April 25 letter.
In a posting on its website Monday, the governors' association argued the figures showed state and private efforts were more efficient at preserving sage grouse. And the group warned a potential listing could hamper landowner interest in federal conservation programs, pointing to the case of California and Nevada, where the Fish and Wildlife Service listed the bird as threatened last year. Applications in the two states to participate in the sage grouse initiative fell from 24 last fiscal year to three this fiscal year, NRCS reported.
A similar thing could happen in Wyoming should the bird be listed, said Shawn Reese, policy director for Gov. Matt Mead.
"There's the question of what's the point: What's the point of making these sacrifices and coming up with these plans if the service is going to list the bird?" Reese said.
The state's core area strategy, which encompasses around 15 million acres, coupled with landowners own efforts are better suited to conserving sage grouse than the Fish and Wildlife Service, which is beset by funding challenges, Reese said.
Erik Molvar of WildEarth Guardians, an environmental group, disagreed. Sage grouse numbers have fallen precipitously since 2006, despite the state's strategy and landowners participation in federal conservation programs, Molvar said.
A January report by Wyoming Game and Fish found the number of sage grouse males observed on leks statewide fell from 44,500 in 2006 to around 18,000 in 2013.
"Tell me how throwing money at that is putting a dent in this massive decline?" Molvar said. "What we really need to do is stop destroying sage grouse habitat."