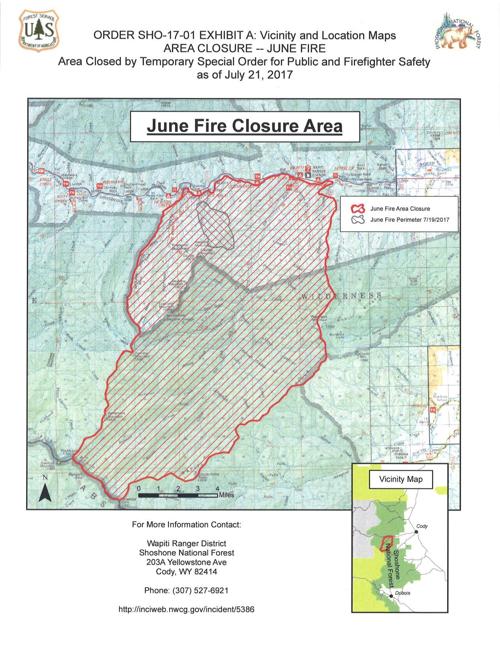 The change in acreage is due to better mapping from an overnight infrared flight.
Rocky Mountain Incident Management Team Black, an interagency team, has assumed command of the 200 personnel fighting the wildland fire that is threatening structures south of Highway 14/16/20 and about 25 miles west of Cody, Wyoming.
A 6 p.m. community meeting will be held Friday at the Yellowstone Valley Inn in Cody to update the public about the operations.
On Friday firefighters were using hose lays, sprinklers and hand lines to protect the UXU Ranch and Blackwater Lodge. Crews were also continuing to improve hand lines installed on Thursday along Blackwater Ridge and were looking to extend that to the north and east along the North Fork.
Aviation resources will assist firefighters as needed with bucket drops and reconnaissance.
Rain over the fire on Thursday slowed the growth and movement of the fire, but wind gusts out of the southwest ranging from 20 to 30 mph were forecast for the region on Friday although temperatures were predicted to be unseasonably cool.
The fire is burning in rugged terrain loaded with beetle-killed pine and is consequently being managed as a full suppression fire, which so far remains uncontained. 
An area closure includes the Elk Fork Campground, Elk Fork Trail and Blackwater Memorial National Recreation Trail.