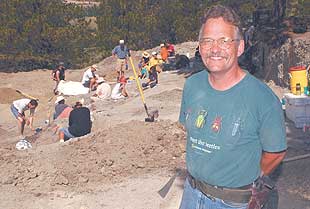 HULETT - Peter Larson has dug up some of the most complete Tyrannosaurus rex skeletons ever found, but it's a trio of longnecks from the Jurassic period that have him excited this summer.
More than a dozen volunteers are helping the fossil hunter sift through siltstone on a private ranch in Wyoming's Black Hills to reveal at least three intertwined dinosaurs believed to be a Camarasaurus, a Barapasaurus and a Diplodocus.
It's been 15 years since his first prehistoric love - a T-rex named Sue - was discovered in western South Dakota, but Larson, 53, still has a youthful enthusiasm about paleontology.
"I'm just learning about the Jurassic dinosaurs," says Larson, who can barely wait to assemble his first longneck. "I know about the latest Cretaceous ones, but these are all brand new to me."
Larson's commercial fossil-hunting company has unearthed seven more T-rex skeletons since digging out Sue, the largest, most complete and best preserved T-rex ever found.
But Sue continues to hold a special place in Larson's heart, despite landing him in jail and nearly putting his now-thriving Black Hills Institute of Geological Research out of business.
"Your first love is always your favorite, I guess," Larson says. "It's always something special."
The institute's Sue Hendrickson found the T-rex on Aug. 12, 1990, at a ranch operated by Maurice Williams on the Cheyenne River Indian Reservation.
After writing Williams a check for $5,000, Larson and his staff excavated the 65-million-year-old fossil and brought the bones back to Hill City, S.D.
In May 1992, federal agents seized the dinosaur as evidence in a criminal case against the institute and company employees. Nearly all of the charges eventually were dropped, but Larson was sentenced to two years in federal prison on unrelated counts involving failure to report some financial matters and taking fossils from federal lands.
Meanwhile, the federal Bureau of Indian Affairs stepped in and argued that the institute had no right to take Sue because the bones had been removed illegally from lands held in trust for Williams by the federal government.
A judge agreed and gave custody back to Williams, who put the T-rex up for auction. The Field Museum of Chicago bought the skeleton for $8.4 million in 1997.
Larson says he drops by to see Sue whenever he's in Chicago. "I have visitation rights," he quips.
Larson would rather that Sue were back home with him in South Dakota, but a T-rex named Stan, discovered in South Dakota in 1992, adequately fills her spot in the Hill City museum.
"Stan's skull is still the best skull," Larson says proudly, "and Stan's the second most complete T-rex."
The Sue ordeal easily could have left Larson bitter, but he has come to realize it wasn't personal - it was politics. And 15 years later, he says, business has never been better.
"We got, I don't know, $20 million worth of advertising, and it only cost us a million dollars in legal fees and a couple years of my life, too." Larson says. "But all in all, we're certainly better off now than we were before the whole thing happened."
The legal wrangling was only one battle in the world of paleontology.
Sue's auction drove up fossil prices, which piqued the interest of landowners whose property might be holding bones and thieves looking to profit from them.
Fossil poaching continues today, says Barbara Beasley, a paleontologist with the U.S. Forest Service.
Poachers include academics, those hoping to sell fossils on the black market and those simply curious about dinosaurs, Beasley says. They're tough to catch, but the government has started making the issue a priority the past few years, she says.
Sue's discovery also highlighted longtime disagreements between academic scientists and commercial fossil hunters over who should have access to areas hiding prehistoric creatures - especially government-owned sites.
Some academics want only scientists to have access to fossil-rich public lands.
Larson disagrees, saying that most discoveries are made not by scientists but by amateur collectors or hobbyists who dig because they love it.
There are a lot more fossils than collectors, he says, and amateurs can dig on sites that scientists would never even get around to exploring.
"It does no one any good for a fossil to weather out of the ground and crumble into dust and wash to the sea," he says. "It doesn't help us learn anything."
A better use for those fossils, Larson says, is to capture the imagination of children.
That's why he returns to the Waugh family's Hulett ranch for several weeks each summer, as he's done for the past five years.
Volunteers ranging from preschool to middle age join Larson and a handful of staff. This year's crew includes a father and son from near Dayton, Ohio, a Boy Scout troop from Wisconsin and Cindy Nelson, an elementary art teacher from Oakland, Calif.
Nelson uses a small knife to cut around the pubis bone of Camarasaurus, a 145-million-year-old longneck that measures about 50 feet from nose to tail. A hybrid glue called Paleo-Bond helps her preserve the bones and keep them from disintegrating.
She found the large bone during her first day on the site. "It popped up right here," she says.
Nearby, Stacy Medina digs dirt from what appears to be a leg bone. Digging for fossils is something she has wanted to do since second grade.
Medina and her husband, John, brought their 10-year-old daughter, Johnni, and 9-year-old son, Hunter, from their home in Galt, Calif., to spend four days at the dig site.
The family had met institute president Neal Larson, Peter Larson's brother, at a wine event a few years ago, and he was impressed with the children's enthusiasm, Stacy Medina says.
"They brought their bag of bones to Neal so that Neal could tell them what kind of animals they were," she says.
Peter Larson says the Hulett site is a great place to encourage young volunteers, who are the paleontologists of the future.
"We don't want someone who just thinks they might be interested in dinosaurs. We want somebody who's nuts about it," he says.
Some of the Jurassic specimens found in Hulett will wind up in the Hill City institute, where Larson spends his winters putting bones together for his own museum and other clients.
But Larson hasn't abandoned the T. rex.
Earlier this year, the institute and the Black Hills Museum of Natural History held a symposium commemorating the 100th anniversary of the naming of the massive dinosaur.
And this fall, Larson and others will return to a ranch north of Baker, Mont., in search of additional bones from Wyrex, the institute's eighth T. rex. Larson will help rancher Don Wyrick find a permanent museum home for the creature.
Copyright © 2005 Associated Press. All rights reserved. This material may not be published, broadcast, rewritten, or redistributed.