CHEYENNE, Wyo. — Gov.-elect Mark Gordon became Gov. Mark Gordon on Monday morning, taking the oath of office in a crowded auditorium filled with numerous lawmakers, public servants and others in a pageant that was as much a celebration of Wyoming as it was of his new administration.
In his first public address as governor Monday morning, Gordon used his time on stage to outline several key priorities for the first months of his administration, including his push for a smaller, more responsive government; increased fiscal responsibility; and a renewed commitment to education -- one of the most pressing concerns he will face in his first term in office.
Speaking from a podium built especially for the occasion by his son, Spencer, Gordon painted his aspirations broadly, setting a foundation for what is expected to be a more involved and detailed outline of his administration's policies in Wednesday's State of the State address. The general themes of his intentions, however, were clear: a desire to recognize the state's wants versus its needs, a leaner -- but not necessarily cheaper -- government and, in what might be the most notable concern for his administration, a real solution to sustainably funding the state's education system.
"I know firsthand that a one-size-fits-all approach to education will not do justice to the diversity of priorities and needs in districts around the state," Gordon said. "I intend to nurture open and frequent communication lines with all our schools. To listen and respond appropriately to the needs of our different communities. And I'm eager to work together with educators and lawmakers to find a lasting solution to school funding that makes sense for Wyoming."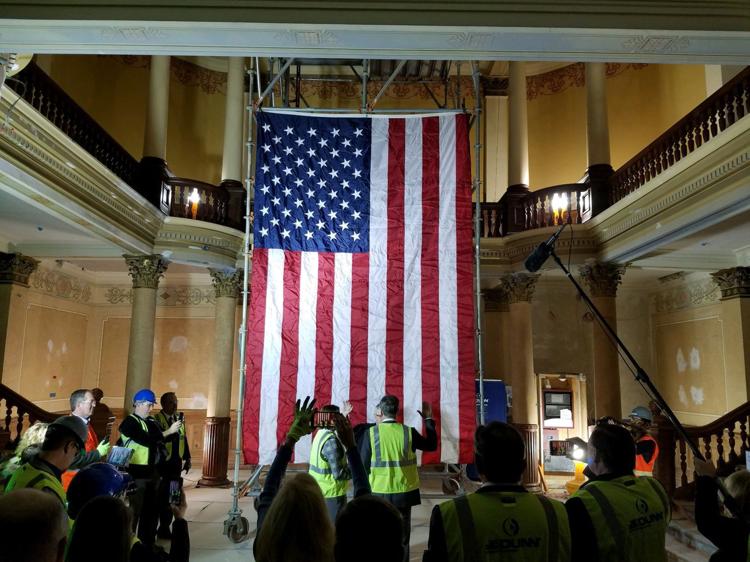 The speech, Gordon said in the weeks leading up to Monday's ceremony, was intended to be more thematic than pragmatic in its content. The governor spoke in highly optimistic tones, committing several paragraphs of his speech to what he feels makes Wyoming great and the tangible achievements its government has made in recent years -- like its work on blockchain and its recent spurts in energy innovation, another area in which Gordon placed emphasis.
"Our energy and mineral industries are in a class by themselves," he said. "In fields like enhanced oil recovery, carbon capture and utilization, mine reclamation and renewable energies -- ask yourself this: Who has done it better than Wyoming? No one."
Prior to Gordon's speech, the state's four other elected officials were given the oath of office. The group included Secretary of State Ed Buchanan, Auditor Kristi Racines, Treasurer Curt Meier and Superintendent of Public Education Jillian Balow. They were introduced with a performance of the song "A Thousand Years" by Casper residents Susan Stubson on piano and Christine Hutchings on cello.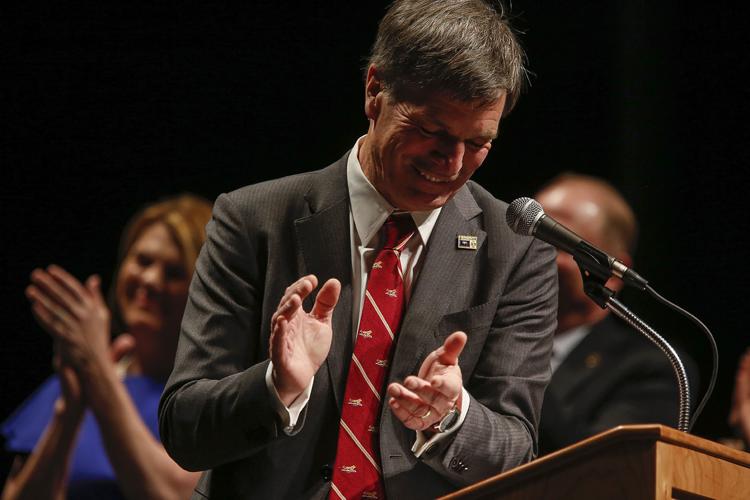 Also performing Monday morning was David Munsick, who played "Forever West" as an interlude before the governor-elect took his oath of office. Munsick had shared the song with Gordon in January 2017, right before he declared his candidacy for governor.
The 10:30 a.m. swearing-in ceremony was actually just that: ceremonial. The official transfer of power actually took place in a closed-door ceremony in the early hours of the morning inside the State Capitol building, which is currently closed for renovations. At 6 a.m., a Cheyenne Street Railway bus filled with at least two dozen individuals -- as well as an SUV carrying the governor-elect -- exited the Capital Reconstruction Project staging area and proceeded to the front door of the Capitol, which held the ceremony. It was closed to the public and every news outlet except The Associated Press.
Also sworn in at the ceremony were Buchanan, Balow, Racines and Meier. Wyoming Chief Justice Michael K. Davis administered the oath.
You have free articles remaining.
Rachel Girt, Gordon's communications director, confirmed that outgoing Gov. Matt Mead was present for the transfer of power, and the capacity for the ceremony was restricted by the construction site's management, due to it being an active construction site. In a statement the night before, Girt said that to Gordon, "receiving his oath of office in the Capitol, the people's house, holds a special significance for the governor-elect," and that having a public ceremony was also important to him. He acknowledged this in his speech.
"We do it twice because we do it nice," Gordon said, to laughter.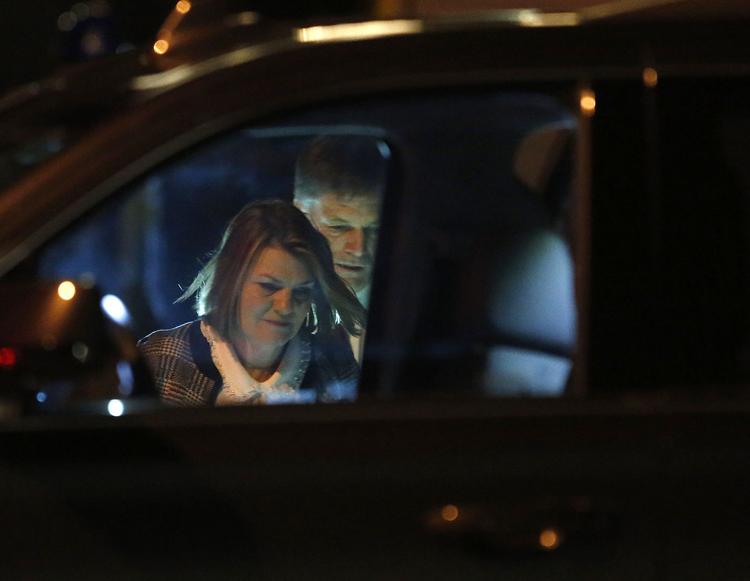 At 8:30 a.m., a congregation featuring Wyoming's political elite -- former Govs. Mike Sullivan, Jim Geringer and Dave Freudenthal; Sens. Mike Enzi, John Barrasso and Al Simpson; Rep. Liz Cheney -- and numerous legislators joined Gordon's family for a prayer service. Officiated by the Rev. Carol Buckingham of Kaycee, the service included a passage from the bible where John the Baptist offered to wash Jesus' feet. Christ declined and instead did the service himself. Buckingham followed with a sermon on the selflessness of service -- comparing government to a cattle branding -- and an "on-the-ranch" mentality that extends to Wyoming's government.
"Think of the branding, where everyone works as a team and what we can accomplish is a branded and vaccinated cow," Buckingham said. "Christ has called us to a life of serving others, and that's what the towel and the basin represent. Dr. Martin Luther King Jr. said, 'Everyone can be great, because everyone can serve.' You don't have to have a college degree to serve. You only need a heart full of grace, a soul generated by love."
Gordon, throughout his speech, seemed to embody that spirit of service, recognizing members of the military and others who serve Wyoming as well as the need for all its people to pitch in to strive for a better government. But Gordon also spoke to a spirit of optimism in moving the state forward and the power of the individual in moving the state forward.
"Reaching our potential will not be easy," he said. "We have challenges ahead. But if our history teaches us anything it is that we in Wyoming are resourceful and that throughout our history our state has been blessed with pragmatic, effective and strong leaders."
To close his speech, Gordon expressed the confidence that he -- and those beside him -- have the capacity to be just as strong.
"My friend, the late Raymond Plank, founder of Apache Oil and the Ucross Foundation, philanthropist, businessman, and founder of the Wyoming Futures Project, once wrote, 'The capacity of the individual is infinite. Limitations are largely of habit, convention, acceptance of things as they are, fear or self-confidence.' He was right. Our best days are ahead of us."
"We have work to do," Gordon added. "So let us go forth with confidence, with courage and with conviction."