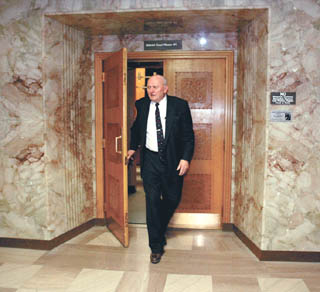 TARA WESTREICHER Casper Star-Tribune
CASPER, Wyo. - Bruising and abrasions found on the wrists of Lisa Marie Kimmell showed that she had been bound by a hemp or braided nylon rope, County Coroner Dr. James Thorpen, told jurors in the capital murder trial of Dale Wayne Eaton in 7th District Court.
Thorpen's autopsy report showed that Kimmell had many bruises and abrasions, mainly on her wrists, ankles, arms and legs. The ligature marks showed up after the body was embalmed, according to testimony.
"In my opinion, they represent probably binding marks," the coroner said.
Eaton is accused of committing the kidnap, robbery, rape and murder of the 18-year-old girl whose body was found in the North Platte west of Casper in 1988. Prosecutors are seeking the death penalty.
Eaton's trial was in its third day Friday when Thorpen was called to the stand a second time. He testified briefly Wednesday afternoon.
The state's key witness described for the jury the ligature marks, the woman's six stab wounds and a head injury investigators say she received before being thrown from the bridge.
That blow to the head was so severe, Thorpen said, that it caused a 4-inch fracture to Kimmell's skull. She also had a fractured hip, likely received in her fall from the bridge, he said.
Upon further questioning by District Attorney Mike Blonigen regarding Kimmell's time of death, Thorpen could only estimate that she died 36 to 46 hours before she was found in the river.
His autopsy findings also concluded that she died sometime in the evening, though Eaton's attorney, Wyatt Skaggs, objected to that conclusion.
Thorpen said Kimmell's body had not decomposed much before she was found and said she appeared to have eaten something resembling beef stew roughly two to four hours before she was killed.
The binding material, the knife, and the weapon used to hit Kimmell in the head were never recovered, the jury was told.
The Montana teen vanished Friday, March 25, 1988, while driving through Wyoming.
The 59-year-old Eaton was linked to the woman's killing in the summer of 2002 after authorities were notified that a DNA sample Eaton submitted while incarcerated at the Wyoming State Penitentiary in 1998 matched samples taken from Kimmell's body.
Not long after the alleged DNA match was confirmed, Natrona County sheriff's investigators unearthed Kimmell's car - a black Honda CRX - on a Moneta property owned by Eaton.
The jury Friday was careful to keep extremely graphic autopsy photos taken of Kimmell's injuries out of the view of the family, who was seated right behind them.
However, several photos depicting the deep stab wounds Kimmell suffered were held up in front of the jury so the doctor could explain them.
According to Thorpen, Kimmell's killer hit her in the back of the head with a severe blow before stabbing her six times. She was stabbed five times in the chest and once in the abdomen. Small cuts surrounding the stab wounds indicated that the killer felt around with the knife before stabbing the girl, so as not to hit her ribs, Thorpen concluded.
Thorpen additionally testified that he believed Kimmell's hands were still bound when she was stabbed, and that the bindings were then removed.
"The position of her body made us think of binding," even before the actual marks became visible, he said.
Skaggs also objected to that conclusion, among others, in his cross-examination of Thorpen.
Thorpen said all of the stab wounds were 5.5 to 6.5 inches deep. Each penetrated vital areas of her heart and her left lung, and three of the stabs went all the way through to her spine, he said.
Each of those wounds could have been fatal, Thorpen said, but added that Kimmell was unconscious after being hit in the head and likely never knew she was being stabbed.
From the head wound alone, Thorpen told the jury that Kimmell would have died about two to six hours later.
But the subsequent stab wounds caused her to die quickly because of the "massive bleeding into and out of the body," he said.
That led to her death within seconds to minutes, he said.
"She did not suffer at all, is that correct?" Blonigen asked Thorpen, referring only to the actual killing and not any time before that.
"That is my opinion," he responded. No defensive wounds were found on Kimmell that would indicate that she put up a fight when being struck in the head or when being stabbed, he reported.
According to Thorpen, Kimmell also had no drugs or alcohol in her blood when she died.
Eaton's trial will continue Monday with more DNA testimony, prosecutors said.