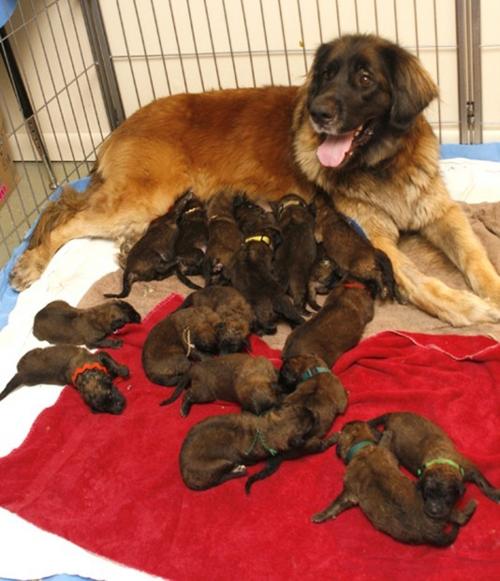 POWELL — The Paul and Mary Ann Smith household in Powell has 18 new mouths to feed and getting that done takes a group effort.
Ariel, one of the large Leonberger dogs owned by Mary Ann Ruggiero-Smith, gave birth to 18 puppies on Oct. 27, thought to be a breed record for the United States.
The litter also is thought to have set a worldwide record for the largest number of surviving Leonberger puppies from a single litter. One Leonberger female reportedly gave birth to 19 puppies in Europe, but a few if them died.
Ruggiero-Smith said she believes Ariel's litter could have suffered a similar fate if the puppies had not been delivered by Cesarean section.
It was impossible to tell how many puppies Ariel was carrying, as there were too many to see them all during an ultrasound checkup.
"We knew there were at least 10," she said.
That was a big change from Ariel's first litter, which consisted of only four puppies. That small litter was the result of artificial insemination.
This time, Ariel accompanied Ruggiero-Smith to California for a meeting with the puppies' father, Eddie Spaghetti, a Leonberger with an Italian background.
Though not immediately obvious, their union a huge success.
Shortly before the puppies were due, Ruggiero-Smith said she became worried when Ariel, hugely pregnant, repeatedly lost water.
Ruggiero-Smith Smith asked her veterinarian, Dr. David Pendray of Cody, to perform a C-section.
Ruggiero-Smith's husband, Dr. Paul Smith, a surgeon with Powell Valley Healthcare and Ariel's unofficial owner, asked if he could watch while Pendray performed the surgery.
Pendray said that would be fine, adding he probably could use Smith's help.
Shortly after the surgery began, vet assistants began bringing puppies into another room, where Ruggiero-Smith and her daughter helped stimulate the puppies to make sure they were breathing well.
As the puppies continued to arrive, Ruggiero-Smith asked with amazement, "How long is this going to go on?"
They had reached a count of 17 when Pendray came into the room and announced the surgery was over.
"It's a good thing Paul was in there with me," he said. "That was big job."
A closer count later at home revealed there actually were 18 puppies.
To make sure each puppy got the nutrition it needed, Ruggiero-Smith divided the puppies into three groups of six, and put each group in a laundry basket.
"I fed six, she fed six, and hopefully by the time the other six were hungry, one of us was ready to feed them," she said. "Between their mother and me, somebody was getting fed about every hour."
The Smiths' daughter and granddaughter helped feed the puppies as well.
Ruggiero-Smith said she mixes her own puppy formula from a combination of evaporated canned milk, corn syrup, yogurt and water.
Ariel also is on a special, high-calorie diet. She eats large-breed Eukanuba puppy chow and ice cream.
"We buy those 2 1/2 gallon tubs of ice cream and feed them to her," Dr. Smith said. "We feed her as much as she'll eat any time she'll eat."
Ruggiero-Smith said Ariel began getting anxious when the puppies were a few days old.
"I had puppies in three laundry baskets, and when they started crying, she went nuts," she said. "I said, 'This dog is going bonkers."'
"No, she wasn't," Ruggiero-Smith added. "As soon as I got all her puppies out of the basket and put them around her, she was just fine. She just wanted to see all her babies."
By the time the puppies were a week and a half old, Ariel was producing enough milk to feed all 18 puppies.
But, Dr. Smith noted, "Pretty soon, they're going to get too big for her, and we'll be back to feeding puppies."
Despite the unexpected size of the litter, Ruggiero-Smith said all the puppies the progeny of champion lines were sold within a few days.
"We had up to 14 spoken for," she said. "As soon as we found out we had 18, the rest just came out of the woodwork."