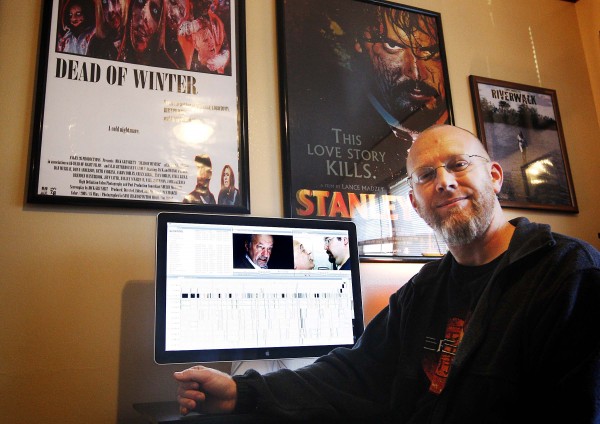 CASPER, Wyo. — The walk to the theater was a little like dying.
But instead of having his entire life flash before his eyes, Lance Madzey saw movies. He thought of his favorite films and his students, now adults and working in the business.
"I started thinking about the first films that I cut when I was a little kid, how I just wanted to do this," he said. "And all of that stuff flashed through my head."
It took two years and $12,000 of his own money for Madzey to walk into Casper's Rialto Theatre last week and see "Stanley," the feature film he produced and directed, playing on the big screen. He sold his house and went into debt. He spent months holed up in his home office, surrounded by movie posters and a signed photo of director Clive Barker, building the movie on his computer.
"And it looked beautiful," said Madzey, a film instructor at Natrona County High School.
"I think I laughed out loud and I think I clapped a bit, even though it was just me," he said. "(Then) I just ejected my disk and walked back to my car. It was surreal."
"Stanley" premieres Saturday at the Rialto. The horror film tells the story of a loner who finally finds love, but it's not what he expected. It was shot in Casper and features a cast and crew of mostly Wyoming residents. Many were Madzey's former students.
The film was written by Dick Grunert, a classmate of Madzey's at Columbia College in Chicago. The two lost touch after graduating, but reconnected a few years ago. They began to collaborate, and in 2008, Grunert sent the "Stanley" screenplay to his friend.
"I just flipped," Madzey said. "I thought it was a blast, and there was something in my head that said, 'I can do it.' "
By this point, Madzey had spent more than a decade teaching. He'd worked on more than 40 short films, but never a feature production. He was closing in on his 40th birthday and had always wanted to complete a full-length movie before reaching that milestone.
"There (was) no reason for me not to do it," he said. "I think I was at a time in my life when I had to take that risk."
First, there was the matter of paying for everything. Even filming on a budget, Madzey still needed to come up with the cash to pay for props, effects and editing equipment.
So in the middle of a recession, he sold his home to raise money. His parents and friends — even his real estate agent — questioned the decision. The chances of independently producing a film, and then selling it, are slim.
He was scared, but felt he had to at least try.
"I've been making these things since I was in junior high when my dad gave me my first camera," Madzey said. "So, in my opinion, I don't want to live a life that is unfulfilled. This is what I am supposed to be doing.
"I love teaching, and I don't ever want to stop. But at the same time, I just think it is really important that I practice what I preach. I'm married to film. I'm a single guy, so basically everything I do when I go home, I walk the dog ... and then I'm either writing or composing music or thinking about my next project. That is what I do."
Without money to pay a cast and crew, Madzey turned to his former students. Many of the 84 people involved in the project began learning their craft in his class, or were recommended by someone who had.
The film, he said, completed a circle. The students who left to begin their careers returned to help him realize his vision.
Trevor Trujillo, an actor and University of Wyoming student who plays Stanley, considers Madzey a mentor. The two met when Trujillo was a high school junior but stayed in touch as Trujillo began acting in local theater productions.
"One of those things that slowly evolved out of that teacher-student relationship, we became peers," Trujillo said. "But being able to take something that Lance was teaching us in the classroom and being able to apply it practically was really fun. We were able to ... look back on experiences and say, 'Well Lance, this is what you taught us.'"
"Stanley" began filming in July 2009. The crew members would often shoot at night and on weekends to accommodate their work schedules. They used a borrowed high-definition video camera — the same type used to make the 2008 film "Cloverfield." Friends helped him find places where they could shoot for free.
"I called in as many favors as I possibly could," Madzey said.
There were moments where he questioned the whole thing. About a month into production, some former students who were helping with the production failed to deliver. He tried to improvise, but the result didn't look right.
"That was one moment where I didn't think I was going to be able to finish that film, and it was depressing, incredibly depressing," he said.
With encouragement from friends, the project moved forward again. In another two months, they had completed most of the filming, although work continued into the winter.
Madzey edited the film from inside a small home office decorated with posters of his earlier projects. He saw the finished product for the first time last week at the Rialto screening.
Madzey plans to enter "Stanley" in film festivals and hopes someone will see it and decide to distribute the movie. But he'll have to wait to find out.
Entering a feature costs about $100, and he'd have to fork over at least another $1,500 if some festival decides to screen it.
Right now, he doesn't have the money.
"Because of my paycheck, and since I'm in debt, patience is going to be really difficult," he said. "So I'm going to have to wait another month for the next paycheck, and so on."
The film has enjoyed a good response from the few people who've seen it, Madzey said.
But there's also the possibility that Saturday's premier will represent its high-water mark.
Even if that's the case, Madzey sees opportunity. "Stanley" could be used to stir up funding for whatever project he embarks on next.
"We pulled this off for 12 grand," he said. "Imagine what we could do with a bigger budget."