The coal industry has been in decline since a peak in 2007, tracking the falling use of coal in power plants across the country. The largest coal state in the country, Wyoming produces more coal from its 16 mines than the next six largest producing states combined.
Wyoming production of the black rock peaked in 2008, but the state's coal industry has felt the pinch following that high, suffering a downturn in 2015 and 2016. In just those two years, the state lost about one quarter of its annual coal production.
The rally that followed the downturn has been modest, with production rising just 6 percent in 2017 and firms bringing back just five full-time mine employees compared to the nearly 1,000 that were lost. The narrowed coal market continues to represent uncertainty in one of Wyoming's bedrock industries, with one of the largest coal producers in the state considering a sale.
National coal consumption in the final months of 2018 has yet to be counted by federal and state officials, but the U.S. Energy Information Administration — which tracks weekly coal shipments — estimates that consumption will be down 4 percent for the year compared to 2017.
The use of coal in the U.S. has fallen by 44 percent in the last decade, with 2018 consumption projected to be 437 million short tons lower than the 2007 peak, according to the EIA.
The drop is largely due to the decline in the coal power market spurred by cheap natural gas.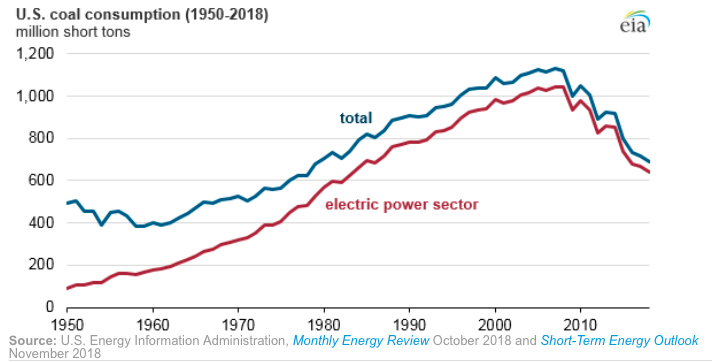 Utility companies, by the end of 2017, had retired 529 of the 1,470 coal-fired generators operating in 2007. Many of those retirements were for old, less efficient units. The EIA notes that a federal rule to reduce mercury and air toxics in 2015 drove many of those retirements as utilities chose to close older units rather than invest in compliance with the new standards.
Mercury is released into the air from burning coal. Exposure can cause neurological disorders as well as respiratory problems.
The Trump administration proposed a rollback of the mercury standards just last week. Most utilities say they have already absorbed the cost of the new mercury standards or made retirement decisions.
In addition to the new standards, coal plants have had to operate at lower efficiency levels than they were designed for, given that the electricity market is more dynamic than it once was. Cheaper sources of power like natural gas, wind and solar outcompete coal-fired electricity and coal plants are not designed to operate at low levels, turn on and off, or ramp up and down, the EIA notes.
With the first three quarters of 2018 counted, Wyoming coal production was down 5 percent compared to the first three quarters of 2017.
Follow energy reporter Heather Richards on Twitter @hroxaner