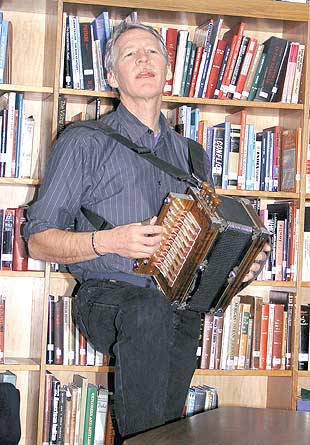 SHOSHONI - Wyoming Poet Laureate David Romtvedt has spent a lot of time working with kids, so he has little difficulty exploring rhythm and the spoken word with students in workshops around Wyoming.
"I worked for about 10 years regularly as an artist in residence through state arts councils primarily in Alaska, Washington, Montana, a little bit in New York, Arkansas, Nevada and some other states, but mostly within the Pacific Northwest and Montana," he said during a recent two-day session in Shoshoni.
"I was at a different school every Monday morning, usually a week at a time in each school, working with kids in grades K-12," Romtvedt said.
Students in third, fifth, sixth, seventh, eighth, and 10th grades participated in a variety of poetry-related exercises.
"We did some rhythm activities," Romtvedt said. "In a few of the classes, we actually wrote a little bit, just a few lines. In a few classes they worked with a musical phrase and had to find language that would fit it. So, that was about finding how rhythm works in language.
"In some classes we just talked about literature. Oh, and in one class we danced. So, we did a lot of different things."
According to Romtvedt, the students at Shoshoni weren't particularly different from other young people he has worked with.
"Kids are universal," he said. "There are a few, always, everywhere you go, who are a little more interested, who are immediately like, 'Oh, yeah.' Maybe they're really tuned in to music, or maybe they care about language somehow, maybe they're readers. There's always a few kids like that."
Romtvedt enjoys working with young people because, he said, unlike adults, "they tend to be honest. They often have a kind of unprotected openness, they will probably say what they think unless someone is pushing pretty hard on them not to, and that's kind of nice.
"I just mean they're natural and spontaneous, and that's a great thing about kids. They have a wild energy. They don't know lots of things in the world of books and ideas and school, because they're young. They don't know these things, so it's very refreshing to see young people either be interested or curious about learning. That's a blast.
"They also help me stay involved in things. I'm kind of getting older, you know. Working with kids, I can continue to be in a world with a lot of energy, and that's different from the world I might live in otherwise."
Romtvedt finds great importance in exposing children to poetry and art in its pure form.
"In many cultures there is no distinction made between art for everyone and a special children's art," he said. "Many cultures have lullabies. They sing babies to sleep and things like that, but they don't have special children's music or children's literature. They have the art form, whatever it is in that culture, and kids come to it as they can until they're finally adult members in the culture."
Romtvedt said a rift may be caused between young people and their adult counterparts by excluding children from certain kinds of art.
"They are in this special child zone, so that means they don't have a very clear or simple way to interact with the adult world and they don't participate in it," he said.
"I think all sorts of problems occur because of that. It's a little bit unfair, don't you think?
"Kids can become suspicious of art or not know how to handle it. They can be defensive if they are ignorant. That is completely unnecessary. Just let kids participate as they can."
Romtvedt hopes that by exposing young people to a wide variety of art forms, they will begin to understand that there is not just one correct way of doing things.
"The world is really big," said Romtvedt. "It's really broad, and lots of different people live in it, and they have lots of different ideas about how to live.
"Through literature and art I want young people to grow up interested in the lives of others."
Copyright © 2005 Associated Press. All rights reserved. This material may not be published, broadcast, rewritten, or redistributed.