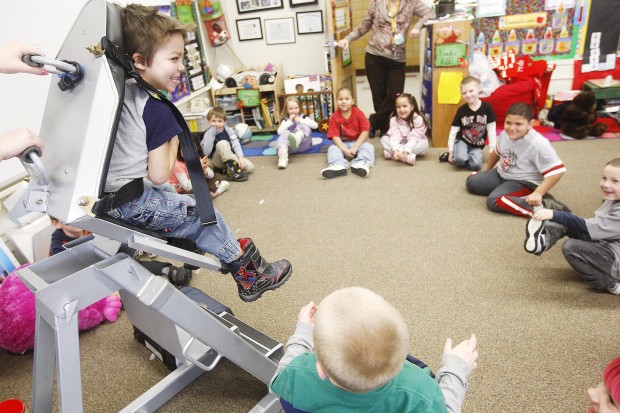 CASPER, Wyo. — They were on their way to get ice cream when a rabbit ran in front of their car and the driver slammed on the brakes.
Passenger Naomi Geisner, 6, was flung forward in her car seat and hung over the floor, secured by a seat belt.
The scene happened in a kindergarten classroom at Casper's Grant Elementary, not on the road.
Geisner was strapped into a contraption called "The Little Convincer," a car seat about 2.5 feet from the ground that can be tipped forward to simulate an automobile accident.
Minutes earlier, a large stuffed monkey took the fall without a seat belt and landed flat on its face.
"You're not going to land on some big fluffy pillow some guy left on the road," volunteer Josie Welch told the class.
"When he's in there right, the monkey's not going anywhere."
The Little Convincer is used to teach young students proper seat belt use as part of a program from Safe Kids of Wyoming. The device has been used in Lander and Riverton for a few years and, beginning this month, in schools in Natrona County.
"We've got some behaviors here in Wyoming we need to change," said Diane Guerttman, coordinator for Safe Kids of Central Wyoming.
"We're addressing it through our children. Lots of times, parents will do things for their children that they won't do for themselves."
Students at Grant already knew the drill: Buckle up. And tell your parents to do the same.
"I always buckle up because I know I need to be safe," Geisner said. "My family reminds me to be safe."
Geisner said she can buckle her seat belt by herself — except when she's wearing gloves. That's when she asks for help.
She said she will do her seat belt homework — filling out a worksheet with stickers earned for wearing her seat belt and reminding other passengers to buckle up, too.