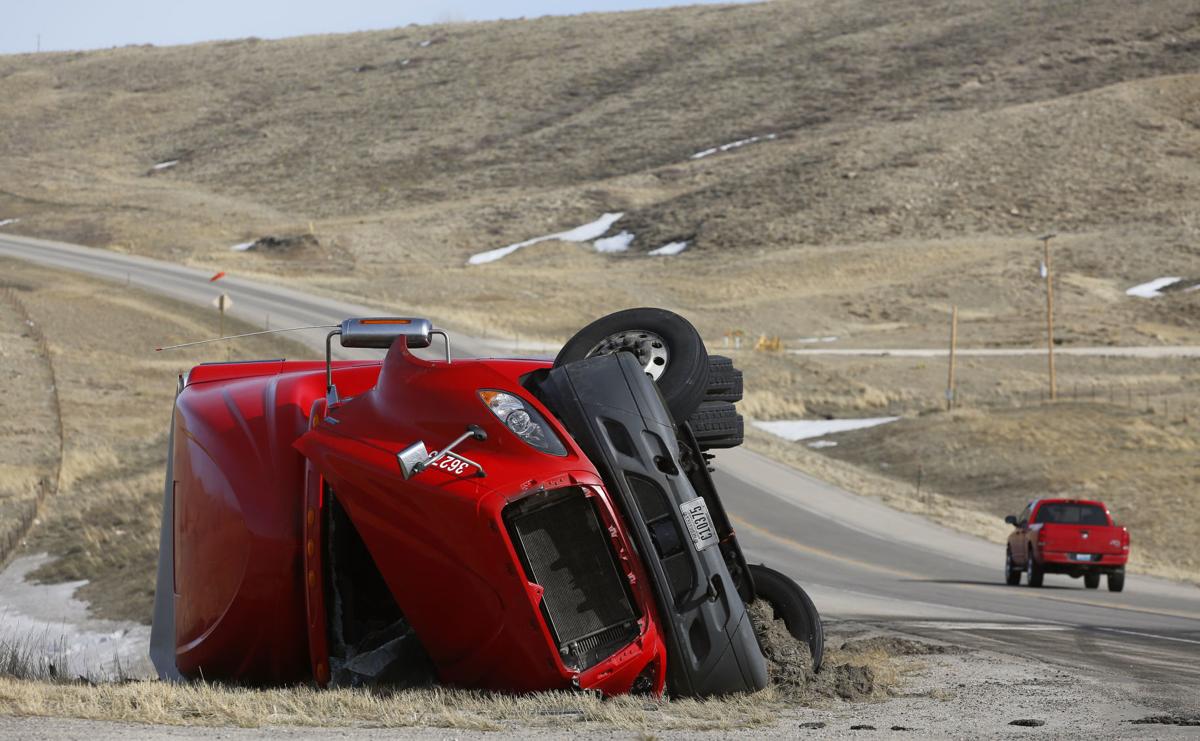 From a Wyoming man whose death from cancer was linked to his time fighting fires to a veteran coal miner crushed by a slab of coal to numerous truck drivers killed in crashes on Wyoming's roads, 20 people died on the job in Wyoming in 2017, the third highest fatality rate in the country last year, according to a report last week by the state epidemiologist. Transportation was the most common cause.
The report by the Wyoming Department of Workplace Services notes that the number of deaths per 100,000 workers in Wyoming was 7.7 compared to the national average of 3.5 in 2017. Over a five-year average, Wyoming's fatality rate is three times that of the country.
Death and injury in the workplace are high in Wyoming in part because the state has a significant portion of its workforce in high-risk occupations, said Meredith Towle, state epidemiologist.
Mining, agriculture, oil and gas extraction and a transportation sector that overlaps with these other key industries are all considered risky professions.
Towle said that 2017 was not a particularly unusual year for workplace fatalities, but the year-by-year study that she's compiled — going back five years — has revealed some of the ways Wyoming, a traditionally dangerous place for many workers, has improved and could do better.
Her research has also brought up some of the difficulties facing Wyoming safety, such as the complicated nature of a common cause of death — contact with machinery — and the independent nature of the trucking industry that crisscrosses Wyoming every day and is responsible for the largest number of workplace deaths most years.
Notable from 2017
It was an unusual year for Wyoming workplace fatalities in one sense. Though transportation and warehousing jobs remain responsible for the largest number of workplace fatalities, there were no deaths in Wyoming's oil and gas production sector — a high-risk employer for Wyoming's workforce — according to the report.
The state report differed in this count from a recent federal report that counted four deaths in the natural resources and mining sector. Towle said the discrepancy may be because she categorizes industries by what the worker was doing when killed, while the federal count appears to track fatalities according to the employer.
The safe year for oil and gas workers may have been related to the lower number of oil and gas jobs, Towle said.
"We can link the ebb and flow of employment in those industries with the ebb and flow of workplace deaths," she said.
Last year, the improvements in crude oil pricing lifted Wyoming's beleaguered economy and began a gradual rise in oil and gas jobs, personal income and oilfield activity. But employment remained well below historic highs.
The industry is also under more scrutiny than some others, Towle said, noting that many employers in the state do appear to have a more collaborative relationship with regulators than in the past.
"We have made a lot of progress in terms of safety with that industry," she said.
Takeaways
It is usually men — who populate the more at-risk industries — that die on the job in Wyoming. Men accounted for 92 percent of deaths on the job between 2012 and 2017.
Most deaths are Wyoming residents — about three-fourths of fatalities.
The largest number of workplace fatalities over the last five years was Natrona County with 23 deaths. There were 16 deaths each in Campbell, Laramie and Sweetwater counties in that time frame.
Most worker deaths in Wyoming occur in transportation, with 33 percent of fatalities tied to a car crash on roads and highways and an additional 13 percent from a vehicle hitting a pedestrian or crashing on a work site, such as an ATV rolling over. In 34 percent of cases, the Wyoming Highway Patrol was the lead investigative agency, according to the report.
Other significant types of injuries leading to death were the result of contact with equipment, which accounted for 29 deaths over the last five years and falls from heights, which accounted for 18 percent of Wyoming fatalities in the last five years of fatality records.
Challenges and remedies
The percentage of out-of-state workers dying on the job spikes when looking at one industry, transportation, making it difficult for Wyoming to work on safety measures in that sector, Towle said.
In the last five years, 69 percent of transportation and warehouse job deaths were out-of-state residents.
"That's a unique challenge we face," Towle said. "We have a lot of truck drivers coming across the state that just may not be prepared or equipped for some of the weather or the mountain passes."
Towle said she did not like the implication that because these fatalities were crashes, they were random in nature or unpreventable. In 37 percent of the highway transportation deaths between 2012 and 2017, the victim wasn't wearing a seat belt. In one case in 2017, the driver and passenger attempted to switch seats while driving and went off the road. In another case, heavy wind toppled a two-trailer semi. The victim "was not properly belted and was partially ejected."
The trucking industry is decentralized, Towle said. Wyoming participated in a trucking survey that interviewed 270 drivers entering Wyoming through Cheyenne to gauge safety practices in the industry. Drivers said that employers largely did have a culture of safety, but that fatigue from long hours on the road and pressure to meet deadlines often challenged that culture.
Talking to those truckers made the safety challenges in such a disaggregated industry pretty clear for Towle.
"You have thousands of drivers on the road and they are all responsible for being very proactive and making these independent judgments," Towle said, from which route to take to sometimes getting permits for certain roads. "Maybe they don't have all the information they need."
A bad reputation
Wyoming is frequently critiqued for having one of the highest fatality rates in the country. This is in part due to the nature of the jobs in the state, Towle said.
"We do have higher proportion of the workforce in high-risk jobs and industries. That data is there and that includes ag and mining and construction," she said. "Of course, that's a driver in the rate."
But Towle's research — which details the circumstances of each death in more detail than federal counts — has allowed her to focus on some of the pinch points in worker safety in Wyoming. ATV deaths and on-site collisions with pedestrians are issues that can be helped through better training. Those events only showed up in the detailed work the state does. Worker deaths from interacting with equipment, a subject that concerns Towle, is harder to address. Equipment and machinery deaths span diverse circumstances and industries.
Other details revealed in the reports are just frustrating to Towle. Falls from heights can often be prevented, she said, with low-cost and effective safety gear. Seventeen people died from a fall between 2012 and 2017, and though Towle can't account for safety protocol in all of those scenarios, she suspects that training and equipment may have prevented some of those deaths.
In terms of the attitude towards worker safety in Wyoming, Towle said she's seen the gamut in her experience. The state has restructured its consultation programs and increased partnerships with industry to improve standards and take preventative measures.
"Culture is a hard thing to measure," Towle said. "I feel like we've got some of the best employers in the state in terms of safety practices, culture and leadership. But we probably also have some of the worst, just from stories I've heard from workers along the way. That's not unique to Wyoming."