CHEYENNE — The symbols of government are often intentionally grandiose. The rotunda of the state capitol, for instance, or the grand stairwell leading up to the front step of the Supreme Court, evoke within us a feeling of reverence and respect — massive architectural structures designed to instill a sense that behind the heavy walls of sandstone and granite, something important is happening.
Less attention is paid to the innocuous office buildings residing in the capital cities of America, where the bureaucracy sits hunched at computer screens, holding meetings, making phone calls and brewing pots of coffee.
Unknown to most, in these nondescript office buildings sit the people who truly give a government its power: the workers who process your tax payments, who decide what's in your child's school lunches and how best to keep life predictable amidst the tumult of the politics and debates behind the tall wooden doors and stained glass of the capitol.
It's an environment where Mark Gordon, the next governor of Wyoming, thrives.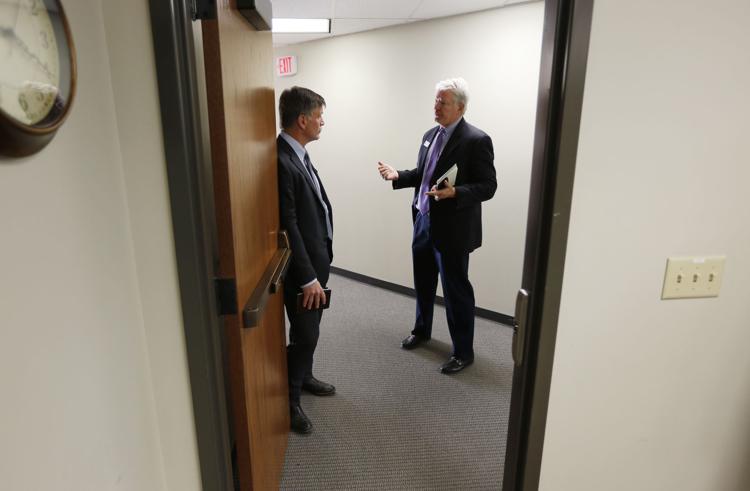 When Gordon takes the oath of office on Monday, he will officially take over the reins of government from Gov. Matt Mead, a ceremony that will place the lives of hundreds of thousands of people in the hands of a new leader with new priorities, a new vision and a new managerial style.
To some, it may seem an instantaneous change; a firing gun discharged at the starting line. The transfer of power, however, has been going on for months in a cramped, brightly-lit and sparsely furnished office space a football field's distance away from the State Capitol.
Since November, a small transition staff Gordon hand-picked for the job has assessed nearly every corner of state government, working together to build a roster to fill positions not just within the governor's office, but in every department across the capital. The group – made up of long-term government insiders and a small group of campaign staff – are the architects of the Gordon administration, the people entrusted to set the tone for every executive office, committee and board throughout the state, entailing everything from engineering and agriculture to the fine arts and barber shops.
It's not hard to imaging past administrations – helmed by outsiders to government – finding themselves overwhelmed by the task. But Gordon – the first governor to have previously served in the executive branch since Jack Gage stepped up from the Secretary of State's Office to replace the departing John Hickey in 1961 – is unique. He's been there before and understands the mechanisms that keep the wheels of government moving.
"Historically, a lot of governors have seemed pressured or compelled to make some quick decisions and announcements right away, but (Gordon) said he's not interested in doing that for political flourish," said Pat Arp, Gordon's incoming chief of staff and a veteran executive staffer under several gubernatorial administrations. "I don't think that Gov.-elect Gordon feels that pressure.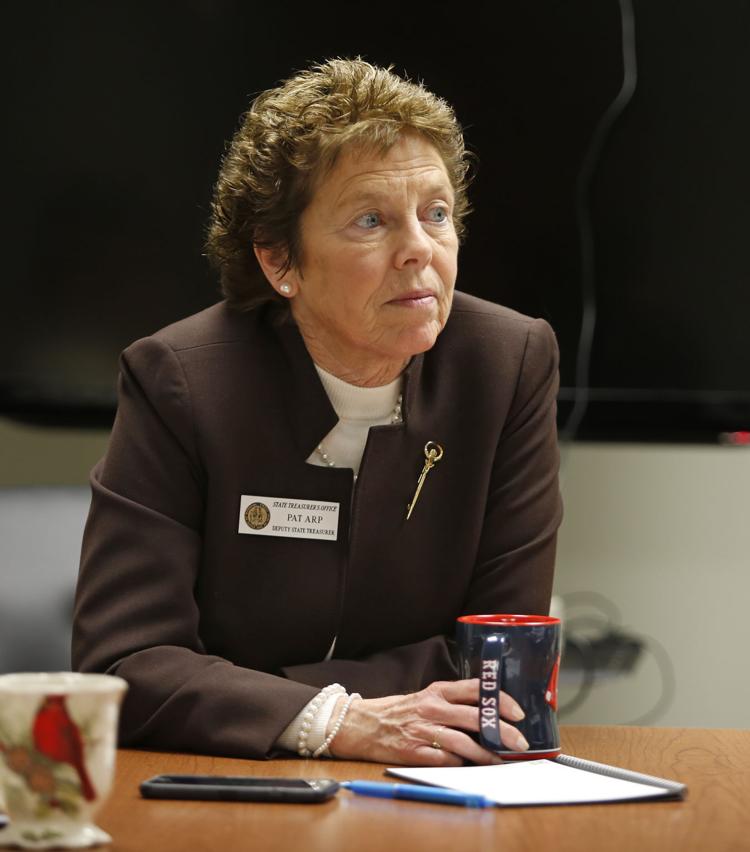 "I think he wants to be very thoughtful about who he places in those roles. And even though that might take a little longer than the norm – and he may keep some people through the session for continuity before making some other decisions in the spring – I don't think he's too worried about that. He wants to make the right selections."
A creature of the cubicle
The fourth floor of the Cheyenne Financial Building doesn't seem like an official government office, much less one responsible for the sound investment of roughly $20 billion in public money.
With muted paint and understated furnishings, the reception area would seem more befitting of a school principal's office or perhaps, a dentist's office, if not for the wall of 30 unsmiling portraits featuring the likenesses of treasurers past.
One of the portraits stands out. Nestled above the final portrait in the rows of staid and serious faces – that of Kaycee-bred Gordon – is a bumper sticker with a tongue-in-cheek reference to the Johnson County Cattle War, emblazoned with a slogan a former history major – apparently, one with a sense of irony – would love:
"Johnson County: We Haven't Trusted Cheyenne Since 1892."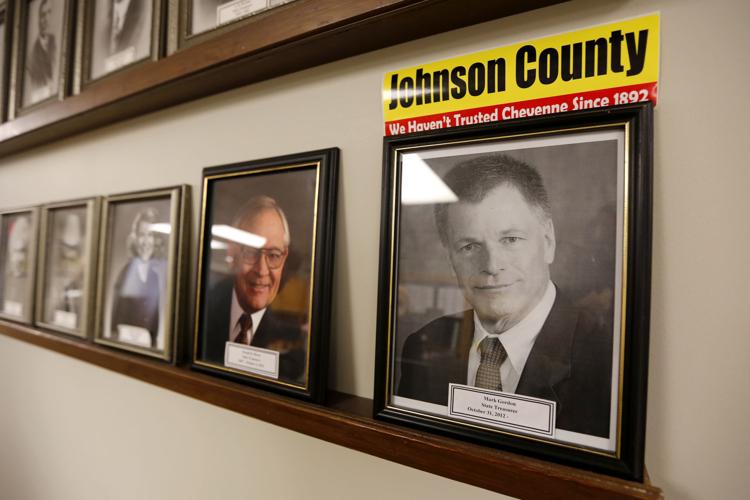 For managing what he and others consider a world-class investment fund, Gordon embraces the bureaucracy with a lack of pretension that fits the surroundings and a self-aware humor toward the place. He shows off his office – already in the process of being moved out – and picks a stapler – a Swingline – off his desk.
"Did you ever see the movie 'Office Space?'" he asks, a slight smirk on his face. "When they move me out of here, I'm taking my Swingline with me."
Slowly, the details become more apparent. On the walls of the conference room are portraits of his father atop a white horse beneath the grandstand at Cheyenne's Frontier Days, lassoing a bull. To the side, a carved end-table – meticulously handcrafted here in Wyoming– bears the accolades won by his office throughout the years. Introductions ahead of his office's leadership meeting take several minutes, with Gordon walking through everyone's name, title, what they do and the specific impact they've had on the office he's overseen for six years now.
On the campaign trail, Gordon's tangible impact and the value of his experience was oftentimes difficult to articulate. Personality-wise, he's not a man attracted to quick soundbites or catch phrases and, in the debates, the clearest he ever came to promoting the impacts of his efforts was by pointing out that "I'm the only candidate on this stage to save Wyomingites money."
But that unassuming style might have helped Gordon against a wide field of candidates with big personalities.
"I think people responded to the real Mark Gordon, because he never gave into the 'I'm going to give the trite, easy answer.' That's not who he is," said Gale Geringer, Gordon's campaign manager and a member of his transition team. "After the debates, we'd get calls like 'oh my god, what are you doing with this guy?' But I'd say, 'nope.' I'd like him to be a different debater as well. But it's all real; none of it is pandering to get elected."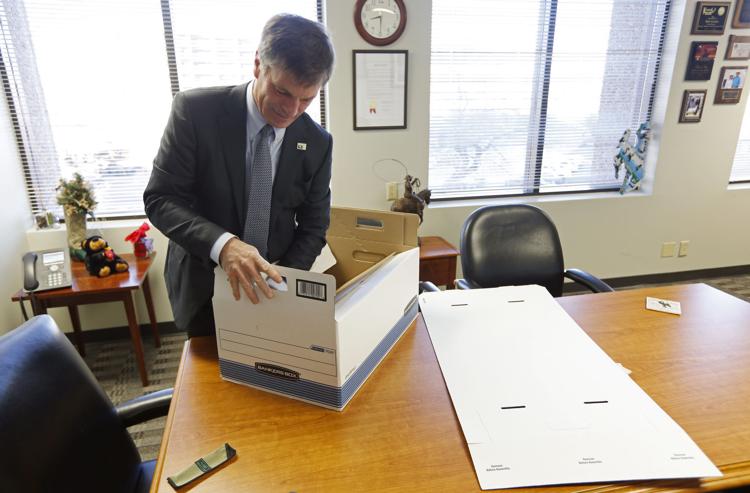 Those closest to him admit campaigning is not his strength, that Gordon is more prone to become engrossed in one conversation than flit about a room, and that his style as a politician is more concerned with drawn-out, nuanced explanations of policy versus the quick soundbite.
You have free articles remaining.
Keep reading for FREE!
Enjoy more articles by signing up or logging in. No credit card required.
The only noticeable difference between the old Gordon and the new governor election: he had gotten a haircut.
"He's not a professional campaigner, he's not a newshound," Geringer said. "But his personality does lend itself to governing, and I think Wyoming will really benefit from that."
"He doesn't just throw out ideas – maybe even when I wanted him to – just because he wanted to appeal to the electorate," she added. "He really does go about things in a thoughtful way."
The style in which his office – mired in the world of efficiency and finance – is run reflect those tastes. When Gordon first took over as treasurer, the state's finances were contained and dissected in approximately 450 spreadsheets that few, if any, long-time staffers were able to decipher. Workflows and procedures in the office were decades old, out of line with modern technology and other practices. At the same time, his office experienced numerous retirements and, with multiple redundancies in workflow, Gordon found himself seeking a better way.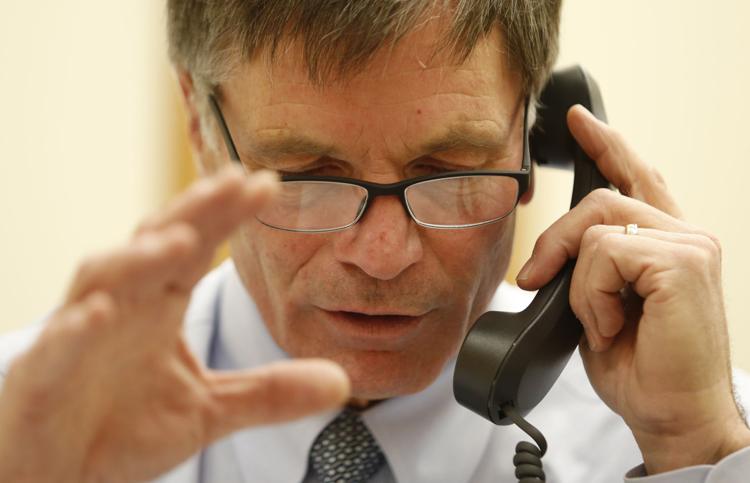 So, he did — with roughly a quarter of his original staff. He believes a similar principle might be applied across all of state government by instilling a culture across Cheyenne similar to the one exercised in his Treasury Department. The concept, called "Lean Six Sigma," is an introspective approach to reducing waste and improving efficiency internally, through every department, by motivating department heads to undergo an examination of their departments, underlining their weaknesses and attacking them.
"It's a little different than having a consultant come in and tell you how to make things more efficient," said Gordon. "It's about instilling a cost-consciousness all the way through government, which is something I'd like to do. I think in government sometimes, you become so protective of your budget and circumstances that you focus too much on them, and I'd like to see us figure out how we can make our whole government function better and find those efficiencies for ourselves."
A leaner, meaner government?
A hallmark of Wyoming conservatism for decades has always been an ethic of frugality, a sensibility often simplified and repeated as the need to "live within our means."
Gordon, a systems administrator who has dealt firsthand with a diminished staff, believes it can happen. He managed to find success and even build out his office in the midst of an economic bust and historic staffing reductions.
It could be argued Gordon's experience is not universal, and some – particularly his Democratic opponent on the campaign trail, Mary Throne – have publicly challenged this idea, questioning how much further budgets and staffing levels can thin out. Having done the work himself, Gordon, however, sees an opportunity to rebuild government to be smaller and more efficient in spite of the fiscal challenge.
"[Gordon] sees an opportunity to keep government small and close to home," said Geringer. "If you don't have enough money to throw at everything, you're more inclined to look at the government you do have and see if it's the right size, if it's at its most local level and if it serves the people like it's supposed to."
There are numerous variables of course. Gordon, as treasurer, had an uncommon insight into the world of finance – having previously served on the board of the Federal Reserve Bank of Kansas City – and a well-seasoned staff that included one of the most well-practiced deputies in state government, Pat Arp.
This leaves the question: in a state where talent is hard to attract – enough so that the outgoing governor recommended a raise for public employees to remain competitive – can the expectation of exceptional efficiency be replicated across the rest of government?
Gordon thinks so, but it doesn't necessarily mean universal cuts – running the state's finances, he said, he understands the volatility of government, and the imposed continuity that prevents new leaders from making change for change's sake. It means a recognition of what's important.
"What I've been rolling around is how you articulate that we don't want government to grow," said Gordon. "We don't want it to get more expensive, but we want it to be more productive. And there are a lot of variables in that – there's technology, there's talent, there's salary, there's benefits."
It's an ethos
Of building a cabinet, Gov. Clifford Hanson once said, "I'd be glad to make a change, if you can find somebody better."
For Gordon, his vision for the state – which on the campaign trail, may have seemed rhetorical – is one not about a set of actions or an "A to B" approach to creating change in government; it's about the application of an ethos.
One floor beneath the treasurer's office, four men in collared shirts sit in a sun-lit room with white walls. In the background, the Bloomberg Channel is offering an analysis of the day's movements – continuing market uncertainty over Brexit – and on the wall is a whiteboard packed with charts, figures, futures prices and the status of international markets.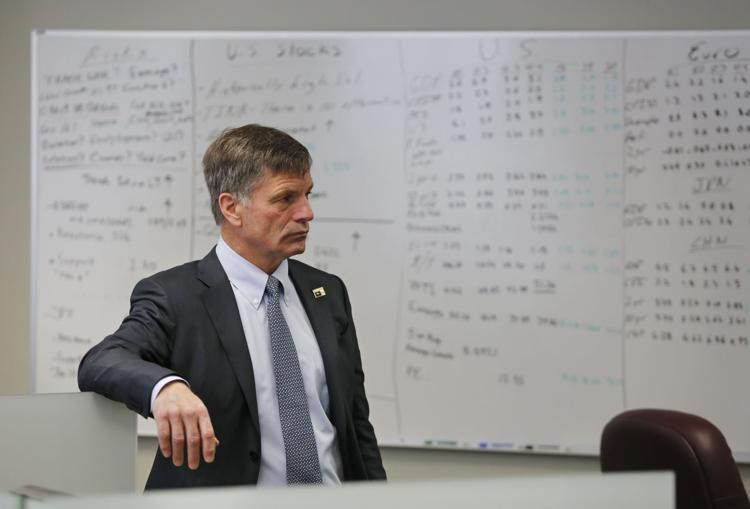 This room is Wyoming's investment office, a scene ripped from a quieter, alternative version of Wall Street, where the state's reserves are invested and multiplied, making Wyoming richer. It's also an example of Gordon technically expanding the government. However, that expansion also made the government wealthier — an example of the type of changes Gordon hopes to make across the government. Not change for the sake of change, he said. Change in the direction of what makes sense.
"Having been a treasurer and coming in following a treasurer, I think you come with a number of ideas of what you think you want to do," he said. "But coming in you realize… you can't pivot on a moment's notice."
"I think a prudent treasurer comes with their ideas of what they want to get done, but with the knowledge that it's going to take some time to get there," he added.
Taking that approach to the governor's office won't result in dramatic change overnight. The government could look substantially different several years down the line than it does today. But first, Gordon must make sure he has what he needs to keep it running.
"We've talked for some time about making sure there's stability in the transition," he said. "Despite the fact the sun is going to come up tomorrow, everything is still pretty volatile. It's really important that we get this right."