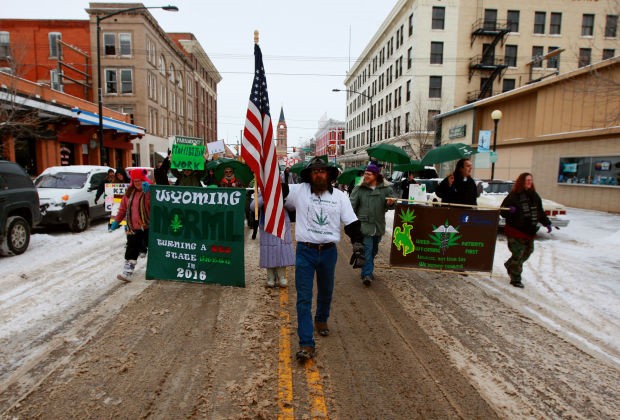 CHEYENNE – Armed with signs that exclaimed "legalize, not legal lies" and "turning a red state green in 2016," about 50 people marched for marijuana legalization here Monday morning.
The "Walk for Weed" began at the Union Pacific depot and ended at the Wyoming Capitol, where activists circled the building as Gov. Matt Mead delivered his State of the State address inside. Wyoming NORML organized the walk to raise awareness of an initiative it is trying to get on the 2016 ballot that would legalize cannabis for medical and recreational purposes.
"We want the Legislature to know there are people all over Wyoming who are interested in legalizing cannabis in all forms," said Chris Christian, a Jackson resident who is executive director of Wyoming NORML.
Rep. Jim Byrd, R-Cheyenne, has a bill that would decriminalize up to an ounce of marijuana. Christian supports the measure. But she also wants to legalize pot.
"We're so tired of being put away for something that should be legal," she said. "It's a medicine. It's a relaxer."
Wyoming NORML is working with the Wyoming secretary of state's office on the initiative. For the initiative to appear on the ballot, Wyoming NORML must receive signatures of thousands of Wyomingites. The exact number of signatures will be based on a proportion of people who vote in the 2014 general election, said Peggy Nighswonger, state elections director.
Wyoming NORML hasn't begun collecting signatures yet because it is still working with the secretary of state's office. Initiatives must have a certain format and conform with the state law on initiatives, Nighswonger said.
After a Wyoming House and Senate leadership press conference Monday, House Speaker Tom Lubnau, R-Gillette, said he will introduce Byrd's bill, House Bill 49, which he jokingly called House Bill 420. This year's rules require a two-thirds vote before bills can be assigned to committee.
Senate President Tony Ross, R-Cheyenne, said he doesn't feel comfortable turning criminal penalties into civil penalties, as Byrd's bill would do.
"We have steadily increased penalties for alcohol," he said. "It is difficult for me to rationalize how use of marijuana would not increase traffic fatalities."
The activists marched up Capitol Avenue, flanked by officers in patrol vehicles. Police also closed down each cross street, as activists chanted, "Make brownies not war!" "Smell is not a probable cause!" and "Free the weed!"
Some Coloradoans marched for marijuana, too, such as a Denver comedian who identified himself as Cameron v. Humanity. He said he smokes weed to help with pain associated with compressed discs and hip problems.
"I moved from Casper to Denver to basically be in a safe place," he said.
Sis Morgan and Pam Revell-Wright traveled 100 miles from Guernsey for the march. Both have medical conditions that they believe would be relieved if they could use marijuana. They described using medications such as Vicodin to Ambien to Celebrex. Morgan has to get her liver tested every three months because of potential damage from her medication, she said.
They believe marijuana could replace all of their pills. They have traveled to Colorado and tried marijuana. Both said they felt relief.
"I've only experimented with it to see if it helps," said Revell-Wright, who suffers from arthritis and has had infusions in her spine. "I don't want to break the law."