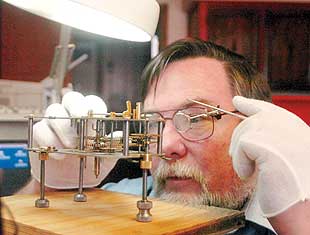 MOORCROFT - The insides of two grandfather clocks hang gracefully from a tall wooden stand in the center of the small clock repair workshop, surrounded by a jumble of smaller timepieces crowding the counter tops and walls.
Exactly on the hour, a cacophony of sound erupts as several clocks chime, gong and chirp out the time. In the background, Beethoven's "Allegretto" (from Symphony No. 7 in A) plays softly.
Clockworks, a quaint rural workshop north of Moorcroft, fits the classic image of a clockmaker's shop.
Owner Gary Fields doesn't disappoint, either. With his portly, bearded figure clad in a long, blue work apron and a jeweler's loop attached to his glasses, he looks as though he just stepped out of a Norman Rockwell painting.
Along with the nostalgia comes Fields well-honed skills and convenient door-to-door service. It's the first clock repair business in the area in several years.
"My forte has always been fixing things," said the Richmond, Ohio, native. "My brother and I were always doing electrical experiments in the basement as kids."
A couple of dull years studying accounting at Ohio State College confirmed Fields' passion for all things mechanical, and he has been a tinkerer of one sort or another ever since. Fields' innate ability for taking machines apart and putting them back together again led to his work as an appliance repairman. He spent more than 25 years making house calls for Maytag, Sears and Montgomery Ward in various American towns until settling in Wyoming.
During those countless house calls to repair appliances, Fields was intrigued by the variety of specialty clocks he saw adorning his clients' mantles and walls.
"Then I started fixing a few of my own and figured I could also do it for others," Fields said.
Repairing timepieces remained his hobby, with the occasional repair job for a friend, until fate intervened. A back injury in 2004 left Fields unable to lift, ending his appliance repair career.
He opened Clockworks in his home in January, though he also holds down a part-time job in Gillette to offset expenses until the new business picks up.
"Right now, I'm working as a clerk at a lumber company a few days a week," Fields said. "Things will have to improve before I can go full time with clock repair."
Before Fields opened for business, Edenfield Jewelers owner Nancy Edenfield said recommended shops in Rapid City, S.D.; Billings, Mont.; or Casper when locals needed a clock repaired.
"We sell about three different types of clocks here," Edenfield said. "And when we had repairs, we were sending the clocks back to the maker or to the repair shops out of town. So I was always on the lookout for a local place that fixed clocks. Then about a year ago, Gary stopped in and gave me some of his cards.
"I've heard from four or five customers that he repaired their clocks very well and returned them in a timely fashion," Edenfield said.
"With large clocks such as grandfathers it isn't feasible to ship them to far-off places," Edenfield said. "The Rapid City shop picks up and delivers, as does Gary. But it's much easier to have a place nearby. It's also better for customers not to have to ship valuable items out of town."
Despite the widespread use of quartz clocks that can be inexpensively replaced when they stop working, there is still a genuine need for people who can clean and repair traditional clock movements, said Jim Lubic, executive director of the American Watchmakers-Clockmakers Institute in Harrison, Ohio.
"The profession is on the wane in the United States, but the need for clockmakers and clock repair people is as high as it has ever been, maybe higher," Lubic said. "The reason is that the bulk of our membership is aging - the median age is 61. And 50 percent of our membership has an average age of 72.
"The organization now has 4,000 members, which doesn't include every watch repair person in the profession. But it is still a fairly accurate barometer of the number of working professionals in the country," Lubic said.
Roughly 45 percent are clock repair specialists, with the other 55 percent in the watch repair business, Lubic said.
Unlike the watchmaking industry, which is driven by Swiss luxury products and has a plentiful supply of service personnel in the country, the clock industry has no major luxury manufacturer in the world. Consequently, there is no strong market factor to create a service industry for clock repair, Lubic said.
This means that the recruiting of people into the trade is usually driven by self-study - people who enjoy working on lathes and who have patience working with small mechanical parts, Lubic said. "These types of people are our disciples in the real world to help keep the trade going."
Another contributing factor to the decline in the trade might be the low-key approach the organization has taken with regard to cultivating the next generation of clockmakers, Lubic said.
"I don't know if we as an organization have done the best public relations job of getting young people involved," Lubic said. "They're very interested in computers now, and perhaps they're not that attracted to something as mundane as old mechanical stuff."
Copyright © 2005 Associated Press. All rights reserved. This material may not be published, broadcast, rewritten, or redistributed.