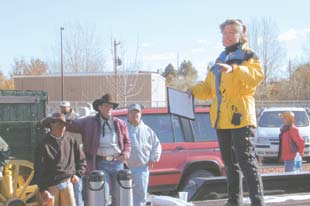 WORLAND - Worried about the future of ranching in the West, more than 100 people rallied outside the Bureau of Land Management office here Monday.
The purpose was to draw attention not only to frustrations with the Worland BLM office but also to voice larger concerns that the federal government's actions threaten a way of life, according to many who attended.
"There's no question we are in a war and if we don't stand up and be counted, we're going to lose that war," said Karen Budd-Falen, a Cheyenne-based attorney who often represents ranchers and farmers in disputes with the government.
Before the rally, about 50 ranchers on horseback and two wagons rode quietly through downtown in a slow procession that ended in a blocked-off street next to the Worland BLM office.
The office most recently has been locked in a dispute with Frank Robbins, a Thermopolis rancher who has been accused of numerous violations on federal land. Robbins, who has denied the allegations, has accused the BLM office of a pattern of harassment and intimidation.
Terry Jones, a rancher from Otto, said Robbins' case isn't isolated.
The "grim faces" of those attending the rally bespeak a widespread dissatisfaction with "abusive bureaucrats running an illegal agenda," he said. "This makes it very publicly known that this issue is bigger than a few individuals."
The crowd, which included several families, didn't shout or chant in the manner of protesters in most places, but their frustration was evident. Many are angry because they believe the government -through its policies and actions - is curtailing grazing or taking other measures to further restrict how they can use federal land.
Often, the changes have been made in the name of improving environmental conditions on the range. But ranchers tend to the land better than anyone, said Winn Brown.
"The greatest environmentalists are us," he said. Jones said the West was settled on a commitment from the federal government that ranchers and others could use the land to help build communities, particularly in remote and sometimes harsh places like Wyoming. Now, he said, the government is turning its back on that commitment.
Budd-Falen said some of the basic tenets of government have been misinterpreted and ranchers and other citizens have lost their voice in the process.
"The bureaucracy works for us, it's not the other way around," she said.
Clay Gibbons of Worland said ranching operations are struggling because of "heavy-handedness by the BLM here and elsewhere." The result, he said, will be a gradual erosion of ranching, Western heritage and livelihoods.
"It's an attack on our way of life," Gibbons said.
Part of the problem is that many people envy the "cowboy" lifestyle and want to knock it down, he said. But, he added, there is also a significant philosophical split in how ranchers and environmentalists view the land.
"We believe that God created the world for the wise, responsible use of human beings," he said. "The environmentalists believe man is an intruder on an otherwise perfect world."
Gibbons, who helped organize the event, said ranchers have failed to organize effectively to voice their opinions and pursue changes. Characteristics that make a good rancher may be working against the larger cause, he said.
"It's that very independence that may defeat us because of our failure to organize," he said. "We need to let them know they're selling out the cowboy."
Thermopolis rancher Larry Bentley said the best way to fight back is through challenging "policies and issues" and not individuals within the government. Only by knowing and understanding the laws can ranchers be effective in making sure they're carried out.
"We need to be educated," he said.
Bentley and others also urged the crowd to talk to people outside their ranks, including sportsmen, church members, county commissioners and legislators.
"Make them aware of our problems," he said.
Although much of the discussion centered on general issues with the government, the Worland BLM was specifically mentioned several times by people who said they believe the office has an "environmentalist" bent that's harmful to ranchers.
"If we had to pay their wages out of our own pocket, we'd have fired them all," Brown said.
BLM officials said the rally did not disrupt business at the office.
"We fully support their rights as individuals to express their opinions," said Janine Terry, a BLM spokeswoman.
After the rally, many people rushed to get their names on a sign-up list to be contacted and become involved with activities that advocate for ranchers and push for changes locally and nationally.
Budd-Falen said she was heartened to see so many people in Worland making a stand.
"With this kind of support," she said, "I believe we can win the war on the West."
Be the first to know
Get local news delivered to your inbox!