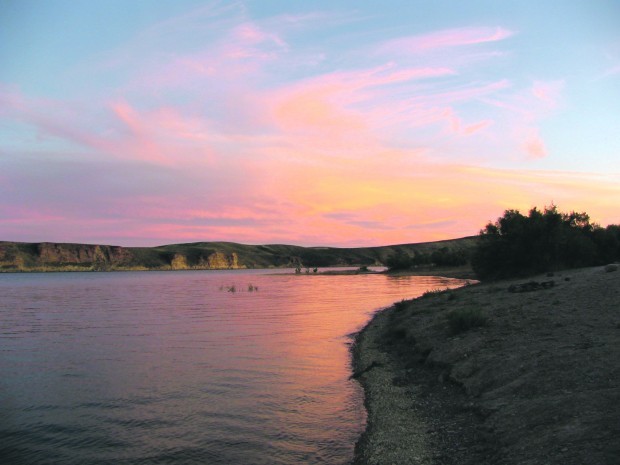 CHEYENNE — The latest federal permit application to construct a pipeline for Green River water is sparking opposition from environmental groups and others in the Cowboy State.
Colorado businessman Aaron Million wants to haul the water from southwestern Wyoming to his state's sprawling Front Range. The Ft. Collins man has applied to pipe up to 250,000 acre feet of water a year from the Green River at Flaming Gorge Reservoir to southeastern Wyoming and then as far south as Pueblo, Colo. — a distance of more than 500 miles.
Many in western Wyoming say they're concerned the project would draw down Flaming Gorge Reservoir. The city of Green River has joined the city of Rock Springs and Sweetwater County to fight Million's proposal.
Green River Mayor Hank Castillon said Monday that residents are unified in opposition to the project.
"They just don't want to see Wyoming water going to Colorado," Castillon said. "The main issues are recreational, and they feel that it's going to affect their lifestyle as far as sporting events and water because we have the Flaming Gorge here also the fishing up and down the Green River, fish habitat."
Million originally had asked the U.S. Army Corps of Engineers to review his plan. After working on the project for two years, the corps stopped its review earlier this year after Million announced his project could generate hydropower.
Million filed an application with the Federal Energy Regulatory Commission this summer spelling out plans to construct a system of turbines and reservoirs along the pipeline to generate electricity. While he has said the project wouldn't generate more electricity than pumping the water would consume, he said generation would help cover its pumping costs.
He wants to construct a reservoir on the slopes of Sheep Mountain, west of Laramie, and generate electricity by pumping water into the reservoir and having it flow through turbines on its way downstream to another lake nearby, Lake Hattie.
Million said Tuesday his project was similar to the proposed Lake Powell Pipeline Project, for which the energy regulatory commission also handled some permitting. That proposed $1-billion pipeline would bring 100,000 acre-feet of water a year to southern Utah, generating some electricity as the water flows downhill in places.
Green River and the other local governments hammered on Million's changing plans in their comments submitted this month to FERC. The commission is accepting public comments until Dec. 19 on the permit application.
"In reality, it is an investment scheme masquerading as a water supply project, which is masquerading as a pump back hydropower project, perhaps for a perceived regulatory advantage," the local governments wrote.
Million responded that his project offers Wyoming and Colorado a chance to use some of the water they're entitled to under the Colorado River Compact, rather than allowing it to flow down to California and other states.
The compact is an agreement that spells out how much water "upper basin" states on the Colorado River system, such as Wyoming and Colorado, must deliver downstream.
"The real issue is, does Wyoming want to utilize some of its compact allocation for some of the water-short areas of the state or not?" Million said. "Colorado's going to move forward on trying to develop its allocation. This isn't Wyoming versus Colorado. This is an upper-basin issue, and the rights to put those waters to beneficial use."
Steve Jones, watershed protection program attorney with the Wyoming Outdoor Council in Lander, said his group is concerned with the prospect of such large-scale pumping out of the Green River.
"It's obvious to me that some years, there is not going to be any water available, and other years there might," Jones said. "But to me, the idea that, that reservoir could supply that year in and year out, is just wrong, according to the statistics that I've looked at."
The U.S. Bureau of Reclamation is working on studies to estimate how much water might be available for withdrawal at Flaming Gorge Reservoir. Million has said he's satisfied there's enough water to support his project.
Duane Short, wild species program director with the Biodiversity Conservation Alliance in Laramie, said federal roadless policies would prohibit construction on Sheep Mountain.
He said his group and others are concerned that removing water from the Green River would harm sensitive fish species downstream.
Wyoming Gov. Matt Mead has expressed opposition to Million's project. His office said this week that the state plans to file comments with FERC.