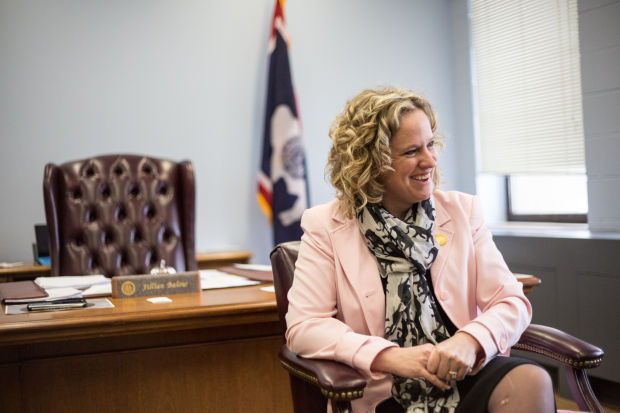 CASPER, Wyo. — A new federal law that overhauls how schools are evaluated and funded will give Wyoming more control over school assessment and improvement measures, state lawmakers and Wyoming's schools chief said Monday.
The Every Student Succeeds Act, which President Barack Obama signed into law last week, allows states to decide how to measure a school's success and develop strategies to improve struggling schools. It also gives states more flexibility on how to spend federal aid.
The law replaces the widely unpopular No Child Left Behind Act, which opponents say graded schools yearly based on test scores and little else.
State superintendent Jillian Balow called the new law an opportunity for Wyoming. She made the comments at a news conference attended by the chairmen of the Wyoming Joint Education Committee, Sen. Hank Coe, R-Cody, and Rep. David Northrup, R-Powell.
"We know there is no such thing as a silver bullet in education," Balow said. "Under No Child Left Behind, the conversation about education really took place at the federal level."
Balow called No Child Left Behind a broken system. But that will change under the new law, she added.
Details on how Wyoming will adjust to the new law are still emerging, as officials wade through the 1,000-page document.
On one issue, however, Wyoming is already poised to take over: accountability.
Wyoming will use its own assessment system, The Wyoming Accountability in Education Act, to determine how schools are performing. The system has been in place since 2013 and uses a number of factors, such as student growth and participation, to measure schools' and districts' progress.
Most Wyoming educators prefer the state accountability assessment that categorizes a school as exceeding expectations, meeting expectations, partially meeting expectations or not meeting expectations.
"We're ahead of the curve on accountability," Coe said.
The Joint Education Committee met Monday to discuss the statewide accountability standards.
Every Student Succeeds retains some aspects of No Child Left Behind, such as standardized testing, but it does away with adequate yearly progress, a broad-brush federal assessment that used test scores to grade school and district success. Poor progress scores often threw schools into limbo with the potential of punishment when they didn't improve.
There will be a transition period for Wyoming as federal standards give way to state methods, particularly state guidelines for schools that are not meeting expectations.
Wyoming still has work to do on developing improvement strategies, Coe said.
Schools that are in the federal "needs improvement" category will continue to operate under federal guidelines for improvement until the state's system goes into effect in the 2017-2018 school year, according to the Wyoming Department of Education fact sheet on the new law.
Title 1 schools, or schools with a majority of low-income students, had very specific guidelines on performance and improvement under No Child Left Behind. Wyoming will have to devise its own Title 1 plans under Every Student Succeeds.
Wyoming is one of only a few states that didn't receive a waiver protecting them from some punitive provisions in No Child Left Behind. Waivers were introduced by the Obama administration.
Every Student Succeeds is the first major overhaul of federal education policy since 2002, when George W. Bush signed No Child Left Behind into law. Every Child Succeeds shares its acronym with the Elementary and Secondary Education Act of 1965. The civil rights law was meant to give every child access to a good education and bridge the success gap between rich and poor.