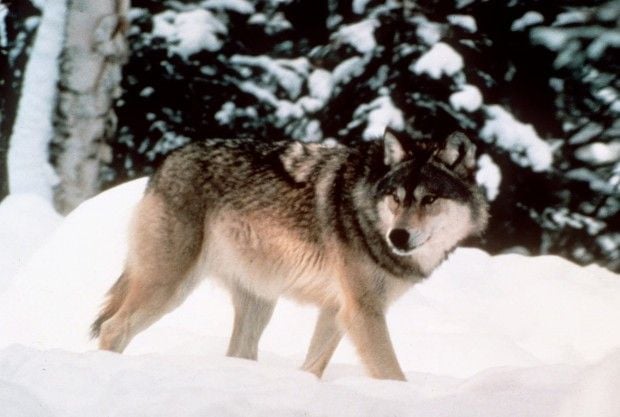 CASPER, Wyo. — Wyoming's wolves are back on the endangered species list again, and this time the state's lawmakers might come up with a solution.
Following Montana and Idaho's one-of-a-kind legislation, Wyoming's congressional delegation said it might look into taking wolves off the list by law, and keeping them off.
"I think we have to consider legislative action now. I don't see any other recourse," said U.S. Rep. Cynthia Lummis. "We have done everything the U.S. Fish and Wildlife Service asked of us and more."
The Fish and Wildlife Service delisted wolves in Wyoming in 2012, allowing the state to manage them, including overseeing the past two hunting seasons. Washington, D.C.'s U.S. District Judge Amy Berman Jackson took control from Wyoming on Sept. 23 and sent it back to the feds.
Even though wolves were recovered with genetic diversity, Wyoming's plan was not adequate to support continued recovery, she ruled. At issue was a guarantee Wyoming made to keep more than the minimum number of wolves required by law in the state. Wyoming wrote the promise in an addendum instead of including it in the formal plan.
The state filed an emergency rule adding the addendum into the regulation, but Jackson denied the request Tuesday, telling the Fish and Wildlife Service to start the delisting process over again.
"The fact is that no matter what we do and no matter how successful we are at recovering the wolf, certain groups remain unsatisfied and unwilling to accept victory," Lummis said. "Now it is time to pursue a legislative solution."
Legislation is not the way to solve a local issue with the Endangered Species Act, said Tim Preso, an attorney for Earthjustice, a nonprofit law firm representing the conservation groups that sued.
"There are always situations where people in specific areas want to get exceptions from the act for their own localized interests," Preso said. "But that doesn't serve the interest of the nation as a whole, which is blessed with an incredible wildlife heritage that still exists today largely as a result of the Endangered Species Act."
The U.S. Fish and Wildlife Service had removed wolves from the endangered species list in Idaho and Montana in 2009, but a judge later placed them back on the list, saying wolf populations couldn't be separated by state lines. The Fish and Wildlife Service hadn't proposed delisting wolves in Wyoming at the time.
A bipartisan coalition in Montana and Idaho then wrote a delisting item into a budget bill in 2011. It not only returned wolves to state management but also included a line prohibiting any more judicial review. In essence, it couldn't be challenged in court.
President Barack Obama then signed the budget bill, with the wolf portion, into law.
It was the first time lawmakers had removed an animal from the endangered species list and prohibited lawsuits. It hasn't happened since.
"[Idaho Sen.] Mike Simpson at the time thought it would be more appropriate if Wyoming — which was on a different legal track than Idaho and Montana were — I think he was more inclined to pursue legislation for Idaho and Montana and let Wyoming pursue the litigation route a little longer," Lummis said.
Spokespersons for both Republican senators John Barrasso and Mike Enzi said in emails to the Star-Tribune that they might also support a legislative path to removing wolves from the list.
Wyoming's wolf management plan has always been different, and some conservationists argue, more extreme, than Idaho and Montana's plans. Wolves can be shot on sight in Wyoming outside of the state's northwest corner. All of Idaho and Montana are divided into hunting areas, which means hunting is regulated through the states.
Managing wolves again should not be hard for Wyoming to achieve, Preso said. But the state needs to control hunting wolves everywhere within its borders.
"The reason there was concern is because Wyoming has so much unregulated killing allowed," Preso said.
Jackson did not address the predator zone in her ruling, said Brian Nesvik, wildlife division chief for the Wyoming Game and Fish Department. The bulk of Wyoming's wolves live inside the trophy area.
"We are pretty clear on her feelings on the dual status issue," Nesvik said. "Both courts have said it's legitimate and legally sufficient and haven't had an issue."
In the meantime, Wyoming wildlife officials don't yet know how they will proceed, he said.
"The one thing that is very consistent is everyone is working on this now," he said. "It is a high priority, and everyone is looking at ways to most expediently return management back to the state."