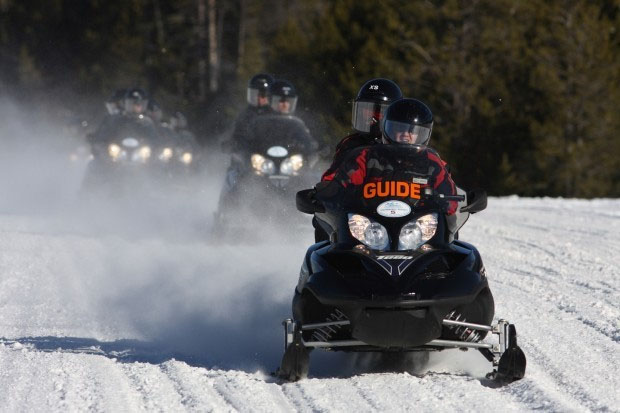 CASPER, Wyo. -- Some want more snowmobiles. Others want none. Both sides have another chance to voice their opinion in the upcoming year as staff at Yellowstone National Park works to come up with a new plan for managing winter use in the park.
"The public comment period did what it's supposed to do," said park spokesman Al Nash. "The public shared with us some areas that they had some questions about and we looked at those and agreed that we ... hadn't developed some of those areas as well as we could have or hadn't provided as clear an answer to them."
The plan received more than 58,000 comments.
"We found that input invaluable," Nash said.
Among the areas that received the most public comment were a requirement that snowmobiles had to enter the park by 10:30 a.m. and variable entry numbers, which would have allowed the number of snowmobiles to fluctuate from 110 to 330 per day during the week and snowcoaches ranging from 30 to 80 per day.
Currently, 318 commercially guided snowmobiles and 78 commercially guided snowcoaches are allowed per day in Yellowstone.
"Nobody was in favor of that," said Jeff Welch, volunteer special projects coordinator with the Blue Ribbon Coalition. The coalition, a national nonprofit, advocates for recreation on public lands. "They came up with some things that don't make any sense, won't work."
The coalition wants noncommercially guided snowmobiles allowed in Yellowstone, something that is currently prohibited, Welch said.
They also want more snowmobiles allowed.
The coalition wants a transition year no matter what is decided, so snowmobile companies have ample time to plan for the winter season.
"They've got a lot of work to do," Welch said.
Mark Pearson, conservation director with the Greater Yellowstone Coalition, agreed that the Park Service has work ahead of it.
"We hope that they do a thorough analysis that utilizes all the best available science, so they can come up with a defensible and sustainable management plan," he said. "I think everybody'd like to see them get the plan done and get it done right."
The conservation organization would like to see all snowmobiles banned from the park and instead move to snowcoaches only for transportation.
They also hope the Park Service looks at newer technology for snowcoaches and snowmobiles for air quality data.
Another issue the Park Service could re-evaluate is snow biking. Previously no plans included allowing the bikes in the park during winter. Nash said the worry has always been about sharing the limited groomed trail space that Nordic skiers and snowmobilers use.
A snow bike summit is planned for West Yellowstone on Jan. 20, to raise awareness about the bikes and how they could coexist in the park.
Staff members haven't yet started work on the new plan, Nash said. Work will begin after the new year and the goal is to have a new draft to the public for review in the spring, Nash said.
Staff members will then analyze the comments before coming to a final decision. The goal is to have new rules ready by next winter season.