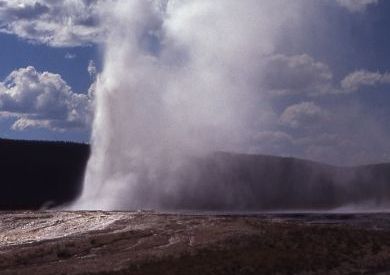 "Giantess Geyser 14:55 ie."
That was a text message that went out Wednesday to alert geyser enthusiasts that Giantess Geyser in Yellowstone National Park was in eruption ("ie"), setting off a frantic scramble among geyser gazers to go online and watch part of the rare and lengthy eruption.
Giantess Geyser had burst to life again after two years, 139 days and 12 minutes of silence. This was big news for geyser gazers.
Normally, Giantess erupts once or twice each year, so the latest two-and-a-half year pause was a record. Giantess eruptions can be heard a mile away and can last more than a day.
On Wednesday afternoon, the online chat room for the live-streaming webcam pointed at Old Faithful and other geysers in the Upper Geyser Basin quickly filled with people excited about news of Giantess. The first hour and a half of the Giantess eruption can be watched online.
Giantess Geyser is one of Yellowstone's largest geysers, with initial bursts reaching 200 feet. It can show four types of eruptions: water, steam, mixed and aborted. 
All four start with a bang.
Giantess Geyser is one of the few geysers in the park that register on seismographs, conveniently providing an accurate start time.
— Water eruptions send up jets of water lasting from 24 to 48 hours with possible pauses between series of bursts (a 1938 report states they recurred every 20 to 30 minutes).
— Steam eruptions send up jets of water for the first 30 to 45 minutes of the eruption, then shifting to a strong and powerful steam phase that can be heard for up to a mile away. These eruptions last for about 12 hours.
— Mixed eruptions follow the same pattern as steam eruptions until about three to six hours into the eruptions, when they shift back to water, sending up more jets. These mixed-phase eruptions will continue for 24-48 hours with possible pauses between series of bursts, and may shift back and forth between steam and water.
— Aborted eruptions also start with jets of water, but are much weaker and end after one to six hours. These haven't been seen since the 1983 Borah Peak earthquake in Alaska that sent energy waves that affected and changed some of Yellowstone's hydrothermal systems.
This week's Giantess eruption seems to be a mixed eruption with series of outbursts happening about every 40 to 60 minutes, still sputtering Friday morning, more than 40 hours since it started.
Giantess has been observed by people and instruments year-round since about 1920 except possibly during World War II. Its most recent dormant interval of 2.4 years appears to be the longest one in the last century.
Giantess is known to be linked to many, if not most of the thermal features on Geyser Hill, the crowded and active area surrounding Old Faithful. Most closely related is nearby Vault Geyser, which erupts anywhere from one to eight hours after Giantess starts.
Other springs may show rare "sympathetic eruptions" when Giantess is active, including Ear Spring, located on the opposite side of Geyser Hill from Giantess.
Ear Spring normally just bubbles and sizzles around the edge. But during Giantess eruptions, the water in Ear Spring has been documented to surge 1 to 2 feet and vastly increase its flow.
Janet White is the creator of GeyserWatch.com and appreciates any reports on unusual or interesting activities by Yellowstone Park thermal features.