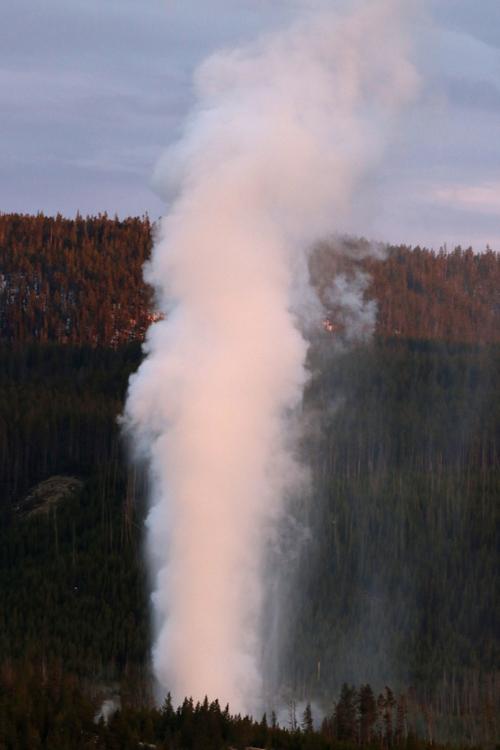 Yellowstone National Park's Steamboat Geyser sped up its eruption cycle earlier in June, setting a new mark for recorded intervals between eruptions.
The geyser's shortest rest between noted eruptions occurred June 15 when it blasted steam and water into the air only three days, three hours and 48 minutes after its previous spouting June 12.
Earlier quick recharges included a 1982 eruption after only four days, 19 hours and 43 minutes. On June 15, 2018, it went off after four days, 15 hours, 49 minutes. And on Sept. 12, 2018, it gushed forth after four days, 18 hours and 3 minutes.
Analysis
Why have the eruptions sped up?
"I wish I could tell you," said Michael Manga, of the University of California, Berkeley, who studies geysers. "I think this is what makes Steamboat, and geysers in general, so fascinating is that there are these questions we can't answer."
Michael Poland, scientist in charge of the Yellowstone Volcano Observatory, said the irregularity of Steamboat is just "a geyser being a geyser." Looking back at the record of recent eruptions, he noted that its intervals are always variable. Last July, Steamboat went 20 days before erupting.
"Steamboat clearly has a mind of its own," he said, "and right now it's putting its independence on display."
Manga added that it "should trouble everyone" that scientists can't better explain geysers, since they are similar in many respects to their much more dangerous cousin, the volcano.
'Very tall'
Geyser observers Bill and Carol Beverly posted on the Geyser Times website marking the precedent-setting June 15 eruption by noting, "Unbelievably heard and felt from bookstore during thunderstorm." They added that the geyser was "Very tall and muddy" when it spouted to life close to 5 p.m.
"Also of note, Steamboat has been pausing for a second and restarting water phase, which I've been told is a rare occurrence," said Big Sky photographer Ryan Molde in an email. "In addition, it's been going off for more time recently than it had been, and one of the park employees said the June 15 event was also quite high."
He also said one of the rocks ejected by the geyser struck a sign near the viewing platform, shattering the wooden post.
Seemingly unfazed by its new distinction, Steamboat quickly recharged again and followed up on June 18 — three days, nine hours and 40 minutes later — with its 55th eruption since last March. Number 56 came Sunday, June 23, only four days, 10 hours and 26 minutes later.
Footnote
Steamboat's feat should be noted with an asterisk. Although the geyser was first reported exploding in 1878, eruption records only go back to 1982. That's a pretty short period considering geysers have been active since the end of the last ice age about 14,000 years ago.
Nevertheless, Steamboat has been earning headlines worldwide since March 15, 2018, when it sprang back to life after three years of tranquility. It then went on to set a new personal best for the number of eruptions in a row in December. That was when it exploded for the 30th time, surpassing the previous record of documented eruptions set in 1964 at 29.
Water
Some scientists have speculated Steamboat's newfound vigor is attributable to recent wet years that have supplied a wealth of water to the fuming internal workings of the geyser's plumbing system.
Steamboat's eruptions began picking up pace in May, one of the wettest months in the park and a time when runoff surges. On average the park receives about 20 inches of rainfall a year. So far this calendar year it's already accumulated half of that yearly total. So not only were spring showers falling from the sky in Yellowstone, it was also shooting skyward from the ground.
Go now
No matter the reasons, visitors to Yellowstone seem to have a better chance than ever of seeing the world's tallest active geyser erupt. Steamboat has been known to shoot water 300 feet into the air and last 40 minutes. Its roaring steam phase can be deafening. A downside to its blasts is that it can throw rocks and silica-tainted water onto autos parked nearby. So take note if visiting the Norris Geyser Basin.
For those unwilling to stake out Steamboat's unknown eruption times, there's still Old Faithful geyser a short drive away (provided the bison jams aren't too bad). As its name indicates, Old Faithful guarantees visitors an eruption every half hour to an hour-and-a-half. Although maybe not as tall (140 to 190 feet) or as loud as Steamboat, Old Faithful is still an impressive and unusual site.