The daughter of Interior Secretary Ryan Zinke, like her father a Navy veteran, appears, in the rawest of terms, to have excoriated President Donald Trump in a social media post after the announcement that transgender soldiers would be banned from the military.
"This man is a disgrace. I've tried to keep politics out of my social media feed as much as possible, but this is inexcusable," read a July 26 public Instagram post from what appears to be the account of Jennifer Detlefsen, the Navy diver daughter Zinke frequently mentioned in his successful 2016 re-election campaign for the U.S. House. Shortly after the election, Trump chose Zinke to lead the U.S. Department of the Interior.
"This veteran says sit down and shut the (expletive) up, you know-nothing, never-served piece of (expletive)." She also used a hashtag, #itmfa, that is an acronym for "impeach the (expletive) already."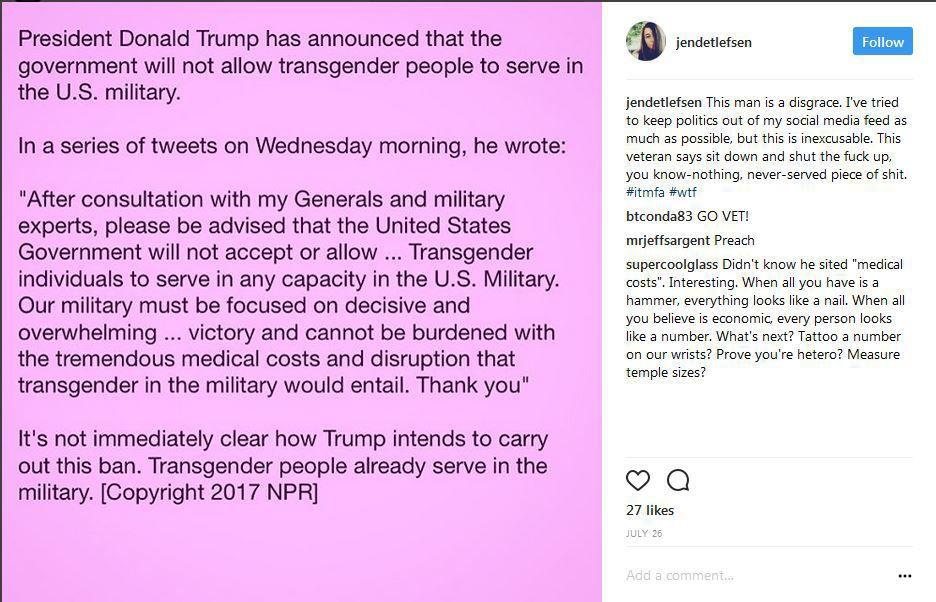 The comments began circulating among national advocates for LGBTQ rights and one of them shared a screenshot of the Instagram post with the Missoulian on Friday, the day Trump signed the order making the transgender ban official.
Interior Press Secretary Heather Swift declined to make Zinke available for an interview or to provide an immediate statement Friday night.
"This is not a matter related to the Department of the Interior so I cannot offer you a statement," Swift wrote in response to a reporter's request.
She later added, "Family members are not elected officials and deserve privacy and respect."
The Instagram account links to a professional page with a resume that matches the name and biographical details of Zinke's daughter. It also includes a Jan. 6, 2015, photo taken from the floor of the U.S. House of Representatives, the day her father was sworn in for his first term as a congressman from Montana.
The post on that account includes a screenshot of an NPR story describing tweets by the president that "the United States Government will not accept or allow … Transgender individuals to serve in any capacity in the U.S. Military." Trump first announced plans for the ban on July 26, the same day of the Instagram post.
Trump's Friday order formalized that Twitter announcement and provided the first details of his plan.
In it, he directs the military not to recruit transgender people, to stop paying for medical treatment regimens of transgender people already serving in the military, and to evaluate existing transgender soldiers and their impact on the military for "effectiveness and lethality, unitary cohesion, budgetary constraints, applicable law, and all factors that may be relevant."
Although some details remain unclear and Trump has indicated he is giving top defense officials some leeway to implement his plan, the move could effectively reverse a 2016 order by former president Barack Obama to allow transgender individuals to serve openly.  
Zinke, a retired Navy SEAL, has not spoken publicly about his opinion of the ban. Nor has his wife, Lolita Zinke. She was a member of Trump campaign outreach efforts for Hispanics and women, and later joined the president's Veterans Administration transition team.
Detlefsen served in the Navy as a Deep Sea Diving Medical Technician and later as a High Risk Instructor of an explosive ordnance disposal training unit. She had worked at Special Operations for America, a military-focused super political action committee founded by Zinke, doing digital consulting and social media work, according to filings with the Federal Elections Commission.
Detlefsen now is a Virginia-based glass artist "bound by themes of masculine/feminine dichotomy, double standards, motherhood, and literature's impact on gender roles."
She could not immediately be reached for comment Friday night. A phone rang without answer and had a voicemail box that was full. Messages sent to two private email accounts also were not immediately returned.