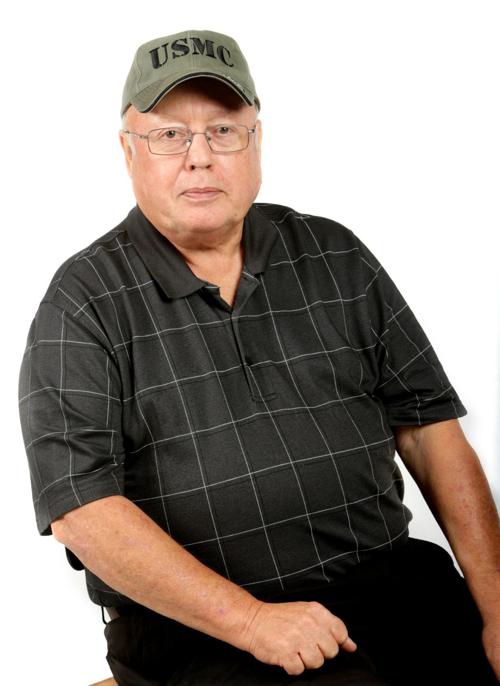 Ivory Robinson Jr. is a Vietnam veteran who served in the U.S. Marine Corps from 1966 to 1968. He went into the service from working on a ranch in Melstone. At the induction center in Butte, 74 men were going into the service, 70 in the Army. He was one of four going in the Marines. This is part of his Vietnam story. 
Robinson: "I was one of the four that went in the Marines."
Gazette: Did you have a choice?
Robinson completed basic training in San Diego and then did advance training at Fort Pendleton. He was trained as a rifleman. He first went to Vietnam and was stationed near the demilitarized zone. He served near Dong Ha, then Con Thein and then near Cambodia.
Robinson: "We became a floating battalion. We went from (Vietnam), and they flew us to Okinawa for training for 10 days. ... Anyway, we went to the Philippines and got on a ship, and we were there for about five days. ... We got on the Iwo Jima, and we headed to Vietnam. We got to Vietnam, and we were going to burn through anything for 30 days. I went in by helicopter. ... I mean we burned and burnt everything. We killed everything. ... We lost 150 in 30 days. There was about 2,000 of us, though."
Gazette: So your job was just to go and take land?
Robinson: "Take land and burn it. I mean you could not smell at night because there was so much burning. Burning, killing everything you can see."
Gazette: Is it forest? Jungle?
Robinson: "Anything. I don't even know how they knew the difference between North and South Vietnam. I mean we burned everything. ... At that time we were near the ocean, and then we moved in. After we did that, we regrouped. Then we went through the DMZ. That's when we built the DMZ. I was there when they did that. It was the Seabees that built that with the (Caterpillar diesels). Maybe it was 50 yards wide. The Cats did all the work, and we stood security around the Seabees. We moved around, and we stuck in Con Thien for a while. There we lost some guys. Then they were bringing in two battalions of North Vietnamese. North Vietnamese liked marijuana, and they lived on that stuff. We could see and look out on a lot of Russian tanks. We knew they were coming, and there wasn't much we could do about it. We had Con Thien heavy, all the way around.
"Then they hit us at night, and, actually, I was back away from them. They came in — they just pushed us out."
Gazette: They overran you?
Robinson: "They overran us. I was in another squad, and believe this or not, but I had a gun that had been in the service for eight years. All of a sudden, they called up another squad and my squad leader went with the other squad. He didn't even know where he was, so I never got up there to the line at first. Then we stayed back. The next morning, we went in. Then we started looking around. We lost 50 or 60 guys. I had a friend from Chicago and he had his own pistol and he was gung-ho. He had 12 (of the enemy) around him when he died. I didn't. I was lucky.
"(The North Vietnamese) would just throw their dead bodies at Con Thien and just walked over the top of them. We had the Seabees come in and dig a hole in the ground. We buried 150 North Vietnamese. I can walk back today and show them where they're buried."
Gazette: It's one thing to read about that, it's another to see that. What's 150 bodies like in a war area?
Robinson: "At the time, it didn't bother me. And now I look back, 'Why didn't it bother me?' It didn't. It wasn't our bodies to start with. ... We'd been fighting. There were about six of us throwing the bodies in the hole. When we were done, the Seabees came in and put dirt on the hole, and that's where they bodies stayed. That's where they'd be today."
Gazette: When it was overrun, were you worried about getting overrun yourself?
Robinson: "We were prepared. At the time, I didn't have a rifle. I had an M79 (grenade launcher). That's what I carried, and pistol. At that point, I didn't shoot that because we were too close. I mean, we happened to be outside the perimeter when they did.
"You don't worry about stuff. Whatever you have to do, you're going to do to stay alive. That's what I was worried about. I knew what I had to do if I had to do it.
"This is supposed to be the second-deadliest attack in Vietnam, Con Thien was. I read this now. At the time you don't know or don't care, really."
Gazette: Looking back, how does that make you feel?
Robinson: "Again, we didn't know what day it was. I am waiting to get back home. That's my main thing, so I can go back home."
Gazette: You were out there every day. Every day were you getting shot at?
Robinson: "No. No. You don't get every day. I doubt if you get shot at more than two or three times a month. You go out at night. You'd do a lot of scouting and go into the villages."
Gazette: You're fighting North Vietnamese Army troops, regulars. How did they fight? You're a soldier, they're a soldier. How would you rate them?
Robinson: "Just smoke a little marijuana and get on with it — that's about all I ever saw out of them. They stayed until they could come all-attack. During the night, they'd sneak in along the DMZ at about eight at night. A lot of them go in and build hospitals underneath the ground in the jungles. We found a lot of those. Up north, we never had a lot booby traps and stuff. It was too new, like down around in Saigon.
"Of course, you never knew who it was — the South or the North. They could change overnight. ... And often did. They were strictly looking for food, the South Vietnamese. They had no food. There was a lot of that. Of course, a C-ration was good enough for them. They loved it.
"You also got a lot of leeches. ... When you got in water, you had to watch yourself, because boy, those leeches they'd suck you. Then you'd use mosquito repellent to get those leeches off. Spray it, and they'd drop off. One night, if you went through a lot of rice paddies, you'd get five or six or seven of them on your body. It depends; you had to watch where they were at because they could get dangerous. There were some snakes — we never ran into many snakes. Lot of them say they did, but I never seen a lot of snakes. A lot of bugs and a lot of malaria, and I never got malaria. ... A lot of them took water — and I still remember this — they took pills because the water was bad. I didn't take the pills because they made it taste terrible. Then the only time we drank water was at night when it cooled off, otherwise it was boiling. You go about 2 in the morning to get water. We're all up all night. An hour-and-a-half on, hour-and-a-half off for watches."
Gazette: Is it hard sleeping out there?
Robinson: "Not really, you just sleep on the ground. You got a poncho and your bag in the back, and just use that as a pillow. And that's where you go to sleep."
Gazette: What about night ambushes?
Robinson: "We did a lot of night ambushes and patrols."
Gazette: What was like that?"
Robinson: "Just go out there and see if you can find anybody, kill them, get rid of them. ... We'd go out with a dog."
Robinson: "Yes, it did some, but not great.
Gazette: You're going out at night, and it's dark. How do you even fight in pitch black like that?"
Robinson: "You just open up and take care of it. Your first instinct. There's a lot of things over there that we did that we probably shouldn't have done. Today, they couldn't get away with it. We did some things that they would, today, just like what you watch on TV where these guys are urinating on the bodies. Then, they never had that. We didn't have the cameras, and we were too far north anyway."
Gazette: So on ambushes, you would catch people?
Robinson: "Especially around Con Thien. ... Right along the border. ... That's where it really narrows down. There were other people down toward Dong Ha. We only had about two miles that we took care of."
Gazette: When you were over there, what did you miss most about home?
Robinson: "At the time, I had a girlfriend, and I probably missed her the most. You know, that's all I thought about. But somehow I got home, and she wasn't there. She'd found someone else, and she'd moved on. But you'd see a lot of that over there. Lot of guys move on, and lot of girls, that's 13 months and that's a long time to be without them."