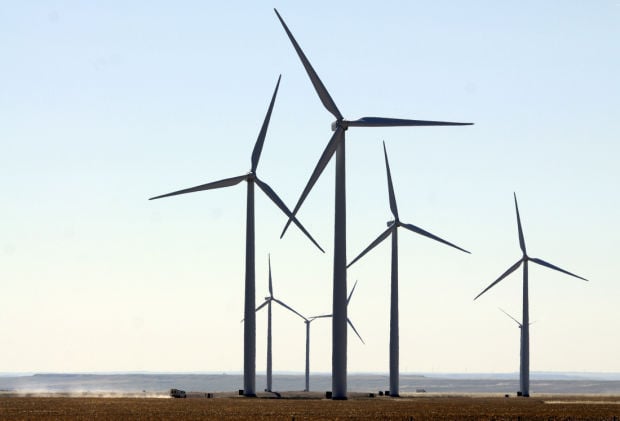 It's been six years since wind turbines were first proposed for the Hobble Diamond Ranch foothills six miles northeast of Greycliff, but only tumbleweeds stir in the wind there now.
The Greycliff Wind Energy project has had a turbulent ride to the marketplace. The 12-turbine project has a willing customer in NorthWestern Energy, which is shopping for wind power to fulfill a state requirement for Community Renewable Energy Projects, or CREP. Greycliff still needs to persuade Montana's Public Service Commission that the company has enough Montana owners.
This week, Greycliff Wind was in Big Timber assuring Sweet Grass County commissioners that the project, first suggested in 2010, still has wind in its sails.
"This was an update. We want to assure them that the project isn't going away," said Pat Pelstring, of National Renewable Solutions.
Based in Minnesota, National Renewable Solutions develops wind power projects with local ownership. Montana's local ownership requirements are different than other states, which has proven challenging for Greycliff Wind.
National Renewable is a co-developer and project manager. The principal owners are Rhyno Stinchfield, who owns Billings-based GreenWorld Partners, and Steve Tyrrel, of Lavina. The two formed Montana Wind Resources to be the umbrella company for Greycliff Wind. Hobble Diamond Ranch owners Robert and Susan Burch round out ownership.
Stinchfield said the location of the project is significant because Greycliff would be the first commercial project to tap into the Livingston wind corridor. Livingston, roughly 35 miles west of Greycliff, is known for its strong winds. There have been attempts to harness Livingston wind power before, but the air stream is just too turbulent near its beginnings in the Paradise Valley. Stinchfield said the winds are much more predictable in the Greycliff area.
"This would be the first wind farm to take advantage of that Livingston-Big Timber wind we all know about," Stinchfield said.
But there's a regulatory headwind that needs to be met first. The developers still have to persuade the Public Service Commission that there's enough local ownership of the project to qualify as a Community Renewable Energy Project. In June, the PSC rejected Greycliff Wind because it wasn't convinced that local owners had a 50 percent stake in the income, equity and voting rights of the company.
"At this point, the ball is in Greycliff's court," said Eric Sell, PSC spokesman. "They can come back and provide more information to prove that they meet that standard set by statute, or they can come up with a different corporate structure."
Pelstring said the group is working on a different structure now and will be back for approval in coming months.