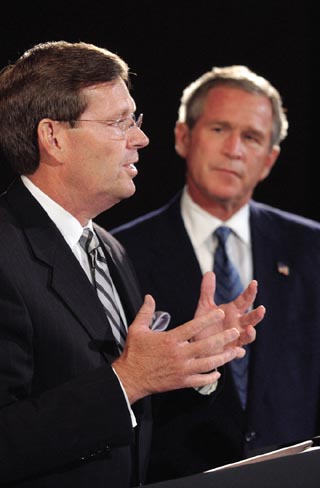 WASHINGTON - Throughout his run for re-election in 2000, Utah Gov. Mike Leavitt was stalked by a 6-foot fish.
"Whirley," a woman in a trout costume, heckled the governor, deriding his ties to the Leavitt family fish farm that some people claimed had helped spread whirling disease. That disease warps trout spines, causing them to swim in tail-chasing circles.
The fish farm allegations have come around again as opponents use the episode to question Leavitt's fitness to lead the Environmental Protection Agency.
Environmental groups are seeking to derail Leavitt's nomination by bringing up his links to a purge of state regulators who had cracked down on the fish farm.
"If you look at Leavitt's record, you see that time and time again Governor Leavitt has worked to weaken environmental regulatory agencies by demoting and terminating regulators and watering down regulations," said Zach Frankel, executive director of the Utah Rivers Council.
A spokesman for Leavitt said he could not comment on the issues until after confirmation. A Senate confirmation hearing, postponed Thursday due to the approach of Hurricane Isabel, is scheduled for Tuesday.
Shortly after Leavitt took office, there was a major reorganization of the state agency in charge of wildlife oversight. Dozens of officials were fired, demoted or left. They include investigators and biologists whose work had resulted in the Leavitt family being cited for operating a fish farm without a proper license and potentially spreading a deadly fish disease.
In the early 1990s, the investigators found the Leavitt family's fish farm, Road Creek Ranch, was illegally stocking fish ponds with trout from its hatchery. Inspectors found more than 30 violations.
But the real blow came when fish from the ranch tested positive for whirling disease. It has popped up across the West, devastating some of the world's premier trout fishing waters.
The family agreed to plead no-contest to eight misdemeanors and pay $25,000 to combat whirling disease. In letters, family members insisted the politically influential Leavitt clan got no special treatment.
Bruce Schmidt, the chief of the fisheries branch that investigated Road Creek Ranch, said it is impossible to say whether the Leavitts' fish farm was the source of whirling disease in the state or if it was contaminated by water carrying the disease.
You have free articles remaining.
The family told The Salt Lake Tribune last week that it is closing the fish farm.
Mike Leavitt has distanced himself from the family operation. He sold off his interest in the farm shortly before he ran for governor in 1992.
Soon after he was elected, however, the purge at the Division of Wildlife Resources began. Schmidt was among those gone. The fisheries enforcement branch was disbanded and a board dominated by the aquaculture industry was created to oversee enforcement issues, Schmidt said.
"Say what you will, it was clearly a political move," Schmidt said.
Bob Valentine, who ran the Division of Wildlife Resources from 1993 to 1997, said the changes were made based on recommendations from consultants hired to streamline the agency and that the changes resulted in bitter employees.
Leavitt's environmental track record and that of the Bush administration are expected to be dissected when the Senate Environment and Public Works Committee considers the nomination.
Sen. Hillary Clinton, D-N.Y., has said she will block Leavitt's nomination from going to the full Senate. That is in protest of a recent inspector general report that said EPA officials downplayed the health risk at the post-Sept. 11 World Trade Center site.
Sen. John Edwards, D-N.C., who is running for president, has said he too will block the nomination.
Environmental groups have sent out letters and briefing papers and set up a Web site to oppose the governor.
Among the issues expected to arise:
The administration has recently adopted a rule that would make it easier for large polluting plants to expand their operations. Leavitt's top air quality official testified at an EPA hearing that the rule would be a "train wreck."
Recent EPA studies showed Utah tied for last place in enforcing the Clean Water Act.
Leavitt fought hard to build a highway north of Salt Lake, despite objections from the EPA, which argued it would damage delicate wetlands and bird habitat.
Copyright © 2003 Associated Press. All rights reserved. This material may not be published, broadcast, rewritten or redistributed.