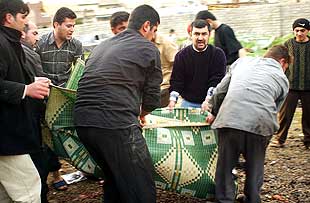 MOSUL, Iraq — Weeping relatives gathered in small groups Friday to bury 50 people killed by a suicide bomber in this northern city, after canceling a mass funeral procession for fear of another attack.
As the mostly Shiite Muslim families mourned their dead, Iraq's main Shiite and Kurdish coalitions agreed in Baghdad on a deal divvying up the top three posts in the new government, but differences remained over the deployment of Arab troops in ethnic Kurdish areas.
North of the capital, insurgents blew up an oil pipeline in the latest attack targeting the country's fragile economic infrastructure.
Families of the victims from Thursday's bombing at a funeral in a Mosul mosque held individual wakes and funeral services after agreeing with community and religious leaders not to hold a joint funeral procession.
Most relatives were motivated by "fear of another attack like this one," said Hamid Zain al-Ali, a member of the Al-Sadr Movement of Shiite cleric Muqtada al-Sadr, whose militants rose up against U.S. troops repeatedly last year. He said one mortar round exploded Friday near the site of Thursday's bombing.
Insurgents led by Sunni Arabs, a minority who dominated under Saddam Hussein, are targeting Shiite funeral processions and ceremonies in an apparent campaign to spark a sectarian war. Last month, suicide bombers attacked Shiite mosques during the commemoration of Ashoura, killing nearly 100 people.
Although leaders of the Shiite Arab majority have urged their people not to retaliate against Sunni Arabs, some at Friday's funerals demanded vengeance.
"I cannot describe the amount of despair I feel," said Sher Qassim Mohammed Ali. "I lost seven of my sons, brothers and cousins. I want to know who carried out this attack … we will avenge those who did it."
"He who did this is a criminal — he killed Muslims and wanted to ignite sectarian strife. But God willing, we'll not allow that," Ibrahim Moussa, 50, said from his bed at Mosul's main hospital, his hand wrapped in bandages after surgery. His brother was killed in the attack.
Mosul has been a hotbed of guerrilla activity, with bombings, drive-by shootings and assassinations targeting the country's security services, Shiites and people thought to be working with U.S.-led forces.
At Baghdad's Um al-Qura mosque, a Sunni Muslim cleric criticized the attacks, but blamed Iraqi and U.S. authorities for failing to provide security.
"We strongly denounce the bombings and assassinations that killed innocent people," Sheik Mahmoud al-Sumaidei, a member of the influential Association of Muslim Scholars, told worshippers. "Both the occupation and the Iraqi government shoulder the responsibility of this blood."
Meanwhile, the Shiite clergy-backed United Iraqi Alliance and Kurdish parties agreed on the makeup of the three-member Presidency Council to be chosen by Iraq's first democratically elected parliament in modern history.
It would include Jalal Talabani as Iraq's first Kurdish president and a Sunni Arab and a Shiite Arab for the two vice presidents, said Ali al-Dabagh, a negotiator for the Shiite alliance. Names were not announced for those jobs.
The Kurds would receive one major Cabinet post — one fewer than they demanded — but they agreed to support the alliance's candidate for prime minister, Ibrahim al-Jaafari.
Although the Kurds agreed to disband their 100,000-man peshmerga militia and incorporate it into Iraq's army and security forces, they have opposed Arab troops being deployed in the north.
Al-Dabagh said an agreement was reached to allow ethnically mixed army units in the three Kurdish provinces of Sulaymaniyah, Irbil and Dahuk. But Massoud Barzani of the Kurdish Democratic Party said troops should be sent to Kurdistan only if there is a serious security threat, and only with the consent of the Kurd's regional legislature.
The disagreement was not expected to derail convening the National Assembly on Wednesday.
The Kurds, who comprise about 15 percent of the population, emerged as king makers because they voted in large numbers in the Jan. 30 national elections and won 75 seats in the 275-member National Assembly. The Shiite alliance won 140 seats and needs Kurdish support to assemble the two-thirds majority needed to elect the Presidency Council, which will name the prime minister.
In violence Friday, insurgents blew up an oil pipeline near Samarra, 60 miles north of Baghdad. The amount of damage was not clear.
Two Iraqi soldiers were killed and three wounded during clashes with insurgents on the road between Babil and Diwaniyah, south of the capital, army Maj. Hassan Ali said.
In Baghdad, gunmen in a car opened fire on a hotel housing foreigners and a driver in another car with three children was critically wounded in the crossfire.
Copyright © 2005 Associated Press. All rights reserved. This material may not be published, broadcast, rewritten, or redistributed.