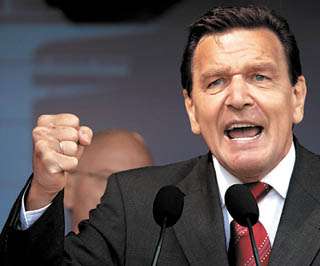 HANOVER, Germany (AP) - An exuberant Chancellor Gerhard Schroeder cranked up his election campaign Monday, warning against military action to topple Saddam Hussein and saying his government is not prepared for "adventures" in the Middle East.
Breaking out of a recent phase of lackluster speeches and appearances, Schroeder started the rally in Hanover bounding onto the stage flashing "V" for victory signs with both hands, followed by his wife.
Schroeder, whose center-left government is sagging in the polls, pledged to keep up pressure on Saddam to let U.N. weapons inspectors back in, but repeatedly questioned the wisdom of military action to topple him.
"I warn against speculating about war and military action and tell those who are making plans for such actions to think not only about how they are going in, but to have a political concept," Schroeder said.
"We are ready for solidarity, but this land will not be prepared for adventures, as long as I'm in control," Schroeder said. "I believe we should keep up the pressure on Saddam Hussein, yes. But I'm not for playing around with war or military action."
Schroeder fended off the suggestion that he was exploiting the issue for his campaign, arguing that a NATO conference on Iraq is to convene Sept. 23, the day after German elections, and voters needed to know where a future government stands on the issue.
Edmund Stoiber, his conservative challenger who lacks experience in international politics, has played down Iraq, arguing that "it makes no sense to discuss such hypothetical questions - and possibly generate fear."
Copyright 2002 Associated Press. All rights reserved. This material may not be published, broadcast, rewritten, or redistributed.