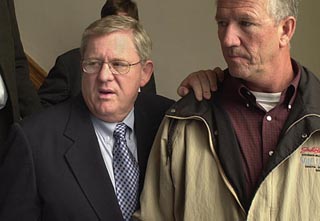 FLANDREAU, S.D. (AP) — Rep. Bill Janklow pleaded not guilty Friday to second-degree manslaughter in the traffic accident that killed a motorcycle rider last month.
The Republican former governor also pleaded not guilty to three lesser counts, four days after he told reporters he "couldn't be sorrier" for the Aug. 16 crash that killed Randy Scott, 55, of Hardwick, Minn.
Authorities allege Janklow was driving a Cadillac 71 mph in a 55-mph zone and had just run a stop sign at a rural intersection when he collided with Scott's motorcycle.
Trial was set for Dec. 1.
You have free articles remaining.
Besides manslaughter, Janklow also was charged with reckless driving, running a stop sign and speeding. Authorities say he was driving 71 mph in a 55-mph zone.
Janklow is allowed to remain free on a personal recognizance bond.
Some members of the Scott family and some Janklow supporters attended the court session, which lasted only a few minutes in a packed courtroom.
About a dozen protesters were outside the courthouse. As Janklow left, some yelled, "No justice, no peace," "He's a killer" and other chants.
Janklow had waived his right to a preliminary hearing in Moody County Circuit Court.
Copyright © 2003 Associated Press. All rights reserved. This material may not be published, broadcast, rewritten, or redistributed.