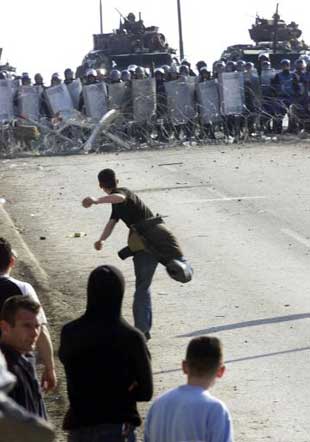 PRISTINA, Serbia-Montenegro - Ethnic Albanians torched Serb homes and churches Thursday as Kosovo convulsed in a second day of violence, its worst since the province's war ended in 1999.
Serbian nationalists set mosques elsewhere on fire and threatened to retaliate with "slaughter and death," and NATO sent reinforcements to quell tensions in the U.N.-run province and ease the threat of renewed conflict in the volatile Balkans.
The clashes, which began Wednesday when ethnic Albanians blamed Serbs for the drownings of two children, have killed at least 31 people and wounded hundreds more, including several dozen U.N. police and NATO peacekeepers, according to U.N. spokeswoman Izabella Karlowicz.
The bloodshed underscored the bitter divisions that have polarized Kosovo's mostly Muslim ethnic Albanians, who want independence from Serbia, and Orthodox Christian Serbs, a minority in Kosovo who consider the province their ancient homeland.
The violence, which spilled beyond Kosovo's borders into the Serbian heartland, also dealt the Bush administration a potential setback in efforts to draw down on peacekeepers in the Balkans and redeploy them to Iraq, Afghanistan and other hotspots.
About 2,000 Americans now serve with the force, down from 5,000 after the war, and the entire force has shrunk from 50,000 to 18,500.
"The international community's drive to reduce (NATO) forces and the U.N. police for cost reasons and because of Iraq has turned out to be an error," warned Winfried Nachtwei, a German lawmaker who visited Kosovo this week.
The White House called for an end to violence in Kosovo and said President Bush met with his national security team to monitor the situation. The U.S. Embassy in Belgrade closed temporarily to the public as a precaution. "We continue to call on all groups to end the violence and refrain from violence," White House spokesman Scott McClellan said.
Serbia-Montenegro's military raised the combat readiness of some units to their highest level, and Kosovo's ethnic Albanian prime minister, Bajram Rexhepi, warned that the situation was not under control. The U.S. Embassy in Belgrade closed to the public temporarily as a precaution.
But the United Nations and NATO, which was bolstering its 18,500-member peacekeeping force with 1,100 more troops, played down the risk of fresh conflict in Kosovo or elsewhere in the region.
"I don't believe there is a possibility of a war. We will do what is necessary to restore and uphold law and order," said Jamie Shea, a NATO spokesman.
Branko Crvenkovski, the prime minister of neighboring Macedonia - still tense after ethnic Albanian militants waged a six-month insurgency in 2001 - said he saw no danger that the violence could spread there.
Unwilling to take any chances, the NATO alliance deployed 350 U.S. and Italian soldiers from Bosnia to Kosovo, and Britain said it would soon send 750 troops.
Arsonists on Thursday torched several Serb houses in Obilic, an ethnically mixed town west of Kosovo's capital, Pristina, forcing U.N. police and NATO troops to evacuate dozens of Serbs. There were unconfirmed reports that the town's Serbian Orthodox church also was ablaze.
Ethnic Albanians evaded tear gas and rubber bullets fired by French NATO peacekeepers to torch an Orthodox church in Kosovska Mitrovica, where the clashes began, witnesses said.
In retaliation, mobs across Serbia set mosques on fire and threatened Kosovo's ethnic Albanians with "slaughter and death."
The province is U.N.-administered but remains part of Serbia, with its final status to be decided by the United Nations.
Harri Holkeri, Kosovo's top U.N. official, appealed for an end to the violence, warning that it undermined the international community's efforts to reconcile the two sides after the war. The conflict killed about 10,000 people, mostly ethnic Albanians.
It ended in 1999 after NATO airstrikes halted former Yugoslav President Slobodan Milosevic's brutal crackdown on ethnic Albanian militants seeking independence. Ethnic Albanians since have mounted periodic revenge attacks on Serbs.
But the breakdown in order illustrated the failure of U.N. and NATO efforts to snuff out ethnic hatred. Serbian Prime Minister Vojislav Kostunica angrily denounced the attacks on Serbs as an "attempted pogrom," although he later called on Serbs to not "respond to violence with more acts of violence." Kosovo's government urged the same.
Ethnic Albanians are frustrated that the international officials who rescued Kosovo from Milosevic have failed to deliver on what for them is the only issue: independence.
Copyright © 2004 Associated Press. All rights reserved. This material may not be published, broadcast, rewritten, or redistributed.
Be the first to know
Get local news delivered to your inbox!