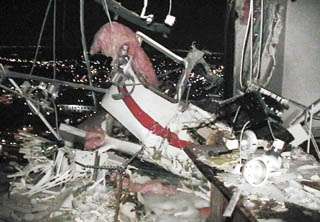 TAMPA, Fla. (AP) – The 15-year-old student pilot who crashed a small plane into a skyscraper wrote a note expressing sympathy for Osama bin Laden and support for the Sept. 11 terrorist attacks, police said Sunday.
The short, handwritten note found in Charles Bishop's pocket said he acted alone, police Chief Bennie Holder said. The high school freshman had no apparent terrorist ties, Holder said.
"Bishop can best be described as a young man who had very few friends and was very much a loner," Holder said. "From his actions we can assume he was a very troubled young man."
Associated Press Tampa, Fla., Police Chief Bennie Holder, above left, stands with National Transportation Safety Board member Butch Wilson, of Atlanta, during a news conference.
took off from a St. Petersburg airport without permission, flew across Tampa Bay and briefly entered airspace over MacDill Air Force Base. Ignoring a Coast Guard helicopter crew that signaled him to land, he crashed the plane into the 28th floor of the 42-story Bank of America building.
Bishop was the only fatality.
Nothing indicates Bishop specifically targeted the building or "had any intention of harming anyone else," Holder said.
The note, a few paragraphs handwritten on plain white paper, was not addressed to anyone specifically, police spokeswoman Katie Hughes said. Bishop did not mention his family nor say goodbye to anyone, she said, although authorities interpreted it as a suicide note.
Bishop had a planned flying lesson Saturday at National Aviation Academy, where he had taken lessons since March, authorities said. His grandmother took him to St. Petersburg-Clearwater International Airport for the 5 p.m. lesson.
He was supposed to check the equipment in the Cessna 172B before flying with an instructor, police said. At 15, he was a year too young to fly solo.
Investigators said it did not appear that any regulations were violated in leaving Bishop alone with the plane and its keys.
The plane was airborne for nine to 12 minutes, briefly flying through airspace over MacDill Air Force Base, said Butch Wilson, investigator for the National Transportation Safety Board. The base houses Central Command, which is directing the war in Afghanistan.
Air Force Lt. Col. Rich McClain said the base was notified when the aircraft was about three miles away. It entered base airspace, descended slightly and left one minute later without making any threatening moves, he said.
A Coast Guard helicopter caught up to Bishop after he had traveled about 20 miles, and the crew signaled him to land. Crew members said he ignored them, then crashed the plane into the building.
As a precaution, two F-15 fighter jets were scrambled from Homestead Air Reserve Base, 200 miles away, but they arrived after the crash, said Capt. Kirstin Reimann at the North American Aerospace Defense Command.
You have free articles remaining.
President Bush was briefed on the incident and the White House had been in touch with Homeland Security Director Tom Ridge and the Federal Aviation Administration, said White House spokesman Scott McClellan.
Only a few people were in the building when the plane crashed, and none was injured.
Fire department officials said only the office where the plane hit and small areas of adjoining floors were damaged. Until it was pulled in early Sunday, the plane's tail had dangled from the 28th floor.
Most of the building was expected to open Monday.
Police detectives and FBI agents interviewed Bishop's relatives Sunday and said they would search his personal computer for evidence. Police said he had no criminal record, no history of psychological or drug problems and had not threatened suicide before.
Police unrolled yellow crime scene tape at the apartment complex where he lived with his mother in Palm Harbor, about 25 miles west of Tampa.
Julia Bishop, the boy's mother, told a camera crew to "get out" when they attempted to film her as she opened her door for investigators.
The flight school canceled its regular operations Sunday. Employees reached at home said they had been instructed to refer questions to the school's attorney, Michael Cronin, who did not return calls for comment.
Cronin said Saturday that Bishop had been taking flying lessons at the school since March and logged about six hours of flight time. The boy often cleaned planes in exchange for flight time and knew the school's operations.
Students do preflight equipment checks on their own, then have their accuracy verified by an instructor, he said. Bishop was a year shy of being able to fly alone and two years too young to earn a pilot's license.
Derek Perryman, a classmate at East Lake High School, said Bishop often talked about planes with a friend in their journalism class.
After the Sept. 11 terrorist attacks, he said, Bishop read a paper to the class. "It was real expressive about how he felt, how disappointed he was," Perryman told The Tampa Tribune.
Another classmate, Ross Stewart, 15, described Bishop as a "teacher's pet."
"I knew he was an honor student. He got straight A's," Stewart said. "He seemed to like his classes. He liked school. He was a happy kid. He was never really down about anything. He smiled a lot.
Bishop's algebra teacher described him as a bright, disciplined student who was well-liked by his classmates.
"I'm floored. Totally floored," said Rayette Bouldrick. "He always had a smile. He was always pleasant and respectful."
Neighbors said Bishop, who had moved from the Boston area a year earlier, kept to himself.
"He rode my bus to school. He sat in the front row. He always had sunglasses on for some reason," said David Ontiveros, 14. "He never talked to anybody."
Copyright 2001 Associated Press. All rights reserved. This material may not be published, broadcast, rewritten, or redistributed.