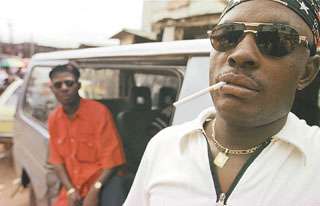 ONITSHA, Nigeria (AP) - Men in bandanas and dark sunglasses lean from a speeding van in this southeastern Nigerian city, blasting sawed-off shotguns in the air. Traders pushing loaded carts scurry. Mothers carrying babies dart out of the way.
"We have received information of an attack by armed robbers," says Austin Ugo as he fires his shotgun. His cohorts smash machetes against slow-moving cars. "God has sent us to this job to dispense justice."
The 28-year-old Ugo and his men are members of the Bakassi Boys, a vigilante group celebrated as heroes in Onitsha's once-crime ridden market but increasingly scorned by human rights groups - and privately by some residents and police - who say they are ruthless killers.
The movement was forged four years ago by a core group of former shoe salesmen and car parts dealers who closed their shops to wage war on the armed bandits plaguing Nigeria's southeast. They dubbed themselves the Bakassi Boys, after the shoe market where they had worked.
Two years later they came to Onitsha, home to one of West Africa's largest street markets, after Nigeria's underfunded and often inept and corrupt police proved powerless to stop robbers.
Amnesty International says the Bakassi Boys have summarily executed more than 1,000 people. And Human Rights Watch says the group has tortured hundreds to force confessions.
On a fact-checking mission last April, Amnesty investigators reported, they watched the Bakassi Boys try to burn a man alive outside the office of the group's main sponsor, Anambra Gov. Chinwoke Mbadinuju. The man's crime, if any, was not known.
Nigeria's police began cracking down on the Bakassi Boys on Wednesday, raiding five bases in southeastern Abia state - arresting 33 vigilantes, freeing 46 illegally held prisoners, and seizing stockpiles of guns and ammunition. The raids came after a shootout with police prompted by the Bakassi Boys' refusal to release their prisoners.
Mbadinuju, who pays the vigilantes' salaries and supplies them with weapons and vehicles emblazoned with "Anambra Vigilante Service," denies knowing of killings or abuses.
President Olusegun Obasanjo has expressed fears that the groups could be transformed into private armies during next year's governors' elections, since governors are the vigilantes' main patrons. Some opposition lawmakers in Anambra say they have been assaulted and received death threats from Bakassi Boys.
In Onitsha, men nicknamed "Animal Skin" and "Bag of Gun Powder" brandish machetes and guns as they patrol in squads called "No Mercy" and "Last Burial."
The Bakassi Boys' Onitsha commander, Chinaenye Ihenko, maintains each of his men has the power to stop bullets and determine a suspect's guilt by looking into their eyes or watching for mysterious red flashes in a machete blade.
Although they embrace rituals and charms, the Bakassi Boys say they are devout Christians. Their authority is spelled out in the Bible, Ihenko said.
Sitting behind a desk cluttered with three miniature coffins and what appears to be a leather hangman's hood, the 32-year-old Ihenko denies his men have ever killed anyone.
Reports to the contrary are orchestrated by the governor's enemies, he says.
"Some of the politicians have skeletons in their cupboards," Ihenko said. "These are people who are saying they don't like Bakassi."
But a Bakassi Boy who calls himself "Schwarzenegger" contradicts Ihenko while telling how the group deals with suspected armed robbers.
"We kill them," he said with a smile.
Until recently, questions to police about the killings were met with uncomfortable silence. Only recently have police acknowledged abuses by the Bakassi Boys, calling them "barbaric" and murderers.
"They are killing people, innocent people," said Abia police commissioner Olusegun Efuntayo.
Associated Press journalists, who rode along with the Bakassi Boys recently, saw a human skull and bones in a pile of ashes at a busy intersection.
Residents whispered the bones were the remains of a man slain by Bakassi Boys two days earlier.
Chuka Obele-Chuka, an Onitsha civil rights lawyer, is one of the few to openly criticize the Bakassi Boys. He has vowed to fight the Anambra governor in court for giving them license to kill.
Like the Bakassi Boys, Obele-Chuka says he is inspired by the Old Testament. He hangs a slingshot in his office as a reminder of David's unlikely victory over Goliath.
That slingshot helped spur Obele-Chuka on after his case collapsed three times because victims' families backed out in fear of testifying against the vigilantes.
Obele-Chuka helplessly watched many killings, including that of an acquaintance, he says.
The grisly rituals begin with Bakassi Boys hacking off a screaming victims' limbs, before decapitating, and finally igniting their fuel-soaked bodies.
"There is no doubt these Bakassi Boys kill criminals," Obele-Chuka conceded. "The crime rate has gone down. Our quarrel is with their methods."
Joyce Okeke, who lives out Onitsha, knows their methods all too well.
The last time she saw her husband, Eddy Okeke, a faith healer locked in a land dispute with village chiefs, was in November 2000. The Bakassi Boys dragged him away bloodied, wearing only his underwear.
"They said they were the Bakassi and this was a government order," she recalled.
After four days, she heard the Bakassi Boys had put him to death.
"They have killed so many innocent souls," Okeke said. "How can you capture a human being, slaughter him like an animal in the street and set him ablaze?"
Copyright 2002 Associated Press. All rights reserved. This material may not be published, broadcast, rewritten, or redistributed.