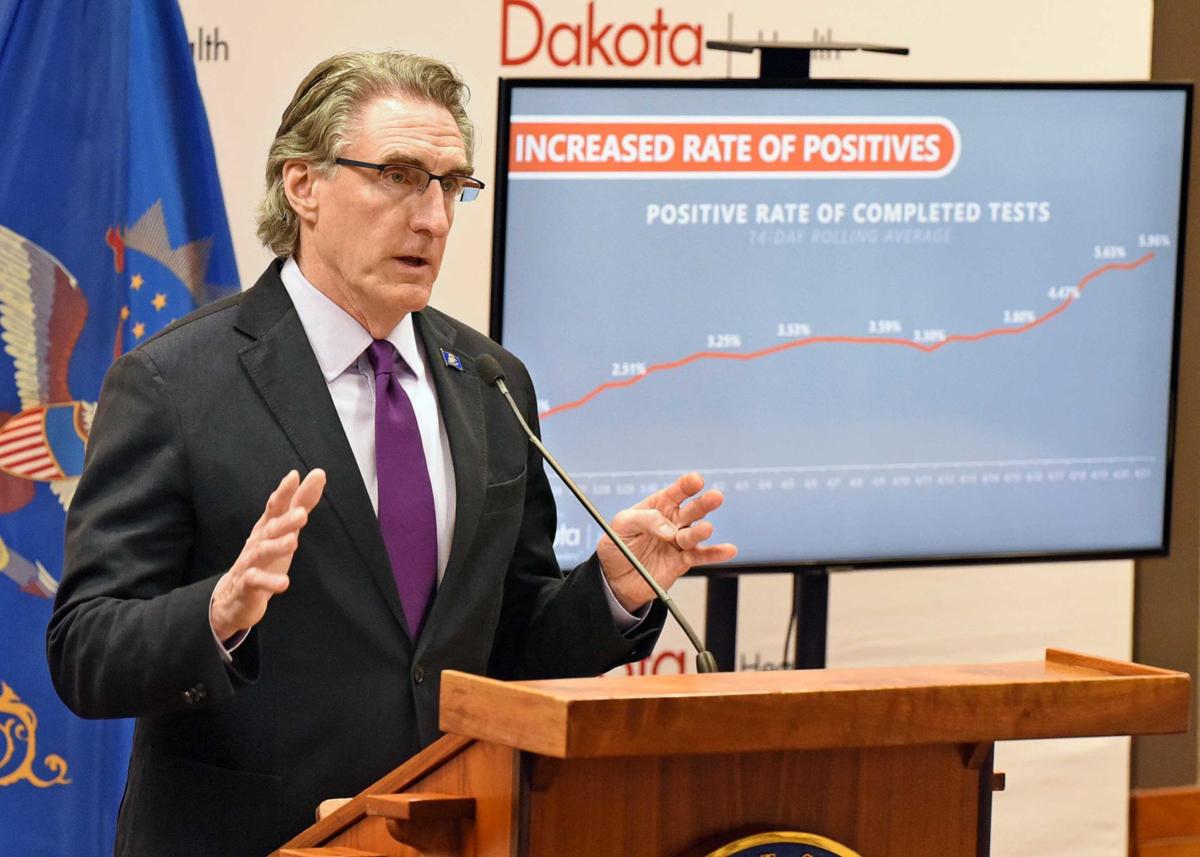 BISMARCK, N.D. — North Dakota Gov. Doug Burgum on Friday further eased business restrictions, saying the state continues to make significant progress in its effort to contain the spread of the coronavirus.
Burgum amended an executive order that will allow businesses such as restaurants to operate at a maximum 75% capacity, up from the half capacity that has been in place since May 1.
The Republican governor also expanded the number of people allowed at large venues to 500 people, or double the number set under previous guidelines.
Burgum said he had a "great amount of positivity and confidence" to move the state from moderate to low risk under his so-called ND Smart Restart guidelines, which are only optional and do not have the force of law. He said the state's increased testing capacity, its low positive test rate for the coronavirus and the existing hospital bed capacity to handle patients were among the positive signs for easing the restrictions.
The new guidelines also allow movie theaters to operate at 65% capacity, up from 20%. And high-intensity fitness classes, which had been prohibited previously, may now be held with appropriate social distancing.
The Department of Health said Friday two more people have died from COVID-19 in North Dakota, bringing the total number of deaths to 59. The victims were a woman in her 90s and a man in his 70s. Both were from Cass County and had underlying health conditions.
Burgum said 48 of the deaths linked to the coronavirus have been in Cass County, which includes the Fargo and West Fargo metropolitan area.
The agency said another 40 people have tested positive for the coronavirus since Thursday, bringing the total number of cases to 2,520. The new figures include 30 in Cass County, which now has had 1,661 positive cases.
Thirty-six people are currently hospitalized with the virus in North Dakota, an increase of one since Thursday.
Burgum announced this week that most North Dakota state government offices are set to reopen to the public Monday in a limited capacity.
United Tribes Technical College in Bismarck announced Friday it had canceled its multi-day International Powwow that had been scheduled for September. College leaders said it was done to "protect the well-being" of attendees.
Powwow leaders estimate about 10,000 people attend the event annually.
The North Dakota State Fair officials also announced earlier that it had called off the event because of uncertainty over the pandemic. The July gathering is the largest annual event in the state, typically attracting around 300,000 people each year to the fairgrounds in Minot.
For most people, the coronavirus causes mild or moderate symptoms, such as fever, chills and cough that clear up in two to three weeks. For some, especially older adults and people with existing health problems, it can cause more severe illness, including pneumonia.
Concerned about COVID-19?
Sign up now to get the most recent coronavirus headlines and other important local and national news sent to your email inbox daily.