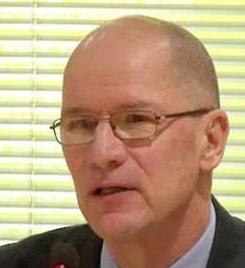 In these times of sensational headlines and attention-grabbing media posts, the article published on Nov. 5 in BioScience titled "World Scientists' Warming of Climate Emergency" could easily be lost in the fray. It could be dismissed as one scientist's opinion, were it not a peer-reviewed article with 11,000 signatories.
Nor can it be discounted with the perspective that most of the major professional health organizations in the United States have previously addressed climate change, including the American College of Physicians, American Academy of Pediatrics, American Academy of Family Practice, American Medical Association, America Nurses Association, and the American Public Health Association to name but a few. In fact, over 100 health organizations signed the Medical Society Consortium on Climate and Health's Climate, Health and Equity Policy Action Agenda, released earlier this year calling for urgent action.
Why have so many health care organizations chosen to speak out regarding the urgency of climate change action?
There is evidence associating climate change with negative impacts on people's health, with certain groups at higher risk including children, older people, pregnant women, those with chronic conditions like heart or lung disease and the poor. Importantly, incorporated into the recommendations for actions is support for people whose jobs may be lost as other strategies are implemented, understanding that one of the most important contributors to health is having meaningful employment with a living wage.
Climate change action is important to all Americans, as it should. Recent polls by the respected Yale Climate Change Communication Program show that 60% of Americans are concerned about climate change, and 60% also think both Congress and the president should do more to address it, with similar numbers supporting more action on the part of other elected officials and corporations.
There is no silver bullet, or single thing that will effectively address climate change. Instead, it will require many different efforts, policies and interventions. One significant action that many consider essential to effective climate change action is putting a price on carbon, which is supported by over 3,500 economists. If done correctly, a carbon price will incentivize research and development of new technologies, stimulate the economy, hasten a move to clean energy, and provide transitional support for those adversely impacted by these changes.
Even as the current administration takes actions to officially remove the United States from the Paris Agreement, towns, cities, counties and states across the nation have stepped up to support the ideas in those accords, demonstrating their focus on people over politics. These efforts alone will not be enough, but they do represent progress in the right direction.
We can all make a difference when it comes to climate change, but it requires some effort on each of our parts. This is particularly true as we approach a major election cycle. No more than a single person can solve the problem of climate change, neither can a single candidate or political party, or for that matter, a single nation. It is fair, however, to hold each and every candidate responsible for supporting some action on climate change.
Whether it is through letters to the editor in newspapers, calls to elected officials or campaign staffs, or questions in town halls, ask each candidate what his/her plan is to address climate change. If he/she does not have a clear action agenda, it is time to find a new candidate to support.
Climate change is the world's largest group participation project, we will all win together; in fact, it is the only way we will.
Robert Byron, MD, FACP, is a pediatrician who lives in Hardin. He is a member of Montana Health Professionals for a Healthy Climate.