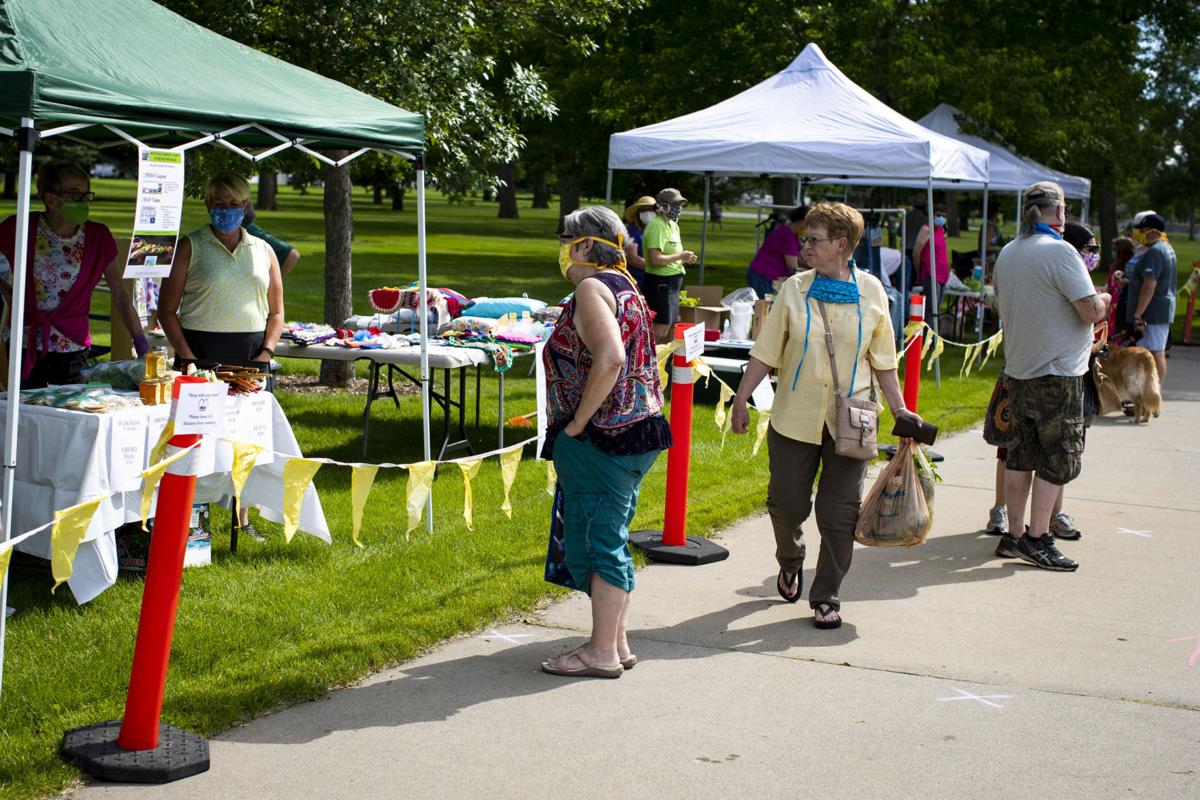 At RiverStone Health, we know that good health starts with nutritious food. All Montanans deserve access to affordable, nutritious food. Strong local food systems build more resilient communities and healthier families throughout Yellowstone County and south central Montana.
Farmers' markets are a small, but important, part of our local food systems. RiverStone Health is proud to partner with the Healthy By Design Coalition to offer the Gardeners' Market with fresh produce, such as tomatoes, cabbage, peppers and rhubarb. Our local vendors also offer eggs, cheese, meats and other made- or grown-in-Montana products. The market runs the second Thursday in June through the first Thursday of October from 4:30 to 6:30 p.m. at South Park in Billings.
To encourage community members living on limited incomes to shop at the market, and to help them stretch their food dollars, the Gardeners' Market participates in the Montana Double SNAP Dollars program.
Double SNAP Dollars increases the buying power of SNAP customers by providing a $1 for $1 match (up to $20). This deal encourages Montanans to spend a portion of their benefits at the Gardeners' Market, supporting small local farms.
All of our vendors are local farmers, ranchers and gardeners. Double SNAP dollars go directly into our local agricultural economy.
The 2021 Montana Legislature has the opportunity to strengthen Montana's Double SNAP Dollars program, and could use a small portion of our new COVID-relief dollars to do so. Double SNAP Dollars currently operates at 23 farmers' markets across the state — including the Gardeners' Market in South Park — two farm share programs and one retail grocery store. We would love to see this nutrition incentive expanded to more communities.
We already know the positive impact of Double SNAP Dollars. Since 2015, Double SNAP Dollars have benefited 6,000 low-income Montana families. The program has contributed $500,000 in revenue to Montana farm businesses.
In a survey of families using Double SNAP Dollars, nearly all reported eating more fresh fruits and vegetables as a result of the program. These nutritional improvements are essential in reducing diet-related diseases. When people are able to eat healthy foods, they become part of a stronger, more productive workforce. Good nutrition helps children succeed at school. Fresh, healthy food improves quality of life for seniors and people with disabilities. Overall, healthy foods reduce health care spending in Montana.
Investment in Montana's Double SNAP Dollar program could not come at a better time as we work to recover from the pandemic, support struggling families, and improve the resilience of our local food sources. This program is a win-win for Montana families and for the state's small agricultural producers. It deserves support from Yellowstone County legislators.
Claire Oakley, Ph.D., director of health promotion and public health services for RiverStone Health, also serves on the Healthy By Design operations team.