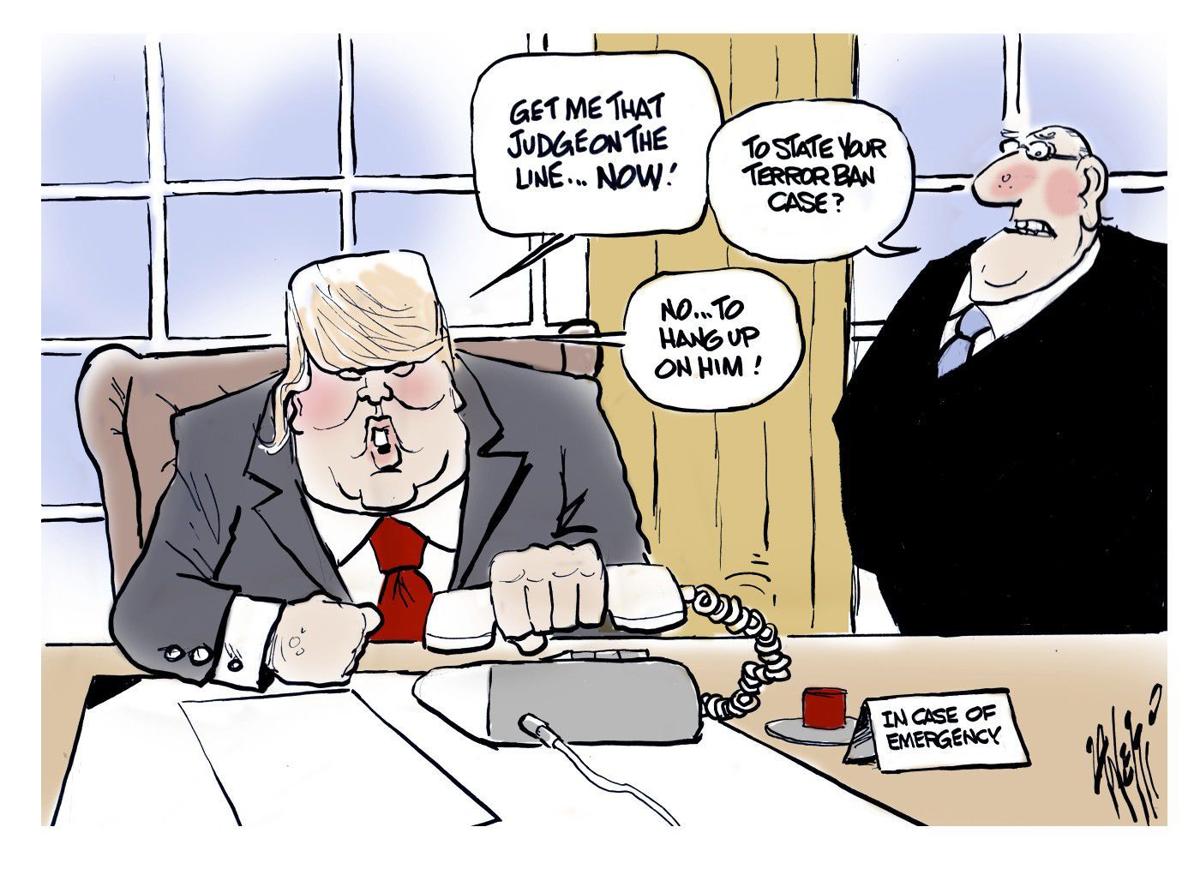 It's no secret that Donald Trump is a deeply irresponsible person. What else can you say about a president who names an unqualified political ideologue to the National Security Council, picks fights with close American allies, and casually tweets about starting a new nuclear arms race? But even for Trump, the Twitter war he launched against a federal judge over the weekend has gone to a disturbing new level.
Over the weekend, after U.S. District Judge James Robart issued an order putting Trump's executive order on immigration and travel on hold nationwide, Trump predictably took to Twitter to vent his anger. On Saturday morning, Trump derided Robart as a "so-called judge" who was "essentially taking law enforcement away from our country". Trump's words undermined judicial independence and ignored the role judicial review plays in setting legal limits on the power of the executive branch. On Saturday afternoon, Trump upped the ante in a tweet that falsely accused Judge Robart's order of allowing "anyone, even with bad intentions" to enter the United States.
This was not, of course, the first time Trump had personally attacked a federal judge. During the presidential campaign, Trump infamously questioned whether a judge of Mexican heritage could impartially rule in a case involving Trump University (House Speaker Paul Ryan called Trump's attack "the textbook definition of racist comments"). But Trump's attack against Judge Robart is even more troubling. Now that Trump is president, his decision to baselessly impugn the integrity of a sitting federal judge who ruled against the administration raises separation of powers concerns. Trump isn't simply expressing his disagreement with Judge Robart's ruling (which would be fine), he's seeking to delegitimize an official in a co-equal branch of the federal government. Trump is showing that, to him, federal judges are just another political opponent to be bullied — like journalists whose coverage he doesn't like, or elected officials who criticize his actions.
On Sunday, Trump went even further by using reckless words that could conceivably endanger Judge Robart's personal security. In another tweet, Trump ominously informed his supporters that they should "blame [Judge Robart] and [the] court system" if something happens. In the same tweet, Trump warned that the judge had placed the country "in such peril", clearly suggesting that the judge should be blamed if there is a terrorist attack.
Trump is playing an incredibly dangerous game. We know that people who Trump bullies on Twitter can end up getting threatened — this is precisely what happened to Chuck Jones, a union leader who dared to challenge Trump. We also know that irresponsible charges can lead to violence. The grotesque "Pizzagate" conspiracy theory moved one man to "self-investigate" slanderous lies that Hillary Clinton was running a child sex ring out of a Washington, D.C. restaurant. The man arrived at the restaurant with two weapons and fired several shots — very fortunately, no one was hurt.
Republicans in Congress must act swiftly and clearly by denouncing Trump's dangerous smear of Judge Robart. This should not be a partisan matter. In 1937, Democratic members of Congress rightly criticized Franklin D. Roosevelt's proposed court-packing scheme as a threat to judicial independence. Trump's Twitter war with Judge Robart goes even further, by undermining the integrity of the courts and outrageously blaming the judge in advance for threats to national security. This is far too dangerous to ignore.
Chris Edelson, assistant professor of government in American University's School of Public Affairs, authored "Power Without Constraint: The Post 9/11 Presidency and National Security," (May 2016 University of Wisconsin Press.)