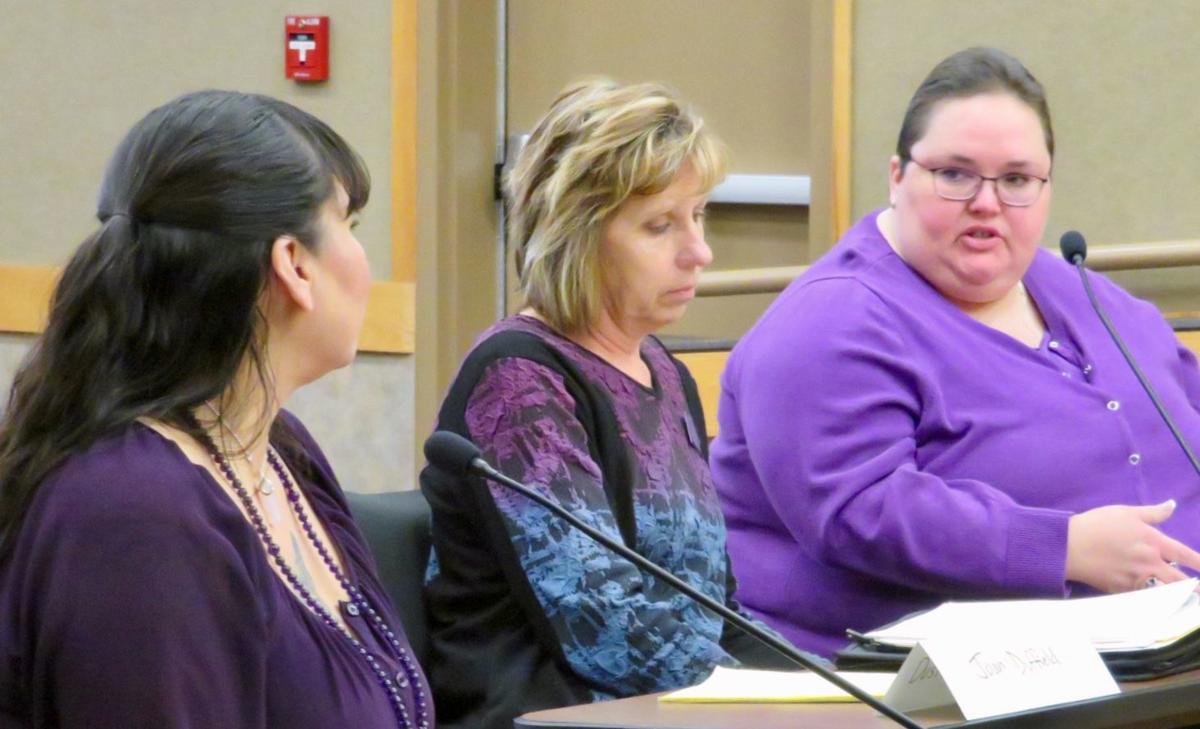 In 2012, a group of Native American residents of Bighorn, Blaine and Rosebud counties went to federal court to make late registration and early voting accessible to reservation residents. In each county, the distance to the county seat election office was two to four times farther than for voters off the reservation. The travel burden was increased by lack of transportation for many Native American voters. To settle the lawsuit, each of the three counties set up satellite elections offices on reservations in the 30-day early voting/late registration period before state primary and general elections.
Although some voters have used these satellite offices to cast their ballots, barriers to voting remain, according to testimony given Monday to the Interim State-Tribal Relations Committee meeting in Billings. Key barriers, the committee was told, include:
Many reservation residents don't have street addresses for voter registration.
Multiple families often live in the same house and share the same post office box, there is concern that some people wouldn't get their mail ballots.
Many reservation voters don't want to spend money on a postage stamp to return a ballot by mail.
Reservation residents who had been picking up relatives' ballots to deliver to the elections office can no longer do that under the new Ballot Interference Prevention Act that limits a person to turning in no more than six ballots for other people and requires a form to be completed. The law's $500 possible penalty has deterred family members from collecting ballots.
Previous Gazette opinions have called for repeal of the Ballot Interference Prevention Act and we concur that it discourages voting both on and off reservations.
Regarding postage for ballots, voters shouldn't be required to provide postage stamps. How many voters, particularly young adults, keep stamps on hand? 
More satellite offices are needed to bridge the distance between voters and the nearest location for early voting, Cherylann Eagle of Indian People's Action told the committee.
For their part, election administrators from Big Horn and Rosebud counties noted that their small staff and small budget limit how many election offices they can provide. In Big Horn County, Dulcie Bear Don't Walk is the only elections employee. Hiring is underway to replace a part-time employee who recently retired. Still, Big Horn County has staffed part-time satellite elections offices in Crow Agency on the Crow Reservation and at Busby on the Northern Cheyenne Reservation. A total of 321 ballots were voted at the satellite offices during the 2018 General Election, Bear Don't Walk said.
In neighboring Rosebud County, about 100 ballots were cast at the Lame Deer satellite office for the November 2018 General Election, according to County Clerk Joan Duffield.
Duffield moved her entire office to Lame Deer two days a week in the month before primary and general elections. While the Lame Deer satellite is open, the office in Forsyth is closed. Ballots must be sequentially numbered as they are issued, and Rosebud County doesn't have the equipment to print ballots as state law mandates at more than one location.
Lack of physical addresses or variations in how addresses are described is a problem for reservation residents who want to vote, said Marci McLean Pollock, of Western Native Voice. Having a clear, statewide uniform code for how county elections offices will accept voter addresses would help resolve this problem.
With today's technology, the lack of easily identified addresses for voters should be a problem of the past. Not only do Montanans need addresses for proper voting registration, they need addresses so emergency responders can find them quickly. Big Horn County is using 911 addresses to determine voter addresses.
Although state law spells out how elections must be conducted, the cost of running state and federal elections is borne by county governments. Other local entities, such as cities, schools and fire districts, have to pay the costs of conducting their elections. That difference in who writes the rules and who pays sometimes puts lawmakers at odds with local government leaders — and local taxpayers.
Montana election law should make voting as convenient and simple as possible for all citizens. The Legislature, which has vastly more revenue raising authority than county governments, should help craft decisions that overcome barriers to voting and help local governments fund those solutions.
The 2019 Legislature approved House Joint Resolution 10, which directed the State-Tribal Relations Committee to study barriers to voting by Montana Native Americans and to report back to the 2021 Legislature. It's good for lawmakers to drill down into the concerns of Native voters and county election officials. Democracy only works if citizens are able to vote and to have confidence that their ballots will be secure and counted.
Catch the latest in Opinion
Get opinion pieces, letters and editorials sent directly to your inbox weekly!