Nearly 25 years ago, Billings was rocked by a series of hate crimes targeting the Jewish community. In response to swastikas and smashed windows, a church put up menorahs. Then the church's windows were shot. That's when The Billings Gazette printed menorahs on one of its pages and encouraged residents to hang them in their windows.
The idea was simple: Whoever was perpetrating these crimes couldn't shoot out all the windows in town.
Menorahs appeared throughout the city; some stayed up for years. It was an incredible and poignant act of solidarity.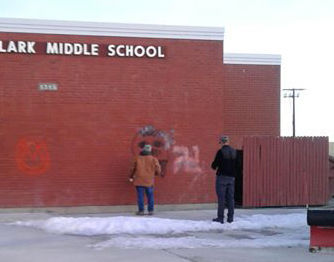 Folks called The Gazette with a question: Is it time to reprise the menorahs? Others suggested we print a rainbow flag — a symbol of the LGBTQ community — replicating the flag that was defaced at Grace United Methodist Church.
We condemn in the strongest words possible the actions of those who sent fliers and tagged property with hate speech. This is not who we are.
We aim to "lead with love," a phrase from the Billings mayoral campaign of Danielle Egnew, meaning that we condemn the actions without also meting out intolerance. We pray for healing and peace to soothe the anger and hatred that would drive someone to these cruel acts.
Danielle Egnew, who ran an unsuccessful race for Billings mayor last year, is recycling her leftover campaign signs as a response to the swast…
In addition to our show of solidarity, The Gazette has another role to play as a forum for dialogue and a reflection of community values.
To that end, this isn't so much an editorial as it is a plea: We want your ideas, participation and help.
Though we've had requests to reprise the menorahs or publish a rainbow flag, we're not sure that either of those symbols is the right response to these new disturbing incidents.
Simply reprinting menorahs or declaring the words "Not In Our Town" hearkens back to our proud past, but that seems like yesterday's solution to today's problem. Using a rainbow flag is close, but we cannot underestimate the powerful symbolism of the swastika, nor that its targets extend beyond the LGBTQ population. 
We struggled all week to find the right symbol to rally around. Then we realized: The symbol is not for The Gazette to name.
If Billings is again to exhibit solidarity, it must find the right symbol for today, not the slogan or sign of a quarter-century ago. When the menorahs were placed in windows, it didn't mean everyone who put them up was Jewish. Rather, it was a show of support. 
Three-and-a-half years ago, former Billings Mayor Tom Hanel said that Billings wasn't ready for a non-discrimination ordinance, and in the early hours of an August meeting, cast the deciding vote against the city council adopting a non-discrimination ordinance.
We want you to suggest symbols, slogans or signs that Billings could rally around. What should our response be? Design something for what we're facing today. 
We also want your words: Help us continue the conversation by writing about how we should respond to these horrible displays of intolerance and hatred.
We will consider publishing not only the best idea for a new slogan or symbol, but for the next few weeks we'll take guest column submissions on how the community should respond; what we can do to prevent similar hateful actions; and why these types of acts happen in Billings.
They may also send them by email (speakup@billingsgazette.com) by mail (401 N. Broadway, Billings, MT 59101). 
Billings should be proud of its inspired response 25 years ago. But now, our history can't save us or stop the hate. The danger is that we say a couple "Not In Our Towns" and stop there, convincing ourselves that by saying those we have taken action. The power isn't in the words, but in the people who come together to take action.